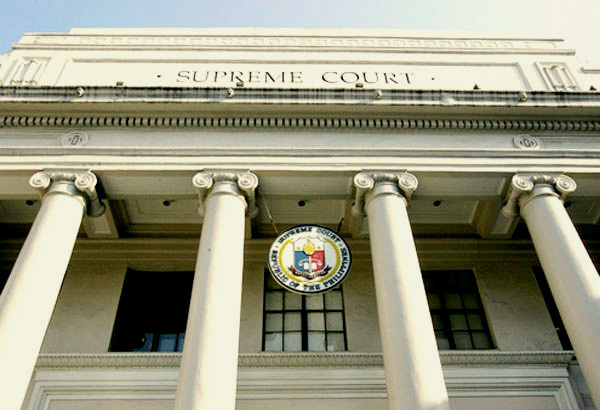 The Supreme Court (SC) late Friday afternoon posted on its Twitter account that it has declared as unconstitutional the prohibition against plea bargaining in the Comprehensive Dangerous Drugs Act of 2002 or Republic Act 9165. File
SC: Plea bargaining allowed in drug cases
MANILA, Philippines — People who are accused of drug-related offenses can now plead guilty to a lesser offense, provided that it is allowed by the prosecutor.
The Supreme Court (SC) late Friday afternoon posted on its Twitter account that it has declared as unconstitutional the prohibition against plea bargaining in the Comprehensive Dangerous Drugs Act of 2002 or Republic Act 9165.
The SC has yet to release its Aug. 15 full decision but said that its declaration was in relation to the Salvador Estipona versus Legaspi City Regional Trial Court (RTC) Branch 3 Judge Frank Lobrigo case.
Section 23 of RA 9165 refers to the plea bargaining provision wherein any person charged under any provision of law – regardless of the imposable penalty – shall be denied plea bargaining or pleading guilty to a lesser offense with the consent of the prosecutor.
In its ruling dated Aug. 15, the court said Section 23 of RA 9165 was contrary to Article 8, Section 5 (5) of the 1987 Constitution giving the SC the authority to allow plea bargaining.
This section guarantees "protection and enforcement of constitutional rights, pleading, practice and procedure in all courts, the admission to the practice of law, the integrated bar and legal assistance to the underprivileged."
"Such rules shall provide a simplified and inexpensive procedure for the speedy disposition of cases, shall be uniform for all courts of the same grade and shall not diminish, increase or modify substantive rights. Rules of procedure of special courts and quasi-judicial bodies shall remain effective unless disapproved by the Supreme Court," it added.
Estipona was reportedly caught in possession of .084 grams of methamphetamine hydrochloride or shabu. He was charged for violation of Section 11, Article 2 of RA 9165.
Estipona, represented by the Public Attorney's Office (PAO), questioned Lobrigo's decision to deny his motion for plea bargain agreement.
Last year, PAO chief Persida Rueda Acosta said over 82,000 small time drug offenders have been rotting in prisons.
She said that those accused to have committed murder, rape, car theft and other heinous crimes were allowed to enter plea bargain but violators of the Dangerous Drugs Act, especially the small time drug pushers and users, are prohibited from doing so.
"At the very least, if plea bargaining is indeed not allowable in violations of (the Dangerous Drugs Act), the prohibition should apply only to those drug offenses involving capital punishment," Acosta had said.