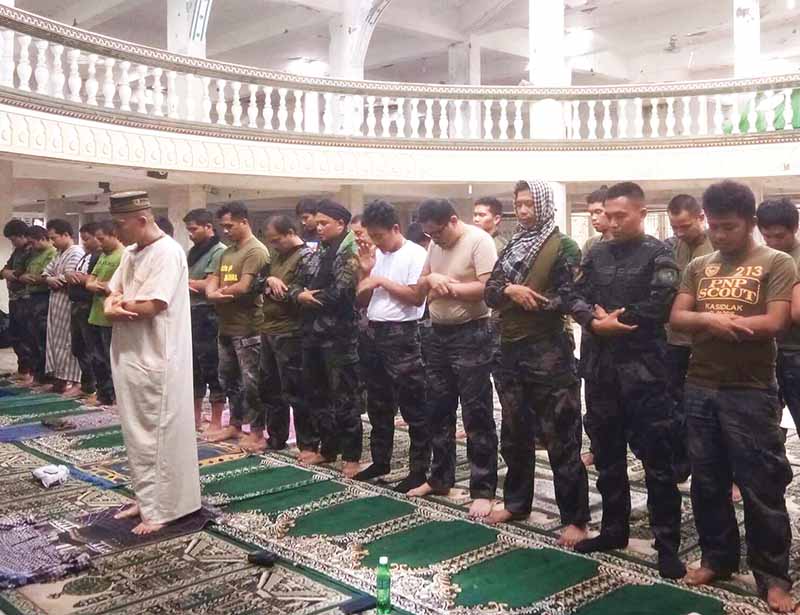 Muslim police and Army personnel prayed together on Friday at the iconic Islamic Center in Marawi City that Maute terrorists occupied for more than two months.
Another Marawi mosque reclaimed from Maute
John Unson
(Philstar.com) - September 9, 2017 - 5:17am
LANAO DEL SUR, Philippines — Policemen and soldiers prayed on Friday in another mosque in Marawi City where Maute gunmen reportedly raped women they held to shield them from military offensives.
The Islamic Center in Pangarungan Village was occupied by terrorists as they laid siege to strategic areas in Marawi City on May 23, sparking hostilities that have since dragged on.
Lt. Gen. Carlito Galvez Jr. of the Western Mindanao Command said on Saturday that Friday's Salahtul Jumaah at the Islamic Center was the first since May 23.
The Salahtul Jumaah, or Friday worship rite, in the iconic Islamic Center was preceded by a congregational prayer last week at the Saad Almusairi Masjid that soldiers and policemen had cleared from Maute terrorists early on.
Galvez said 42 soldiers and personnel of the Marawi City police converged on Friday at the Islamic Center to show that authorities are now in control of the religious site and its immediate surroundings.
"We ought to thank the city government of Marawi and the provincial government of Lanao del Sur for helping restore law and order in the surroundings of mosques that have been cleared from occupation by terrorists," Galvez said on Saturday.
The congregational prayer on Friday at the Islamic Center was led by the chief of the Marawi City police, Superintendent Ebra Moxsir, an Islamic theologian and former Imam in the Regional Police Office-Autonomous Region in Muslim Mindanao.
Police Director General Ronald "Bato" Dela Rosa, who was at the headquarters of PRO-ARMM in Camp SK Pendatun in Maguindanao Thursday, lauded Moxsir and the region's police director, Chief Superintendent Reuben Theodore Sindac, for actively supporting Malacañang's effort to restore normalcy in the conflict-stricken Marawi City.
Dela Rosa said Moxsir, who is a moderate Muslim cleric, was intentionally designated chief of the Marawi City police for him to engage in religious activities meant to prevent the spread of Islamic militancy in the area.
"The situation there is different and Superintendent Moxsir is an Imam. He can help address the problem," Dela Rosa said.
Evacuees from Marawi City have stories of how Maute terrorists tortured their captives in mosques they used sanctuaries after the May 23 hostilities there erupted.
The conflict in Marawi City displaced more than 300,000 villagers.
Captives who have escaped had also told authorities that Maute terrorists raped women inside mosques where they held hostages to prevent soldiers from getting close.
Moxsir said mosques can be offered as safe havens for victims of conflicts and calamities but can never be used as harboring sites for captives held against their will.