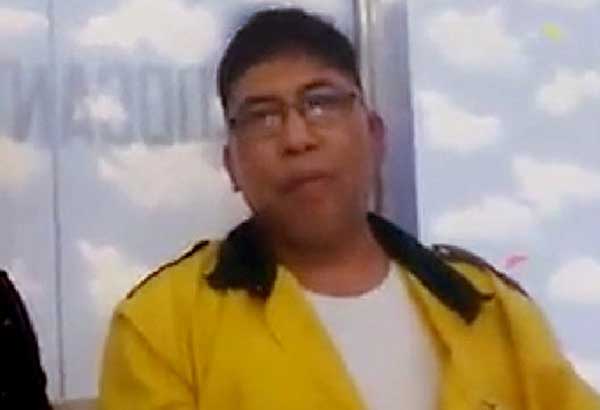 Taxi driver Tomas Bagcal gives an interview last Monday, shortly before he went missing.
Where's cabbie? Kulot's pals terrified
(The Philippine Star) - September 8, 2017 - 4:00pm
MANILA, Philippines — The taxi driver who claimed he was robbed by Carl Angelo Arnaiz has gone missing. And young neighbors of Arnaiz and his companion Reynaldo de Guzman are so terrified of strangers on motorcycles now roaming their neighborhood that they refuse to leave their homes or go to school.
Pete Lanuza, president of the labor union at R&E Taxi, said driver Tomas Marleo Bagcal reported for work last Monday. He has not been seen since then. Relatives said they have lost contact wih Bagcal, who has also abandoned his rented home.
Agents of the National Bureau of Investigation (NBI) communicated with Bagcal's former wife and mother-in-law based in Marikina, and his siblings based in his home province Isabela.
His former wife and mother-in-law said the last time they talked to him was on Sept. 2.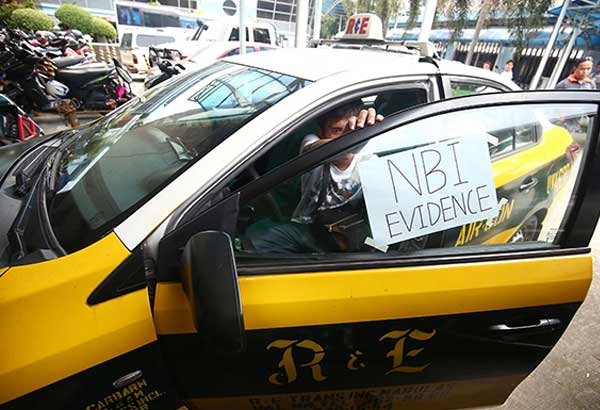 The taxi driven by Tomas Bagcal was brought to the National Bureau of Investigation headquarters in Manila yesterday. MIGUEL DE GUZMAN
The NBI wants Bagcal, 57, to clarify the two different versions of his sworn statement, which were made 11 days apart. Bagcal's signatures on the documents are markedly different from his regular signatures at R&E Taxi.
Lanuza told reporters yesterday that Bagcal showed him the wound he allegedly sustained during the robbery as well as a copy of the police report.
Records of the taxi company show that Bagcal reported for duty at 4:22 p.m. on Aug. 17 and went back to the carbarn at past 7 a.m. the next day because his taxi with license plate UWK-620 was on coding.
R&E Taxi recorded the alleged robbery incident involving Bagcal at 9:05 a.m. on Aug. 18.
Company records also show that Bagcal reported only on half-shift from Aug. 15 to Sept. 4, when he was last seen by his co-workers.
The alleged robbery incident in Navotas on Aug. 17 was the second one involving Bagcal. On June 15, 2013, Bagcal was victimized by two men armed with an ice pick and a fan knife, whom he picked up along Libertad Street in Pasay City. The robbers took away his wallet containing his driver's license and P3,000.
Terrified neighbors
In Cainta, three teenagers who were last seen with 14-year-old De Guzman before he went missing with Arnaiz have also gone into hiding.
Neighbors said the three stopped going to school and playing in the community basketball court after several men on motorcycles arrived and began questioning residents about the three boys' whereabouts.
A 12-year-old boy called MJ has also refused to go to school or even leave his house after strangers began asking about him.
In an interview with GMA 7 News, MJ denied saying that Arnaiz planned to rob a taxi on the night the former student of the University of the Philippines disappeared.
De Guzman's mother Lina had said MJ had told her about the planned robbery. Lina's husband Eduardo Gabriel said the story was not true.
Lina has begged off from further interviews, citing depression.
No leads in Gapan
Meanwhile, police investigators in Gapan, Nueva Ecija are still facing a blank wall on the identities of the people who dumped the body of De Guzman in the creek.
Gapan police chief Supt. Peter Madria said they have yet to find anyone who saw the people who dumped De Guzman's body in Kinamatayang Kabayo creek in Barangay San Roque, and the vehicle the suspects used.
"What we have are only witnesses who heard sounds of a vehicle in the area," Madria said in a phone interview.
The Gapan police is also trying to find any closed circuit television camera that might have recorded the arrival of the suspects' vehicle.
Madria said there is no surveillance camera posted within a one-kilometer radius of the spot where De Guzman's body was found with at least 26 stab wounds and his head wrapped in packing tape.