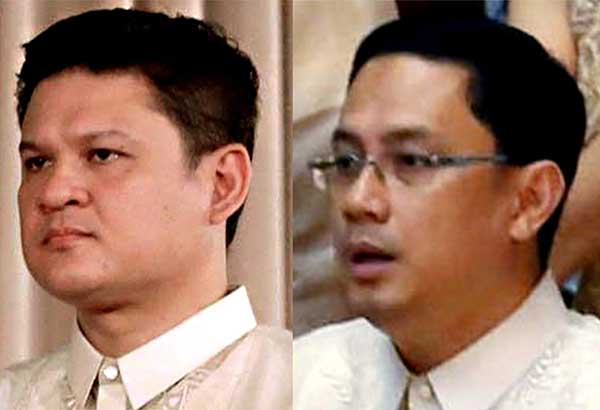 Paolo Duterte and Manases Carpio
Rody to Paolo, Mans: Just tell the truth
(The Philippine Star) - September 6, 2017 - 4:00pm
DAVAO CITY, Philippines — As they face the Senate Blue Ribbon committee today, President Duterte has one advice to his son, Davao Vice Mayor Paolo and son-in-law Manases Carpio: "Just tell the truth."
The President himself had egged his son and Carpio to attend the Senate hearing today upon the invitation of committee chairman Sen. Richard Gordon.
The two were invited in connection with the alleged smuggling of P6.4 billion worth of shabu from Xiamen, China that slipped through the Bureau of Customs (BOC).
Paolo and Mans were tagged as part of the so-called Davao group but were later "cleared" by broker and whistle-blower Mark Taguba of involvement in the smuggling mess.
"If you're going to apprear in Congress, just tell them the truth. What's wrong…? All of us lawyers, we never question any lawyer for that matter getting a client even if he's the killer. Even if we know that he is the killer or that he is the real culprit, we have to stand by our (raises right hand). That's how we lawyers are. All of us lawyers, we know that," the President said in a mix of Filipino and English in his speech during the 60th anniversary celebration of the Social Security System.
Duterte had earlier told the two to keep mum, especially when questioned by Sen. Antonio Trillanes IV who has been adamant in accusing members of the President's family of involvement in smuggling.
Mans is the husband of presidential daughter and Davao City Mayor Sara and a nephew of Ombudsman Conchita Carpio-Morales.
The President also told both of them not to fear any threat of contempt if they refuse to answer questions during the hearing.
"How can you answer when you are already being accused without any evidence. That is fishing," the President said.
"And if I am into corruption, if I have properties way beyond my means to buy or acquire, let me know. I will step down tomorrow," he added.
Senators free to question
Senators will be given a free hand in questioning presidential son Paolo and Mans, Gordon said yesterday.
Gordon, however, said he would make sure the hearing will be orderly and there will be no repeat of the heated argument between him and Trillanes last week that prompted him to file an ethics complaint against the opposition senator.
"The hearing will be in order. I will not allow it to be disrupted," Gordon told reporters.
Last week, Gordon and Trillanes had a heated exchange after the latter said members of the committee were "lawyering" for the young Duterte and Carpio, whom he accused of being leaders of the so-called Davao group that facilitates smuggling at the BOC.
Trillanes alleged that it was because of the smuggling activities of the Davao group that the 604 kilos of shabu slipped through the BOC's express lane based on the testimony of broker Taguba.
Taguba, however, later denied he linked Duterte and Carpio to the bungled smuggling.
The drug shipment was recovered two days later in two warehouses in Valenzuela City by the Customs Intelligence and Investigation Service led by director Neil Estrella.
In his ethics complaint, Gordon sought sanctions against Trillanes for his "unparliamentary" conduct. Trillanes vowed to file an ethics complaint against Gordon.
"I will allow him (Trillanes) to ask questions as long as they're called for," Gordon said.
He felt uncomfortable that witnesses are going to be grilled based on allegations that are not specified in a sworn affidavit.
Gordon said the allegations of Taguba against Davao City Councilor Nilo Abellera was at least contained in an affidavit that he and other senators could grill him on based on his sworn allegations.
Senate President Aquilino Pimentel III said he was confident that Gordon can ensure a smooth hearing.
President Duterte did not stop his son and son-in-law from testifying before the Senate Blue Ribbon committee but suggested that they invoke their right against self-incrimination.
Trillanes, however, was unfazed, saying he will find ways to "extract the truth" from Duterte and Carpio.
"We've prepared for all scenarios," he said, adding he will present evidence today to show that the two were involved in the smuggling of the drugs.
"I don't have to prove anything and this is not a court, we're trying to extract information. We're trying to ferret out the truth about the issue. So it's not about proving anything. It's up to the people who will watch the proceedings about what really happened," he said.
"The right against self incrimination is 'you will now quote me to run after me.' That can't be. How can you quote me to run after me? If you have a case against me, develop the case," Pimentel said.
"You don't have a case? You need me to provide information against myself?" he said.
P19-million products seized
Meanwhile, the BOC yesterday seized a total of P19 million worth of secondhand cars and misdeclared agricultural products that arrived at the Manila International Container Port (MICP).
Customs Commissioner Isidro Lapeña said the BOC seized two secondhand cars – a black Mercedes-Benz and a white Benz hidden behind auto parts.
The shipment arrived from Hong Kong last month and was consigned to Juljerjac Trading with office address at 409 4/F Madrigal Building, Escolta Street, Binondo, Manila, with Rodrigo de Guzman as its broker. The exporter of the 40-footer container van is Shing Kee Hong of Hong Kong.
MICP district collector Vincent Philip Maronilla said the shippers reportedly violated a provision of the Customs Modernization and Tariff Act (CMTA) in relation to Section 3 of Executive Order 156 prohibiting the importation of used motor vehicles.
"This is a prima facie evidence of misdeclaration, hence we will issue a warrant of seizure and detention against Juljerjac Trading's smuggled motor vehicles," he said.
The BOC-MICP last July also seized five 40-foot container vans of agriculture products consisting of four vans of red and white onions and one container van filled with carrots.
The shipments were allegedly misdeclared to be of garlic and apples, respectively.
The shipments from China were consigned to V2Y International Marketing Co. with office address at Madrigal Bldg., Escolta, Manila. They arrived at the MICP last July 7 and 13.
The declared garlic was covered by a valid import permit from the Bureau of Plant and Industry while the red and white onions and carrots were allegedly misdeclared and had no import permit, prompting BOC to issue a warrant and seizure for detention.
"The consignee, V2Y International Marketing Co., wrote a letter informing Customs Intelligence that the shipments do not belong to them," said Lapeña.
"This is actually a protection to our farmers, since they also produce red onion. Importing onions is regulated by law because they will be a strong competitor to our local farmers who also produce onion. For the carrot, it will also be seized for misdeclaration."
The goods were confiscated for violating a CMTA provision and Republic Act No. 10845, otherwise known as the Anti-Agricultural Smuggling Act of 2016.
The shipment would be condemned to prevent its entry into the public market. – With Paolo Romero, Evelyn Macairan