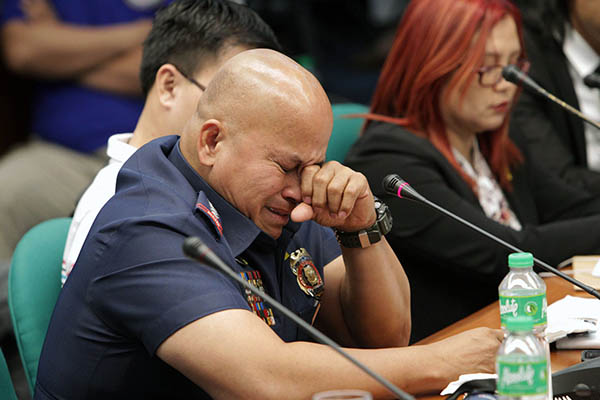 Philippine National Police chief Ronald "Bato" Dela Rosa turned emotional during the Senate probe into the killing of Albuera Mayor Rolando Espinosa, Nov. 23,2016. The STAR/Mong Pintolo, File
Bato: 'Unfair' to accuse police of executing drug suspects
MANILA, Philippines — The burly chief of the Philippine National Police, Ronald Dela Rosa, broke down in tears in the Senate again following intense questioning on cops being involved in summary executions of suspects.
Dela Rosa's tears came as a Senate panel continued its investigation into the circumstances surrounding the death of a 17-year-old teenager in Caloocan City more than two weeks ago. The hearing also touched on the death of Carl Arnaiz, a 19-year-old whom Caloocan police said shot it out with them after allegedly robbing a taxi driver.
READ: Autopsy: Carl Arnaiz 'unable to fight back' vs Caloocan City cops
The death of Kian Loyd Delos Santos in a rundown neighborhood in Caloocan City on Aug. 16 sparked widespread condemnation as witnesses and a CCTV footage showed that the senior high school student may have been executed by cops.
Police contend that Delos Santos violently resisted arrest and fired upon them, a claim debunked by the autopsy of the Public Attorneys' Office and the probe of the National Bureau Investigation.
Citing the case of Delos Santos, Sen. Risa Hontiveros, a member of the minority bloc in the chamber, said that there seemed to be a "pattern" of killing drug suspects.
'Ang sakit, ang sakit'
Dela Rosa did not like this and defended his organization from insinuations that there was a policy of killing suspected drug criminals.
The PNP chief, nicknamed "Bato" for his muscular build, said that the quest for justice should also include cops who had been killed in action.
"I am grieving for the majority of my men yung buhay nila naka…tapos i-accuse niyo kami ng pulisiya na ganun. Ang sakit, ang sakit. Magpakatamay kami para sa inosenteng tao. Mahirap naman sabihin niyo na may policy na malawakang pagpatay," a crying Dela Rosa said.
He also warned Hontiveros and critics against insinuating that there is a police policy to kill suspects.
"I'm willing to go back to Davao 'pag na-prove mo 'yan. Masama na sabihin mo na ganun. Dapat you should be careful," he said.
Hontiveros retorted that there was no need to issue any warning as everybody working in government wants to uncover the truth in the cases.
"Hindi po kailangan sabihin na 'you should be carefu'l. Lahat po tayo nagtatrabaho, nanumpa magsabi ng totoo. We presume that we are telling each other the truth," she said, adding that he was holding the Office of the President accountable for the thousands of deaths that human rights groups and activists said were done as cops conducted the government's war on drugs.
'Duterte gave orders to kill'
Dela Rosa also defended President Rodrigo Duterte and said that the president, who is known for talking about killing drug lords and other criminals in his speeches, did not give orders to kill indiscriminately.
"Wala, sinabi si presidente sa akin na pumatay kayo ng pumatay," said Dela Rosa, accusing Hontiveros of having a closed mind on the issue.
The tough-talking Duterte has been criticized in the past for statements that seemingly gave his cops order to indiscriminately kill suspects.
He famously declared last year that fish in the Manila Bay would be fattened by eating the bodies of drug suspects killed.
He suggested last year that police plant evidence and guns in crime scenes to make it appear as though they fought back.
In July this year, he said that cops should make suspects fight, possibly to justify their killing.
His supporters say that his pronouncements do not necessarily translate to policy and his subordinates and spokespersons have often walked back or "clarified" his comments.
"Eh, ako lang naman ang harap-harap na mag-utos patayin mo yang p***** inang 'yan. Sino pa bang iba? Kung hindi ko kayang ako na mismong p***** ina patayin mo yan. Pagkatapos lumaban. Pagkatapos lumaban," he in a speech before personnel from the BJMP.
No protection for abusive cops, Duterte says
However, the death of Delos Santos has forced Duterte, known for his expletive-laden, long-winding and often desultory speeches, to tone down his rhetoric accused of inciting cops to kill drug suspects.
In recent weeks, he clarified that he had not ordered police to kill suspects already kneeling and begging for their lives.
"What I reminded again the military and the police is that it should be in the performance of your duty. You are not allowed to kill a person who is kneeling down begging for his life. That is murder," he said.
The president reminded police that any abuses would not be condoned as he reassured them that they would be protected if they killed suspects in the regular performance of their duty.
He also ordered them to kill "idiots" who would violently resist arrest.
Dela Rosa, who was picked by Duterte to lead the PNP over more senior police officers, told Hontiveros that she should refrain from conditioning the mind of the public that there was a policy to kills drug criminals.
The PNP chief said: "Masakit sa akin dahil 175,000 ng tauhan ko ang nanunuod sa akin. Paano ko depensahan ang organisasyon ko e yung utak niyo sarado na may pulisiya kami na pumatay kami ng pumatay."
This is not the first time that Dela Rosa cried in a Senate investigation.
In November last year, the PNP chief broke down in tears after Kerwin Espinosa, confessed drug lord, admitted that he gave cops protection money.
Dela Rosa said that he was finding it hard to cleanse police ranks of corrupt cops.