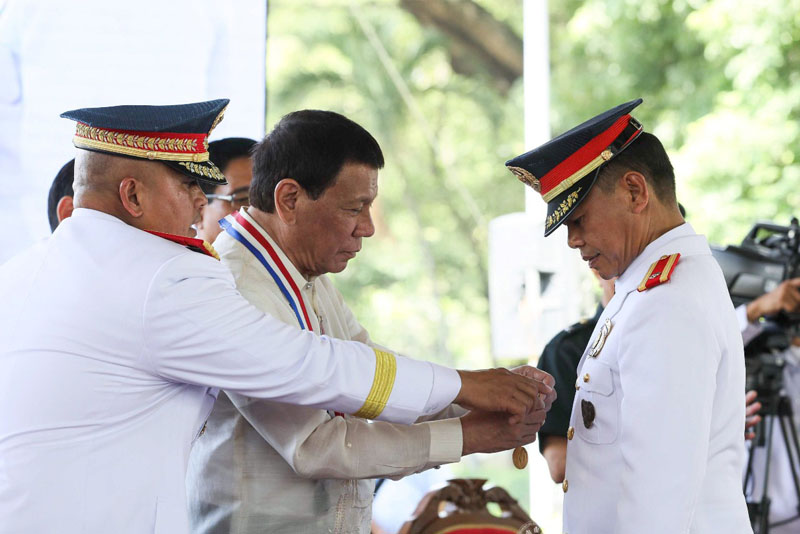 President Rodrigo Roa Duterte confers the Order of Lapu-Lapu Magalong Medal to Ozamiz City Police Director Chief Inspector Jovie Espenido during the National Heroes Day Commemoration at the Libingan ng mga Bayani in Fort Bonifacio, Taguig City on August 28, 2017. PCOO/Released
Duterte orders cops to kill 'idiots' violently resisting arrest
MANILA, Philippines — As he faces the most vocal criticism to date of his brutal campaign against illegal drugs following the alleged police killing of a teenager, President Rodrigo Duterte ordered cops to kill "idiots" offering violent resistance to arresting authorities.
Duterte broke midway through his speech to offer again his support to policemen pursuing his brutal war on drugs criticized locally and internationally for the bloody trail it has been leaving since its inception in July last year.
The president directly addressed Chief Inspector Jovie Espenido whose stints in Albuera, Leyte and Ozamiz City led to the deaths of their mayors.
"Not only just shouting at them to surrender, because if he does not, and he resists, and it is a violent one, placing in jeopardy the lives of my policemen, and of course, the military, you are free to kill the idiots," he said.
"That is my order to you."
Duterte and officers of the Philippine National Police are under intense criticism after 17-year-old Kian Loyd Delos Santos was found dead near a pigsty in a dark alley of a village in Caloocan City almost two weeks ago.
Raiding cops claimed that Delos Santos offered violent resistance, but witness accounts, which seemed to be corroborated by a CCTV camera footage, said that the senior high school student was a victim of police abuse and unlawful killing.
Murder charges have already been filed against the three cops involved in the operation. Duterte, who in the past vowed to shield policemen from criminal prosecution, promised the parents of Delos Santos that justice would be given to them.
The funeral of Delos Santos on Saturday turned into a protest against Duterte's war on drugs which have claimed more than 12,000 lives, according to rights activists.
The government has disputed this figure, claiming that only a small fraction of this was related to police activities while the rest were still under investigation.
Duterte also wondered aloud if Mayor Jed Patrick Mabilog of Iloilo City, where Espenido is assigned next, would still be alive following the deaths of former Albuera Mayor Rolando Espinosa and former Ozamiz City Mayor Reynaldo Parojinog. The three mayors were on Duterte's "narco list."
"Gusto ko lang tanungin kasi ako naman ang pagbintangan. Ikaw nga ang nagbaril dyan tapos ako ang napa-publish kung saan-saan," he said, to the laughter of his audience.
The president offered a warning to abusive policemen who would illegally kill suspects.
"Murder and homicide or whatever, unlawful killing, is not allowed," he said.
Much of Duterte's speech, however, was dedicated to offering support to cops who would implement his campaign.
"Pero if you do the country a favor, I will support you. And we all, then we'll go to jail, do not worry," he said.
"But if he resists, and if it is a violent one, I hate to see dead policemen and soldiers performing their duty. Do you hear me? Your next assignment is Iloilo," the president told the controversial Espenido.