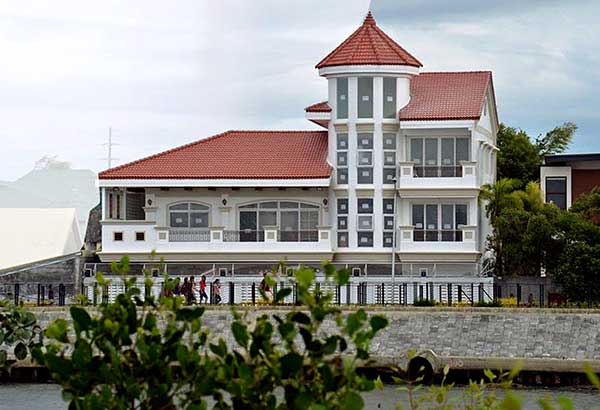 "Mayor Jed Patrick Mabilog's mansion is grander than Malacañang as the Palace is only well-varnished wooden floors and walls," the President said in a talk during the 41st birthday celebration of First District Rep. Karlo Nograles on Saturday. File
'Malacañang pales in comparison to Mabilog mansion'
DAVAO CITY , Philippines – President Duterte said Malacañang Palace is nothing compared to the mansion of Mayor Jed Patrick Mabilog in Iloilo City.
"Mabilog's mansion is grander than Malacañang as the Palace is only well-varnished wooden floors and walls," the President said in a talk during the 41st birthday celebration of First District Rep. Karlo Nograles on Saturday.
To prove his point, he invited Nograles' political leaders and supporters to visit the Palace so they could see for themselves the country's seat of national power.
Duterte has repeatedly picked on Mabilog for his alleged involvement in the illegal drug trade in the Visayas. The mayor's name is also included in the President's several lists of narco-politicians in the country.
The President, who earlier asked the National Bureau of Investigation and Bureau of Internal Revenue to probe Mabilog, alleged that Mabilog's "white" house was a product of his earnings from illegal drugs.
Mabilog has repeatedly denied the allegations, insisting that his controversial house was built through the family's earnings and that his wife, for a time, worked as an overseas Filipino worker in Canada.
Although the mansion is allegedly worth between P60 million to P70 million, Mabilog's statement of assets and liabilities said it is only worth P3 million.
Meanwhile, Malacañang said it respects the Philippine National Police (PNP) decision to cancel the designation of Chief Inspector Jovie Espenido as officer-in-charge of Iloilo City, an area labeled by President Duterte as a "bedrock of illegal drugs."
Presidential spokesman Ernesto Abella said the cancellation was based on the PNP's policies on the movement of its personnel.
"This is the decision reached by the leadership of the Philippine National Police following the established policies and procedures in the transfer, reassignment and designation of their personnel. Everyone is enjoined to respect the order of the high command," Abella said in a statement.
PNP chief Director General Ronald dela Rosa said he consulted the Directorate for Personnel and Records Management, which reported that there is no hindrance to Espenido's promotion to the next higher rank, that of superintendent.
"As chief of police of Ozamiz City, Espenido's calls for a rank of superintendent so since he is already there, he is already for promotion. I asked the DPRM to look at his records to determine if he is qualified, if there is no obstacle to his promotion," he said.
Espenido led the police raids that resulted in the killing of Ozamiz City mayor Reynaldo Parojinog last July. He was also the police chief of Albuera, Leyte when its mayor Rolando Espinosa Sr. was nabbed and subsequently killed inside a detention cell.
Both Espinosa and Parojinog were included in the list of local executives with alleged ties to drug syndicates.
Impressed by Espenido's accomplishments, Duterte announced last month that the controversial police officer would be assigned to Iloilo City whose mayor, Jed Mabilog, has been accused of being a protector of drug lords – an allegation that he denies.
But even before Espenido could start his stint as officer-in-charge of the Iloilo City police, the PNP called off his reassignment for undisclosed reasons. Senior Supt. Henry Biñas was named Iloilo City police chief in lieu of Espenido.
Officials denied that the cancellation of Espenido's assignment was related to the death of Richard Prevendido, said to be the top drug lord of Western Visayas.
Last week, Espenido said his transfer to Iloilo City has been delayed because he had to run after Ricardo "Ardot" Parojinog, brother of the slain Ozamiz City mayor and a councilor.
"When you enter into shabu, you'll be a billionaire in two months," Duterte said.
Duterte also accused the Parojinogs of killing their rivals and policemen who oppose them.
"In Ozamiz, there's no proper election. If someone runs against Parojinog, he dies. The police who refused to follow his orders… he had them killed. Look at this now, when they dug up the place where they throw the bodies, the bodies of the police who went missing surfaced," he said. – With Alexis Romero, Cecille Suerte Felipe