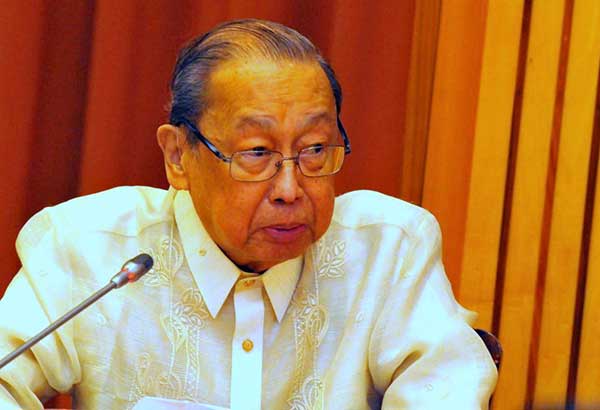 "We were also able to establish that this Jon Bustamante who is based in Amsterdam has close links with Sison. This PADEM is just a one-man army," the cyber expert said. OPAPP, File
'Ouster move vs Rody traced to Reds'
Jaime Laude
(The Philippine Star) - August 23, 2017 - 4:00pm
MANILA, Philippines - A supposed ouster move against President Duterte has been traced to an individual in the Netherlands with close links to Communist Party of the Philippines (CPP) founding chairman Jose Ma. Sison, a military cyber security expert said yesterday.
Speaking on condition of anonymity, as he is not authorized to speak to the media, a cyber expert from the Armed Forces of the Philippines (AFP) said one Jon Bustamante uploaded a statement from the so-called Patriotic and Democratic Movement (PADEM) against Duterte on wedcadre@yahoo.com, a social domain inUtrecht.
Three other accounts registered in the Netherlands have also been traced to Bustamante.
Sison himself shared the statement of PADEM, which claimed to have as members ranking military and police officials.
"We were also able to establish that this Jon Bustamante who is based in Amsterdam has close links with Sison. This PADEM is just a one-man army," the cyber expert said.
Authorities said the supposed PADEM statement was meant to create division within the AFP and the Philippine National Police (PNP). The source said they had suspected at the onset that civilians were behind PADEM, based on the wording of its supposed statement.
"Further investigation subsequently bolstered our suspicion that this supposed PADEM statement was a CPP-initiated propaganda apparently launched to ride on mounting peace and order concerns and other security issues in the country," he said.
In a statement on Monday, PADEM denounced President Duterte for betrayal of public trust and for violation of national sovereignty and the democratic rights of Filipinos.
The group also accused the President of treating the AFP and the PNP as his private armies and criticized him for mishandling the Marawi crisis. It blamed him for killing thousands in the conduct of his anti-drug war.
The group's spokesman who signed its statement called himself Andres Bonifacio.
Reacting to PADEM's statement, AFP spokesman, Brig. Gen. Restituto Padilla said on Tuesday the military stands by its constitutional mandate as protector of the people.
"AFP categorically denies the recent statement issued by a group that pretends to be representatives of the men and women of the AFP and the PNP and called themselves PADEM," Padilla said.
Padilla said issues raised by PADEM were clearly politically motivated and abhorred by the AFP.
Meanwhile, the PNP issued a statement yesterday denouncing PADEM and vowing to fight any attempt to destabilize the Duterte administration. – With Cecille Suerte Felipe