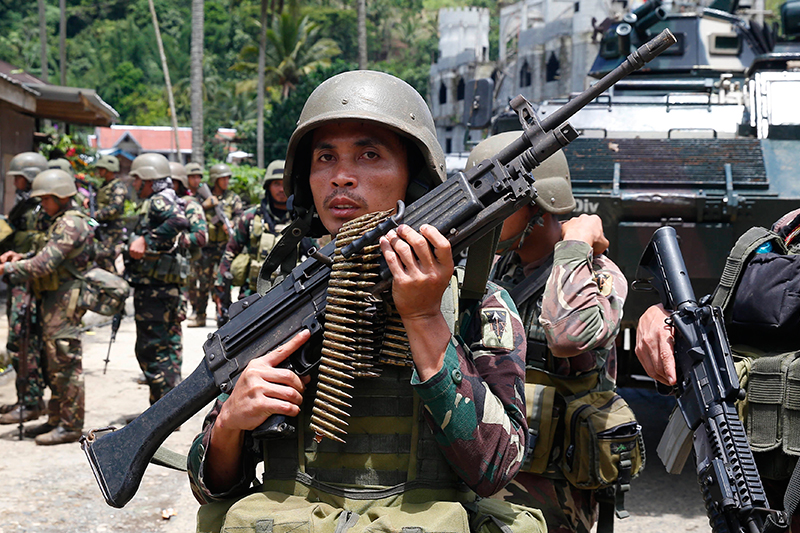 in this Tuesday, May 30, 2017, file photo, government troops prepare to head to the frontline as fighting with Muslim militants in Marawi enters its second week in Mindanao. AP/Bullit Marquez, File
Poll: 7 in 10 Filipinos see ISIS as leading security threat
MANILA, Philippines — Filipinos consider ISIS, global climate change and cyber-attacks from other countries as the leading security threat to their country, according to a Washington-based fact tank.
A survey conducted by the Pew Research Center showed that seven out of 10 or 70 percent of Filipinos see ISIS as the top threat in the Philippines
Global climate change and cyber-attacks turned out as major security concerns with 65 percent and 64 percent, respectively.
Only 47 percent of the respondents consider China's power and influence as a major threat while 46 percent saw the condition of the global economy and a large number of refugees as a concern.
The power and influence of Russia and the United States are not seen as a major threat to the Philippines with 26 percent and 25 percent, respectively.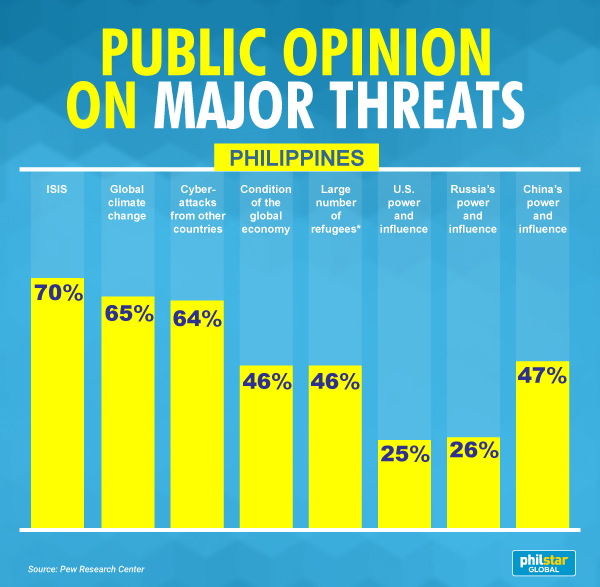 Among the seven Asia Pacific countries surveyed, four countries considered ISIS as a major security threat — Indonesia (74 percent), the Philippines (70 percent), India (66 percent) and Australia (59 percent). A median of 62 percent sees the international terror group as a major concern.
Japan (76 percent) pointed cyber-attacks from other countries as a major international concern while South Korea (83 percent) and Vietnam (80 percent) identified China's power and influence as a leading threat.
In general, people around the globe identified ISIS and climate change as major threats to national security with medians of 62 percent and 61 percent, respectively.
The survey was conducted from February 16 to May 8 among 41,953 respondents in 38 countries.
The poll comes after the declaration of martial law in Mindanao, which was triggered by a clash between government forces and ISIS-inspired Maute group in Marawi City.
US Secretary of State Rex Tillerson is set to discuss the threat of ISIS in the region as he attends Association of Southeast Asian Nations-related meetings in Manila.
RELATED: Report: ISIS galvanized in Asia by Marawi siege | ISIS threat in Southeast Asia alarms Washington