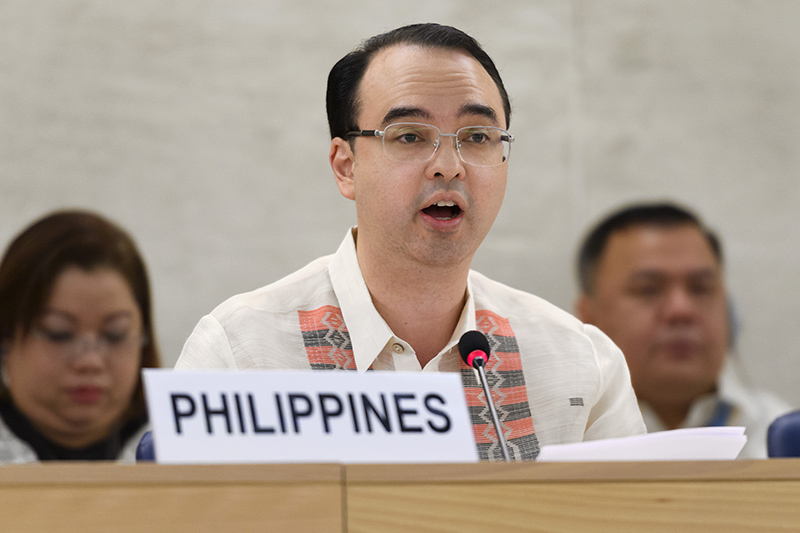 People from claimant-states in the South China Sea will suffer if they take a hard stance with China, Foreign Affairs Secretary Alan Peter Cayetano said yesterday, as former diplomats and experts expressed concern over Beijing's continued island-building activities in and militarization of the disputed waters. AFP/Fabrice Coffrini, File
'South China Sea claimants will suffer if harsh to China'
Helen Flores
(The Philippine Star) - August 4, 2017 - 4:00pm
MANILA, Philippines - People from claimant-states in the South China Sea will suffer if they take a hard stance with China, Foreign Affairs Secretary Alan Peter Cayetano said yesterday, as former diplomats and experts expressed concern over Beijing's continued island-building activities in and militarization of the disputed waters.
"In the West Philippine Sea, our neighbors are also claimants. If we go harsh with everyone, our people will suffer – trade, direct foreign investments, tourism," Cayetano said at the "ASEAN at 50: The Way Forward" forum in Makati City.
The Philippines under President Duterte, he pointed out, seeks to "build more bridges of understanding" to attain peace and stability in the region.
China claims about 90 percent of the entire South China Sea but this is being contested by Taiwan and four ASEAN members – the Philippines, Vietnam, Malaysia and Brunei.
The two-day forum, organized by the Carlos P. Romulo Foundation for Peace and Development, Center for Strategic and International Studies and Stratbase ADR Institute, was attended by diplomats and policy experts from ASEAN member-countries as well as non-ASEAN nations, including the US, Australia and South Korea.
Former foreign affairs secretary Albert del Rosario, chairman of Stratbase ADR Institute, urged ASEAN members to "define its own leadership" and oppose Beijing's aggressive expansion, noting that the "fear of economic retaliation" was keeping the ASEAN from standing up on important issues.
Cayetano, in his speech, assured the administration's critics that the Philippine government would not give up "a single centimeter" of its territory in the West Philippine Sea to China despite improved relations between the two nations.
"We may have different strategies, but we have the same objective, sir," Cayetano told Del Rosario.
In 2013, under Del Rosario's term as DFA secretary, the Philippines challenged China's maritime claim before an international arbitral tribunal, calling it "excessive" and "exaggerated."
A Hague-based arbitral court ruled in favor of the Philippines in 2016, saying China's maritime claims have no legal basis – a decision that was dismissed by China as "a mere piece of paper."
Del Rosario warned the Philippines against entering into financial agreements with China.
"By entering into weighty financial agreements, we may end up not only tying our own hands but also the hands of the next generation," he said as he called on ASEAN to take a stand against Chinese incursions.
ASEAN must unite vs China
Amy Searight, former US deputy assistant secretary of defense for South and Southeast Asia, also called on the ASEAN to push for its strategic vision in the development of the region.
"Neutrality is not an option because South China Sea is a key litmus test for China's rise and whether regional responses, regional norms and international law can shape China's behavior or not," said Searight, now senior adviser and director of the Southeast Asia Program of the Center for Strategic and International Studies.
She warned that the ASEAN could end up as a passive bystander if it would choose neutrality over making a stand in the region.
"ASEAN's potential is far greater (than being a team leader and hosting events in the region). It lies at forging a strategic vision for Southeast Asia, and the vision of what kind of neighborhood in the broader Indo-Pacific that it wants to reside in," she added.
Searight said this would require leadership and political courage and determination, but noted that ASEAN was able to show that it is up to tough challenges if it puts its collective mind to it.
Top ASEAN meeting topics ?
Alarm over North Korea's intercontinental ballistic missile tests, a germinal step to temper South China Sea disputes and unease over a disastrous siege by pro-Islamic State group militants will grab the spotlight in the ASEAN forum.
At least 27 nations are deploying their foreign ministers for three days of summitry and handshake photo-ops in Manila starting today, including the main protagonists in long-tormenting conflicts led by the US, Russia, China, Japan and South and North Korea.
The Philippines plays host as this year's ASEAN chairman.
Chinese and ASEAN foreign ministers will endorse a two-page framework of a long-sought code of conduct in the disputed South China Sea when they meet today as the Philippines calls the development a major diplomatic progress in efforts to ease a potential flashpoint.
Critics say the agreed outline of key principles is lopsidedly in China's favor and suspect that Beijing may have consented to it to divert protests as it tries to complete land reclamations and fortify its man-made islands with a missile defense system.
While the framework carries hope for a diplomatic approach to the disputes, it noticeably failed to mention China's construction of new islands and an arbitration ruling last year that invalidated the historic basis of Beijing's claim to virtually the entire sea.
Beijing's cozier ties with Manila under Duterte have calmed tensions and prompted China to allow Filipinos back to a disputed shoal, but arbitration proponents worry that the Chief Executive was squandering an opportunity to harness the rule of law to restrain aggressive acts in the disputed region.
A draft of a joint communiqué to be issued by the ASEAN ministers welcomes the conclusion of talks on the framework, but drops any mention of regional concerns over land reclamations and militarist moves in the South China Sea, which ASEAN members had agreed to include in their previous statements.
North Korea's two recent and successful ICBM tests also topped the agenda as the US and its allies quickly signaled their intention to impose additional sanctions against Pyongyang through a UN resolution.
Along with South Korea and Japan, the US is also expected to lead a barrage of condemnations against Pyongyang at the ASEAN Regional Forum (ARF), an annual security conference to be held in Manila on Monday.
North Korea has confirmed that its top diplomat, Ri Yong-Ho, will attend, raising the specter of a verbal showdown in the 27-nation ARF, which also includes Pyongyang's ally, China.
Ahead of the meeting, a senior State Department official told reporters in Washington that the US was moving to have North Korea suspended from the forum for going against its conflict-prevention objectives.
It's part of America's broader effort to isolate Pyongyang diplomatically and force it to end missile tests and abandon its nuclear weapons program. But removing North Korea from the grouping will be tough, as there is no exclusion procedure and the ARF decides by consensus. – With Janvic Mateo, Rudy Santos, AP