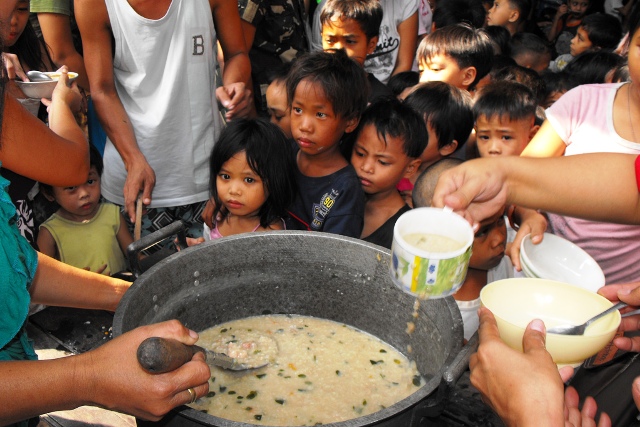 The June 23 to 26 survey, the results of which were published in BusinessWorld yesterday, showed that 9.5 percent of the 1,200 respondents said they experienced involuntary hunger due to lack of food. File
Hunger level lowest since 2004 — SWS
MANILA, Philippines - An estimated 2.2 million Filipino families experienced involuntary hunger at least once in the second quarter of 2017, the lowest since 2004, according to the latest survey conducted by Social Weather Stations (SWS).
The June 23 to 26 survey, the results of which were published in BusinessWorld yesterday, showed that 9.5 percent of the 1,200 respondents said they experienced involuntary hunger due to lack of food.
This is the lowest reading since March 2004's 7.4 percent, the last time hunger incidence fell to a single digit level in an SWS survey.
It dropped two points from the 11.9 percent or an estimated 2.7 million Filipino families who said that they have experienced involuntary hunger in a similar survey in March 2017.
According to SWS, 7.9 percent of the respondents in the latest survey said they have experienced moderate hunger, or only once or a few times, between April and June 2017.
The remaining 1.6 percent said they experienced severe hunger, or often or always, during the same period.
The hunger level decreased in all areas in the country since the last survey in March 2017.
It dropped from 12 percent in March to 11.3 percent in June in Metro Manila; 11.3 percent to 8.3 percent in the rest of Luzon; 13.7 percent to 8.7 percent in the Visayas; and 11.7 to 11.3 percent in Mindanao.
"Both moderate hunger and severe hunger fell between March 2017 and June 2017. Both have been steadily declining since December 2016," said SWS.
The survey has an error margin of plus or minus three percent nationwide.