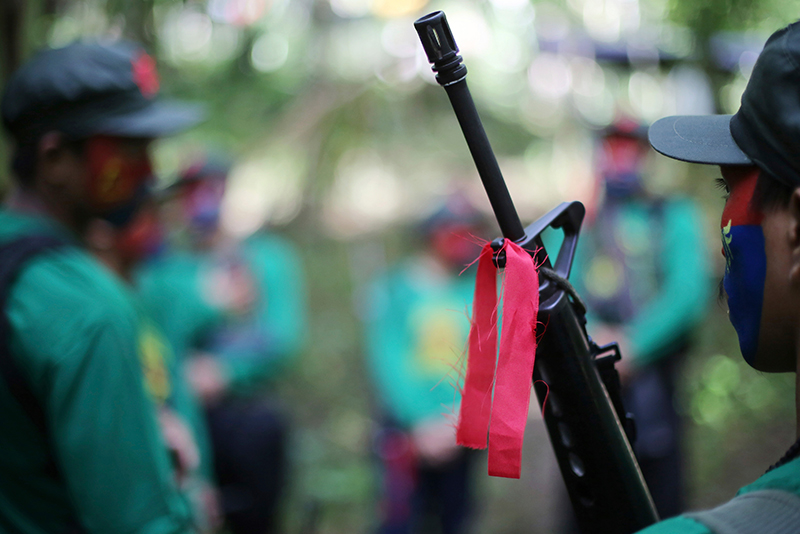 Surigao del Norte assistant police director Supt. Rudy Elandag yesterday said the guerrillas burned two steamrollers and a backhoe owned by Charlez Construction Co. as President Duterte delivered his State of the Nation Address (SONA) last Monday. AP/Aaron Favila, File
NPA torches road equipment, disarms Surigao vice mayor
Ben Serrano
(The Philippine Star) - July 26, 2017 - 4:00pm
BUTUAN CITY, Philippines – Ignoring earlier appeals from President Duterte, at least 50 suspected communist New People's Army (NPA) rebels burned heavy equipment at a road construction site in Barangay Gacepan, Sison, Surigao del Norte .
Surigao del Norte assistant police director Supt. Rudy Elandag yesterday said the guerrillas burned two steamrollers and a backhoe owned by Charlez Construction Co. as President Duterte delivered his State of the Nation Address (SONA) last Monday.
The NPA also claimed responsibility for the series of attacks last July 18 in the Caraga region.
In a statement, Ariel Montero, spokesman for the NPA regional command, said guerrillas also disarmed Vice Mayor Emmanuel Suarez of Cortes town in Surigao del Sur on Tuesday last week.
Montero said guerrillas also gunned down a still unidentified militiaman in Butuan City.
Another rebel group burned a portion of the Dole-Stanfilco banana plantation in Tago, Surigao del Sur, while another construction firm was attacked in Surigao City.
Duterte has publicly appealed for a stop to NPA extortion and burning of private and government property.
Montero said the offensives were meant to show the NPA's protest against the extension of martial law in Mindanao and the all-out military offensive under Oplan Kapayapaan.
"Ka Amihan," spokesperson for Front Committee 19-B of the NPA Agusan del Sur, said the punitive action against Dole was conducted over the alleged land grabbing of local agricultural land and the aerial chemical spray that damaged the environment and health of residents in Tago.
NPA raid foiled
Military operatives foiled yesterday the attack of NPA rebels on a government hydroelectric power plant in Luisiana, Laguna.
Capt. Mel Durante, Army regional spokesman, said some 10 NPA guerrillas entered the power plant at around 5:40 a.m. and were about to burn the facility at Sitio Bateria, Barangay San Rafael, Luisiana when the soldiers arrived and clashed with the rebels.
Durante said troops from the Army's 80th Infantry Battalion received reports from concerned citizens that armed men were spotted near the hydroelectric power plant.
Army soldiers were immediately dispatched to the area and they encountered the NPA rebels attempting to burn the power plant.
A firefight erupted for 10 minutes that forced the rebels to abort their operation and withdraw toward the nearby mountains.
Durante said an undetermined number of rebels were believed wounded in the clash as bloodstains were found along the escape route of the guerrillas.
No casualty was reported on the government side.
Maj. Gen. Rhoderick Parayno, commander of the 2nd Infantry Division, said that the same group of NPA rebels had clashed with troops last May in the area.
Senior Supt. Cecilio Ison, Laguna police director, said police and military units have remained on alert in Luisiana and nearby Mauban, Quezon after the NPA attempted to burn construction equipment in the area.
Vice President Leni Robredo said President Duterte should not give up on the peace talks with communist rebels.
"We always hope for lasting peace. As much as possible, the government should avoid violence. As long as there's still hope to discuss peace, we should find all means to achieve this," she said.
Distorted perception
Presidential spokesman Ernesto Abella said Duterte had tried to talk peace with the rebels and to accommodate their demands.
"They have a distorted perception of what the President is doing. Basically, the President has been very open. He has actually engaged them… From where the President is coming from, he has actually bent over backwards in trying to accommodate them," Abella said in a press briefing at Malacañang.
"Apparently, he doesn't perceive that there is a commensurate response. So I don't know about being worse or what, but the fact is, the President has been quite open and has actually engaged that party," he added.
Despite the cancellation of peace talks, Abella said Duterte still trusts the three Left-leaning members of his Cabinet – Agrarian Reform Secretary Rafael Mariano, Social Welfare Secretary Judy Taguiwalo and National Anti-Poverty Commission chief Liza Maza.
"The Cabinet members and the negotiations are two different things… Up to this stage, as far as I can see, there is no conflict," Abella said.
Abella also responded to Communist Party of the Philippines (CPP) founder Jose Ma. Sison's statement that Duterte should consult a psychiatrist because "he has a sick mind."
Sison made the remark after Duterte told him to commit suicide because Norway could no longer shoulder his hospital expenses. Norway serves as the third party facilitator of the peace talks.
Sison has also challenged Malacañang to release Duterte's medical records after the President claimed that the CPP founder has colon cancer. Sison had said Duterte's claim about his health was "imaginary."
Abella maintained that Duterte is in the "best of health."
"Those are two different issues. The President has again and again declared. And we can see that he is pretty much in control of his physiology. He seems to be in the best of health," the presidential spokesman said.
Asked if Malacañang was willing to disclose Duterte's medical records, Abella said: "Up to this stage, I don't know what the response is. But, you know, there's really no need to do that. As far as I can see, there's really no need to do that."
NPA extortion
Armed Forces of the Philippines (AFP) chief Gen. Eduardo Año has branded the CPP-NPA as a national extortion syndicate.
He said the so-called revolutionary group "has degenerated into a national Mafia syndicate whose obsession is to squeeze money from private companies, businessmen, planters and contractors."
Año said the CPP-NPA's expertise is "burning and destroying properties and resources without regard to human lives" as they are "mere bandits and terrorists posing as communists."
The AFP chief and designated martial law implementor in Mindanao issued the statement yesterday in reaction to Sison's claim that there are already two governments in the Philippines – the reactionary government and the revolutionary government. – With Helen Flores, Alexis Romero, Michael Punongbayan, Ed Amoroso