Duterte 'lowest of the low' over threat to bomb Lumad schools, Reds say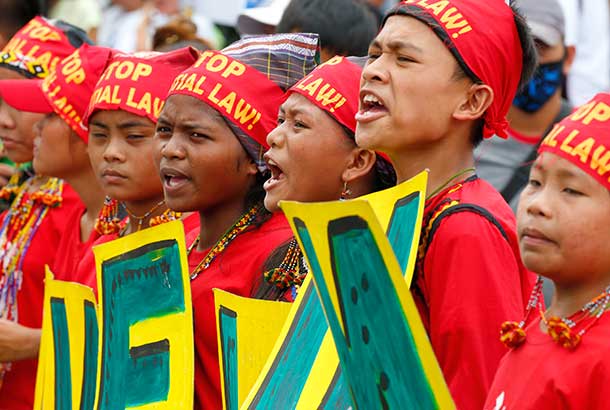 MANILA, Philippines — President Rodrigo Duterte is facing criticism over his threat to bomb indigenous schools supposedly being used by communists to influence the youth to rebel against the government.
In a statement, the Communist Party of the Philippines dubbed Duterte as "lowest of the low" for threatening to bomb schools.
"You are a madman with bombs. You are a bully. An arrogant street thug intoxicated with power. But you only pick on the weak, the small and the oppressed. You bomb their homes, shell their communities and expect them to bow to your power. You exercise power but only against the powerless," the CPP said.
"But you are a weakling when faced with the powerful. You cannot even keep your word to stop the mining companies that poison and plunder the land. The NPA has done much more than you in defending the country's patrimony," it added, referring to the New People's Army.
Eule Rico Bonganay, secretary-general of Salinlahi Alliance for Children's Concerns, said the president's remark poses a serious threat to schools in Mindanao.
"What could be worse than what can be taken as an open command from the chief executive with sheer impunity on the genocide of our indigenous people?" Bonganay said.
"Attacks on Lumad schools in Mindanao did not falter, it even intensified especially when President Duterte declared martial law in Mindanao," he added.
Citing documentation of military occupation of Lumad schools, Bonganay said it has been a practice of the Armed Forces of the Philippines to tag schools critical against mining as "training ground" of communist rebels.
"It's even more alarming because President Duterte is echoing the same baseless accusation and maligning our Lumad schools. For sure, the president's statement will embolden attacks in Lumad communities by the elements of the AFP and perpetrate further harassments, and indiscriminately bomb Lumad communities in Mindanao," he said.
The Department of Education declined to comment on the president's remarks despite earlier calls of Education Secretary Leonor Briones to keep schools as zones of peace.
National Youth Commission chair Aiza Seguerra said they will issue a statement regarding the matter.
Meanwhile, Commission on Human Rights chair Chito Gascon warned Duterte against targeting the destruction of civilian structures.
"He should be reminded that targeting the destruction of civilian structures such as schools are prohibited by the universally-accepted standards of international humanitarian law," he said.