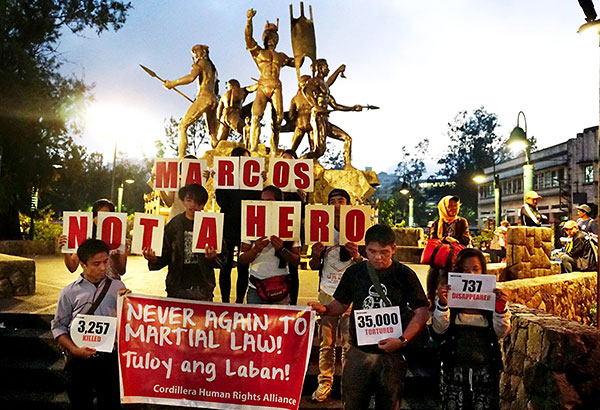 Another issue threatens to further complicate the bid of human rights victims under the Marcos regime to claim damages fake claimants. Andy Zapata Jr./File
Fake Marcos human rights claim being probed
MANILA, Philippines - Another issue threatens to further complicate the bid of human rights victims under the Marcos regime to claim damages: fake claimants.
The Human Rights Victims' Claims Board (HRVCB) is seeking the assistance of the Philippine National Police (PNP) to investigate an alleged fraudulent claim of a father who claimed to have lost his son during martial law.
Earlier, the Court of Appeals (CA) dismissed the petition of over 10,000 human rights victims seeking enforcement of a US Federal Court decision awarding them $1.9 billion.
In its decision, the CA said, "Rules of comity should not be made to prevail over our Constitution and we cannot allow foreign impositions to trample upon our sovereignty."
HRVCB chair Lina Sarmiento asked the PNP-Directorate for Investigation and Detective Management (DIDM) to look into a case of "forced disappearance."
The STAR obtained a copy of Sarmiento's letter submitted to PNP DIDM headed by Director Augusto Marquez. The name of the supposed complainant is withheld pending further investigation.
The letter stated that the father claimed his son was one of the victims of forced disappearance during martial law, and thus is entitled to receive P250,000 monetary compensation as provided for by Republic Act 10368 or the law creating the HRVCB.
The HRVCB is an independent quasi-judicial body created to recognize and provide reparations to victims of human rights violation committed during the regime of former dictator Ferdinand Marcos.
As an initial payment, the HRVCB reportedly approved the issuance of a check amounting to P125,000, which was supposed to be claimed by the father. However, The STAR learned that the check was issued in the name of the supposedly missing son.
"The father went to the bank to get the money but since it was issued in the name of the supposedly missing son, the bank did not release the money," a source said.
Upon learning about the incident, HRVCB tried to correct and immediately issue another check under the name of the claimant-father, a source said.
"But before the name of the claimant was corrected, the missing son went to the bank trying to get the monetary compensation. Officials of the HRVCB learned about the incident, prompting them to seek the assistance of the PNP," the source added.