Pacquiao: I was robbed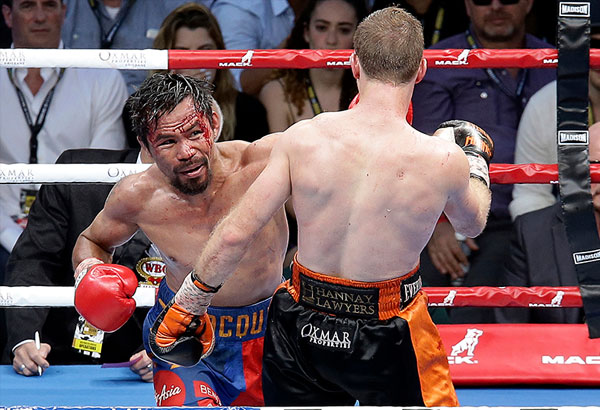 BRISBANE – Based on numbers that were shown him after the fight, Manny Pacquiao felt he was robbed the way he'd been robbed before.
"We won the fight," said Pacquiao hours after he lost his WBO welterweight title yesterday to undefeated Australian Jeff Horn.
Pacquiao had the numbers and the tape of the fight to back up his claim.
"It's clear naman, kahit (even if) i-review mo ang fight," he said after taking the damaging loss before 51,052 fans at the Suncorp Stadium.
At 38 and at the final bend of his career, Pacquiao can't afford to take another loss.
He has lost four times in his nine fights the last five years, and losing the "Battle of Brisbane" is not going to help him draw the fights he wants as the sun goes down.
On top of the ring, in the middle of the packed stadium, Pacquiao took the loss in stride, saying there's nothing else to do but accept defeat.
"It's okay. It's part of the game," he said as his fans cheered.
"That's the decision of the judges. I respect that," added the humble senator.
But Compubox numbers were all over the Internet after the bloody welterweight contest, saying that Pacquiao threw less but landed more punches.
In the power punches department, Pacquiao landed 123 of his 380, and Horn connecting on only 73 of his 428 power punches.
Pacquiao also had the better and more accurate jab, going 59-of-193 compared to the Australian who landed only 19 jabs out of 197 thrown.
The total punch stats showed that Pacquiao was the better puncher, who lost a unanimous decision.
Teddy Atlas, the great trainer, was among the many who felt Pacquiao was robbed.
"They gave a win, a huge win, to the local kid for trying hard. You're not supposed to get it for trying hard. You're supposed to get it for winning and I thought Pacquiao won the fight if you go by the real rules of who lands the cleaner punches," said Atlas, one of the ring commentators.
A report by news.com.au was plated on the Internet telling how Atlas, who trained Tim Bradley for this third fight with Pacquiao, approached Horn after the fight.
"Congratulations, (you're) a great athlete. I thought you lost, but great effort. Did you feel, after that ninth round when you heard the referee saying 'I'm going to stop this fight if you don't do something', that you were winning that fight?" said Atlas.
In 36 minutes, Pacquiao threw a total of 573 punches and landed 182.
Horn, on the other hand, threw a grand total of 625 punches and landed only 92.
But the judges saw it otherwise.