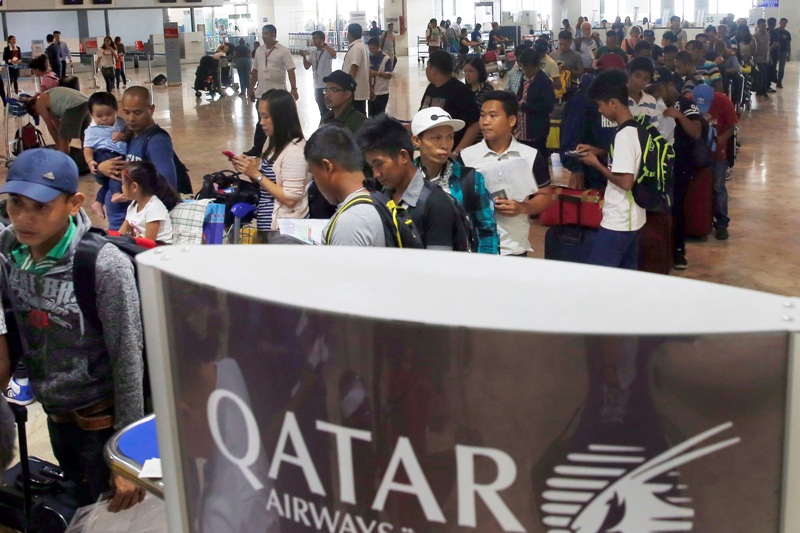 Overseas Filipino workers are again free to leave the country for work in Qatar, as Labor Secretary Silvestre Bello III yesterday reported that the government has totally lifted the suspension on the deployment of OFWs to the beleaguered Arab nation. AP/Bullit Marquez, File
DOLE lifts suspension of OFW deployment in Qatar
MANILA, Philippines - Overseas Filipino workers are again free to leave the country for work in Qatar, as Labor Secretary Silvestre Bello III yesterday reported that the government has totally lifted the suspension on the deployment of OFWs to the beleaguered Arab nation.
"This decision was arrived at on the advice of Foreign Affairs Secretary Alan Peter Cayetano," Bello said in a statement, adding that it was also upon the recommendation of the Philippine Overseas Labor Office (POLO) in Qatar following its assessment of the situation in the Gulf state.
Over a week ago, Bello ordered the suspension of deployment of OFWs to Qatar after six other Gulf states cut diplomatic ties with the oil-rich country.
Bello said the move was meant to ensure the safety of Filipinos in Qatar, although he decided to partially lift the moratorium a day later and allowed deployment of workers with overseas employment certificates (OECs).
According to Bello, Doha-based labor attaché David Des Dicang and the Philippine embassy are now requesting the deployment of newly hired workers to Qatar, particularly to the Philippine School Doha (PSD) and Philippine International School-Qatar (PISQ).
Dicang said more OFWs are needed for the continued operations of the Philippine schools in Qatar and to allay fears of the revocation of their school permits issued by the Qatari government.
A total of 28 new teachers and 20 bus drivers of PSD and 51 new teachers of PISQ have pending applications with the Philippine Overseas Employment Administration (POEA).
The Philippine embassy and the POLO in Qatar also sought the deployment of an assessment team to meet with government authorities and companies providing employment to Filipino workers.
Bello said the POLO is discussing with the Qatari government the repatriation of distressed OFWs temporarily accommodated at the Migrant Workers and other Overseas Filipinos Resource Center and the plight of household service workers of non-Qatari employers, who may be left in the country or will be forced to travel with their employers.
The Qatari government, according to Bello, has guaranteed the safety of the estimated 250,000 Filipinos in Qatar.