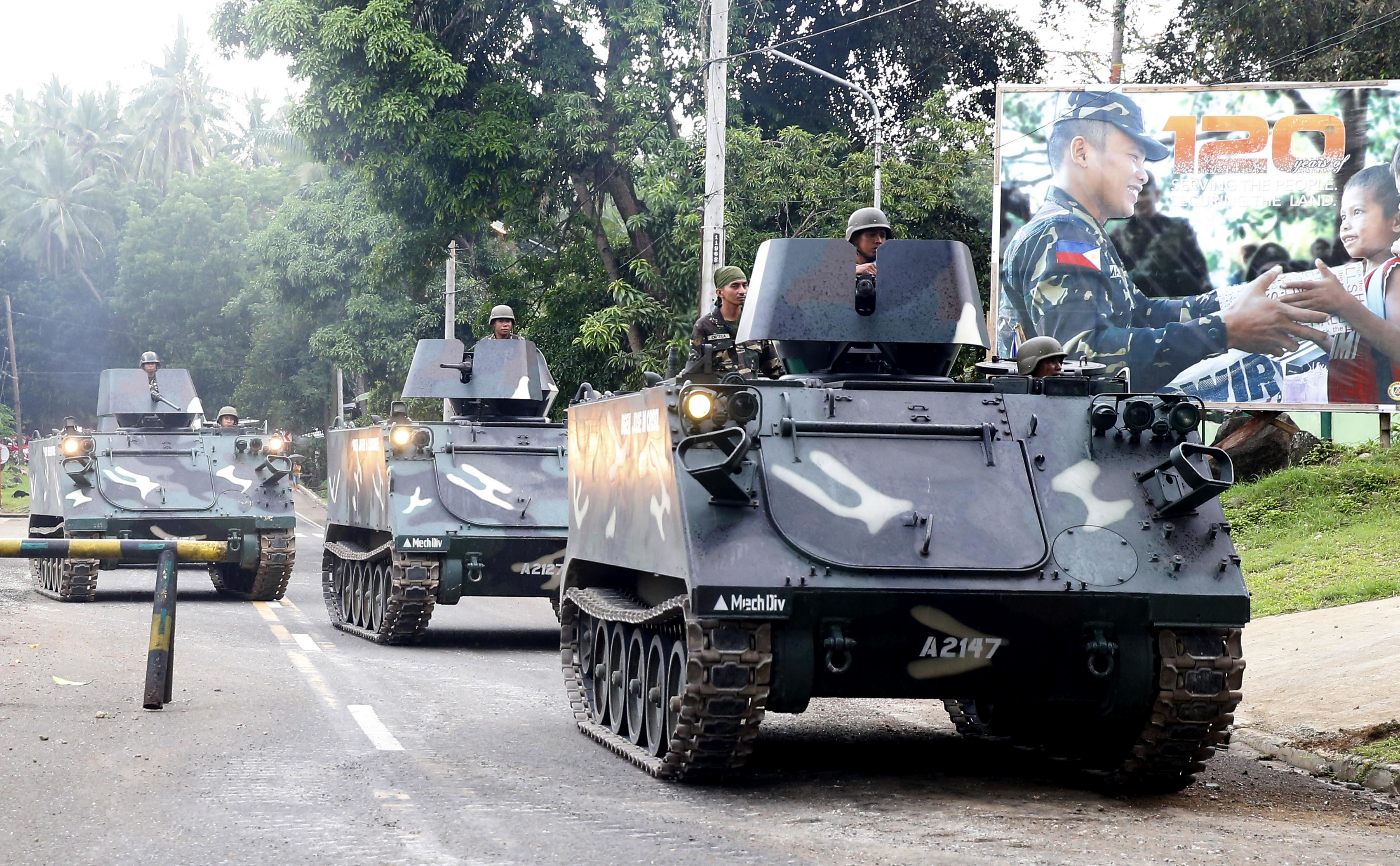 APCs arrive at a military camp in Iligan city to reinforce government troops who are battling Muslim militants who laid siege in Marawi City. AP/Bullit Marquez, file
No more deadlines for military to retake Marawi
MANILA, Philippines — After failing to meet its deadlines to retake Marawi City, the military will no longer set timetables for the operations against the Islamic State-linked Maute terrorists.
Armed Forces spokesman Brig. Gen. Restituto Padilla admitted that clearing the city of Maute militants may take some time because security forces are avoiding civilian casualties.
"We will not set deadlines. We will ensure that we are able to clear it of any armed element that still exists and it may take some time," Padilla said in a press briefing in Malacañang on Wednesday.
"The operations we are doing, as I mentioned earlier, is not as easy as the ones we are doing in jungles. So it will entail a bit of time before we clear every house of any armed element. So we beg for some patience but we are getting there," he added.
The government has repeatedly failed to meet its self-imposed targets on the Marawi crisis, which started after terrorists raided the city last May 23.
Security forces originally sought to finish the operations against the Maute militants last June 2 but stiff resistance and the presence of trapped civilians prevented them from doing so. On June 4, President Duterte said the crisis may be finished in "about three days" but the fighting persisted.
Last week, the military said it would seek to liberate the strife-torn city on June 12, the 119th anniversary of Philippine independence but the goal was not met.
"The military activities that are conducted in open terrains like jungles are a different story when it is compared to urban terrain. In an urban terrain where civilians are still currently trapped and may possibly be used as human shields or may be hit by crossfire, troops have to be very careful," Padilla said.
"Our rules of engagement are very different in urban terrain. We have to be very careful, we have to very judicious, we have to be very deliberate so as to avoid hitting innocent lives. And this is where the slow process of liberating Marawi is currently happening," he added.
The military also issued contradicting statistics about its operations in Marawi City.
'Fog of war'
Security officials claimed last May 31 that the Maute group was just controlling three of the 96 barangays or about ten percent of Marawi. But on Tuesday, the military said the militants are holding on to four barangays or about 20 percent of the city.
Padilla attributed the contradicting data to the "fog of war" and the volatile situation on the ground.
"The initial reports came from our ground commanders. Now, you know, there's this thing called fog of war when everything is all breaking loose and then everything is very fluid, the reporting system may not be very accurate as exactly as we would want," the military spokesman said.
"So now that we have lulls in the fighting, and we can more or less cross-check our data, there is a decision now to be more specific that the use of barangays would be better," he added.
Why make a fuss?
Also on Wednesday, the military said there is no need to make an issue out of the United States' assistance to Philippine troops in Marawi City.
"I do not understand why we are hyping the issue about Americans helping. If you will recall, we used to talk about their presence in Zamboanga. Have we not explained that they were providing technical assistance because we are facing threats posed by the Abu Sayyaf?" Padilla said.
"The point here is we do not have the capability yet. Now, we are in the process of attaining such capability," he added.
Padilla said it was easier to tap the assistance of the American forces because the Philippines and the US already have a mechanism for defense cooperation.
"We are open to assistance from other countries but it will take time. It will take time to organize and transfer their equipment here. But the Americans are already here and they can easily transfer their equipment. They just transferred their equipment from Zamboanga to Marawi to help," he said.
"So we have already a ready set of capabilities we can request for and that's what we did because the ground commanders already needed it even before the request was made," he added.
Padilla could not say how many American soldiers are now in Marawi but claimed that there are only a few of them in the city.
He said the US troops provided technical assistance, information that enhanced the Philippine troops' situational awareness.
National democratic organizations like Bagong Alyansang Makabayan have criticized US assistance in Marawi, saying this contradicts the Duterte administration's declared independent foreign policy.