Interfaith rally to call for lifting of Mindanao martial law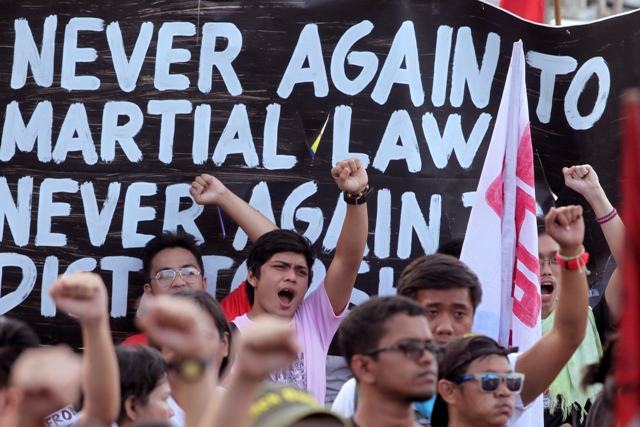 MANILA, Philippines - Over 100 former and current lawmakers, religious leaders and activists will once again call for the lifting of martial law in Mindanao and for the respect of human rights through an interfaith rally slated in Manila tomorrow, Independence Day.
A unity statement released yesterday said the signatories would gather at the Andres Bonifacio Shrine located beside the Manila City Hall from 3:30 p.m. to 6 p.m. tomorrow for a National Day of Prayer and Action for Peace and Human Rights "to show our opposition to martial law in Mindanao and possibly other parts of the country."
"A regime that trades Filipinos' human rights for vague, ever-moving law and order goals can only add fuel to armed rebellions and set back efforts to address the roots of the conflict," the statement said.
Martial law, according to the signatories, will further embolden law enforcers and state-sponsored vigilantes and para-military groups to commit even more extrajudicial killings and curtail civil and political rights.
The signatories also called for the halt of aerial bombings of Marawi City, now under siege by Islamic State (IS)-inspired Maute group.
"It is the poor that bear the brunt of these wars. It is the poor that are killed. It is their rights that are violated. It is their communities that are subject to aerial bombings and abuses during military and police operations," they noted.
They also called for the continuation of the peace talks between the government and the National Democratic Front of the Philippines, the Moro Islamic Liberation Front and the Moro National Liberation Front.
Among the signatories are former senators Rene Saguisag and Wigberto Tanada, members of the House of Representatives' so-called Makabayan bloc, Manila auxiliary bishop Broderick Pabillo, National Council of Churches in the Philippines secretary-general Rex Reyes Jr., militant groups like Bagong Alyansang Makabayan (Bayan) and National Union of People's Lawyers (NUPL), and artists like Mae "Juana Change" Paner and Maria Isabel Lopez.
Petition vs martial law
In a related development, Mindanao activists, together with human-rights advocates, filed a petition before the Supreme Court (SC) against martial law Friday afternoon.
The petition covers the entire Mindanao as the groups alleged there were no incidents similar to what is happening in Marawi that are simultaneously occurring in the 33 cities and 422 municipalities of the region.
The petitioners include six local Mindanao leaders, namely, Lumad leader Eufemia Campos Cullamat; peasant leader Virgilio Lincuna of the Kilusang Magbubukid ng Pilipinas; Ateliana Hijos of Gabriela; and trade union leaders Roland Cobrado, Carl Anthony Olalo and Roy Jim Balanghig of the Shin Sun Tropical Fruits Inc. whose picket line was broken up by the police last June 2 after martial law was declared.
They were joined by leaders of various human rights and activist organizations and party-list groups: Bagong Alyansang Makabayan secretary-general Renato Reyes, Karapatan secretary-general Cristina Palabay, Samahan ng Ex-Detenido Laban sa Detensyon at Aresto chairperson Marie Enriquez, ACT Teachers party-list Rep. Antonio Tinio, Kabataan party-list Rep. Sarah Jane Elago and Gabriela deputy secretary-general Jovita Montes, among others.
They are represented by the NUPL through lawyers Neri Colmenares, Edre Olalia, Julian Oliva, Ephraim Cortez, Ma. Cristina Yambot, Maneeka Sarza, Josalee Deinla and Katherine Panguban.
Respondents in the petition include President Duterte, Executive Secretary Salvador Medialdea, Defense Secretary Delfin Lorenzana, Armed Forces of the Philippines chief Gen. Eduardo Año and Philippine National Police Director-General Ronald dela Rosa.
Petitioners argue that the imposition of Proclamation No. 216 in the entire Mindanao is unwarranted, unjustifiable and out of proportion to the threat posed by the Maute and Abu Sayaff groups because aside from the violence in Marawi, respondents failed to prove sufficient factual basis that rebellion is simultaneously occurring in other parts of the island.
The first such petition from Mindanao also asked the high court to allow their lawyers to participate in the oral arguments set on June 13-15 at 10 a.m. at the New Session Hall, New Supreme Court Building.
4 women from Marawi
Meanwhile, the SC yesterday also allowed four women from Marawi – Norkaya Mohamad, Sittie Nur Dyhanna Mohamad, Noraisah Sani and Zahria Muti-Mapandi – to join the militant group of petitioners in the oral arguments after assessing that their petitions appeared to be sufficient in form and substance.
The respondents in their complaint are Medialdea, Lorenzana, Año, Dela Rosa, Interior and Local Government officer-in-charge Catalino Cuy and National Security Adviser Hermogenes Esperon Jr.
The petitions of the Mindanao militant group and the four Marawi women would be consolidated with the petition filed last Monday by seven opposition congressmen led by Albay Rep. Edcel Lagman.
60 days not enough
Meanwhile, Sen. Juan Miguel Zubiri believes that the 60-day martial law in Mindanao may not be enough to neutralize the Maute terror group.
In Bacolod City on Friday, he disclosed that martial law could even be extended, as he expressed support for doing such temporarily only in Marawi City.
The senator, however, stressed that he opposes expanding martial law to the Visayas and Luzon, since there is no compelling reason to do so. – With Rhodina Villanueva, Evelyn Macairan, Gilbert Bayoran