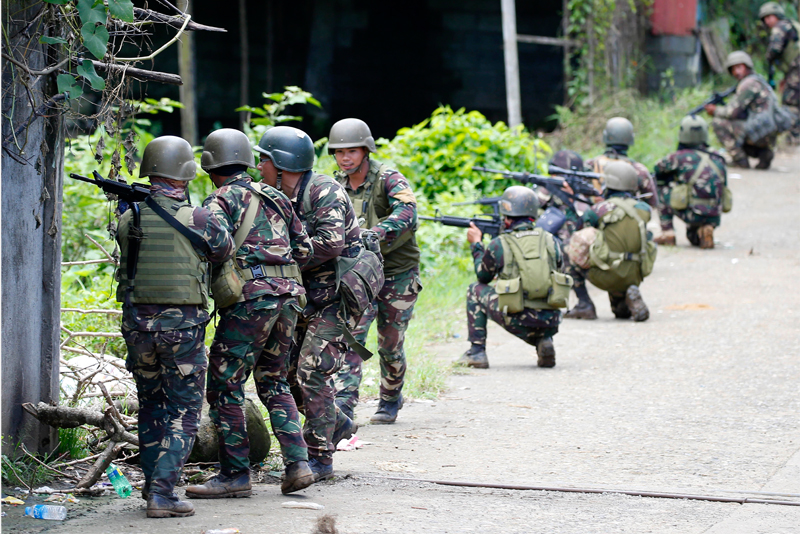 US embassy spokesperson Molly Koscina confirmed the development after a television network aired a video of a US P3 Orion surveillance aircraft flying over Marawi on Friday. AP/Bullit Marquez, file
US forces assisting Philippines in battle to end siege
MANILA, Philippines - United States forces are providing technical assistance – not boots on the ground – to Filipino soldiers fighting since late last month to liberate Marawi City from Maute militants.
US embassy spokesperson Molly Koscina confirmed the development after a television network aired a video of a US P3 Orion surveillance aircraft flying over Marawi on Friday.
The Armed Forces of the Philippines (AFP) also admitted getting technical support from the US.
"At the request of the government of the Philippines, US special operation forces are assisting the AFP with ongoing operations in Marawi. The US non-combat support helps AFP commanders on the ground in their fight against Maute and ASG (Abu Sayyaf Group) militants," Koscina said in an email to The STAR Friday night.
President Duterte earlier expressed optimism the Marawi crisis would be over "in a matter of days."
The military aims to raise the Philippine flag in Marawi tomorrow, Independence Day, to show that the government has regained control of the country's only Islamic City after almost three weeks of intense fighting with extremists, who claimed allegiance to the Middle East-based Islamic State (IS).
Mindanao has been under martial law since May 23, as Maute militants remain in control of some parts of the city.
Duterte earlier said the IS itself was behind the "rebellion" in Mindanao.
Koscina said the US special operations forces have been granting request for assistance from the Philippine government for many years.
"As we have with previous administrations, we routinely consult with our Filipino partners at senior levels to support the Duterte administration's counterterrorism efforts," she said.
The US, she stressed, is "a proud ally of the Philippines, and we will continue to work with the Philippines to address shared threats to the peace and security of our countries, including on counterterrorism issues."
The assistance came after months of strain in US-Philippine relations, stoked by President Duterte's hostility towards Washington and his pledges to throw US troops out of the country.
AFP spokesman Brig. Gen. Restituto Padilla confirmed US technical assistance but gave no details.
"They are not fighting. They are just providing technical support," Lt. Col. Jo-Ar Herrera, another military spokesman, said in a press briefing, referring to US military personnel engaging their Filipino counterparts.
Although basically a surveillance aircraft, the P3 Orion is also armed with air-to-ground missiles and smart bombs.
The ongoing clashes in Marawi City have affected tens of thousands of residents and have resulted in the deaths of more than a hundred terrorists and dozens of soldiers, policemen and civilians.
The seizure of Marawi by hundreds of fighters who have sworn allegiance to IS, including dozens from neighboring countries and the Middle East, has fuelled concern that the ultra-radical group is gaining a foothold in Southeast Asia. – Jaime Laude