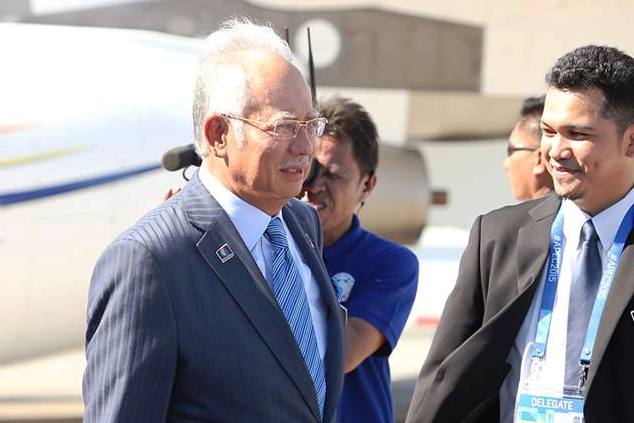 "Malaysia condemns the attack on Marawi City by groups linked to Daesh that led to casualties of government forces and displacement of civilians," Razak tweeted on Thursday, using another name for the Islamic State. APEC Philippines/Released, file
Malaysia offers help in Philippines fight vs terrorists
(The Philippine Star) - May 27, 2017 - 4:00pm
MANILA, Philippines - Malaysian Prime Minister Najib Razak has expressed full support for the Philippines following the terrorist attack in Marawi City that prompted President Duterte to declare martial law in the whole of Mindanao.
"Malaysia condemns the attack on Marawi City by groups linked to Daesh that led to casualties of government forces and displacement of civilians," Razak tweeted on Thursday, using another name for the Islamic State.
"I have full confidence in the Philippines and will offer our full support," he added.
He also stressed that the crisis must not derail the ongoing Mindanao peace process.
Malaysia has served as facilitator during the peace talks between the Philippine government and the Moro Islamic Liberation Front.
Razak came to the Philippines in 2014 when the peace agreement was signed between the negotiating panels in the presence of former president Benigno Aquino III.
Meanwhile, the Canadian government on Friday issued a travel advisory warning its citizens not to travel to Mindanao following the declaration of martial law.
"Global Affairs Canada (GAC) advises against all travel to the Mindanao region (excluding urban areas of Davao City) due to the serious threat of terrorist attacks and kidnapping," it said in its updated advisory.
"The government of Canada's ability to provide consular assistance in this region is limited," it added.
The GAC also advised its citizens against non-essential travel to Davao City "due to security concerns and the implementation of martial law in the Mindanao region."
It also reiterated its warning against traveling to the Sulu archipelago and through the southern Sulu Sea, including the waters off southern Palawan Island, due to the threat of piracy and kidnappings in this area.
"There is a serious risk of terrorist attacks and kidnappings in this region. Bombs causing deaths and injuries have exploded in public areas of major centers, including the cities of Cagayan de Oro, Cotabato, General Santos, Isabela, Jolo, Kidapawan and Zamboanga," said Canadian government.
Canada said its citizens visiting or living in Mindanao despite the advisory should regularly review their security situation and take appropriate precautions, especially when visiting places frequented by foreigners.
"Davao City authorities have released guidelines discouraging non-essential travel to and from the city while the city remains in a state of martial law. Avoid crowded places and remain indoors as much as possible," it added.
Earlier, the United States and United Kingdom also issued travel advisories following the clashes in Marawi City and the subsequent declaration of martial law.
"While the US embassy has no information that the events in Marawi City represent a direct threat to US citizens or US interests in the Philippines, we encourage US citizens to review personal security plans, avoid large crowds and gatherings and remain vigilant at all times," the US embassy in Manila said.
Meanwhile, the UK's Foreign and Commonwealth Office said it continues to advise against all travel to western Mindanao, including Marawi City.
It urged its citizens in Marawi to remain indoors, monitor media and follow the advice of authorities. – Janvic Mateo