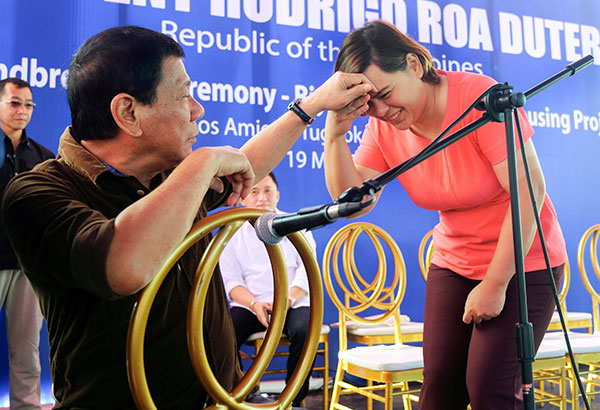 President Duterte blesses his daughter Davao City Mayor Sara Duterte-Carpio during the groundbreaking for the Biyaya ng Pagbabago housing project in Tubok district, Davao City yesterday.
Rody warns Kadamay on houses: You might get shot
(The Philippine Star) - May 19, 2017 - 4:00pm
MANILA, Philippines - President Duterte warned members of the urban poor group Kadamay yesterday that they could be shot if they forcibly occupied more government housing units meant for certain sectors.
The warning was issued amid concerns raised by certain people involved in the provision of low-cost shelters that Kadamay is recruiting members for a nationally coordinated, near-simultaneous occupation of mass housing units.
Speaking in the Visayan dialect, the President urged Kadamay members to stop their forcible occupation of government houses because "you might be shot by the owners."
At the same event, Duterte also discussed his strategy of buying land for housing units of victims of fire in his province. This had been his practice when he was still mayor of Davao.
He told guests at the Madayaw Residences in Barangay Talomo Proper in Davao City that this was the same rationale he used when he allowed members of Kadamay to occupy the National Housing Authority (NHA) project in Pandi, Bulacan. The houses were meant for police and military personnel.
Duterte expressed frustration that there are some quarters criticizing his government when the administration is doing its best to provide for the less fortunate and homeless.
Apart from the Davao provinces, Duterte said he is also building more housing projects for the police and military personnel in Zamboanga, Caraga and Bulacan.
He, however, advised the policemen and soldiers affected by the "takeover" of Kadamay members in Pandi not to pick a fight with the informal settlers.
"I will give more houses," he said, assuring members of the Philippine Coast Guard in a third event at the SM Convention Center.
Duterte also bared that he has prevailed upon NHA general manager Marcelino Escalada Jr. not to resign from his post after he offered to quit due to intrigues after members of the militant urban poor group Kadamay recently occupied empty units of a government housing project in Pandi.
In a speech during the groundbreaking and launching of the new housing design for the police and military called the Madayaw Residences, Duterte yesterday revealed he did not accept Escalada's resignation and urged him to stay.
"Last week, he (Escalada) attempted to resign, as sabi niya maraming intriga dito sa (he said there are many intrigues in the) housing authority, especially one of the biggest budgets sa gobyerno. Sabi niya gusto niya mapalayo lang sa intriga (he said he wants to stay out of intrigues). I told him, why would you do that? If you are doing right and good and honestly, you stay there until you die," Duterte said.
He also reminded government officials to be steadfast in the campaign against corruption.
"Don't steal and you will have no problem," he added.
In the latter part of his speech, Duterte encouraged informal settlers to take over the property occupied by the owners of a major newspaper in Makati City.
Duterte urged the informal settlers to take over the Mile Long property.
"I will tell the people, don't be afraid of arrest, because the land you would take over belongs to you. Only the corrupt justices and judges are prolonging it," the President said in Filipino.
He said he could not stomach the corruption in the judiciary, which tolerates the oligarchs.
Duterte said he does not care if he is removed from office or goes to prison as long as he pursues what is right for the Filipino people.