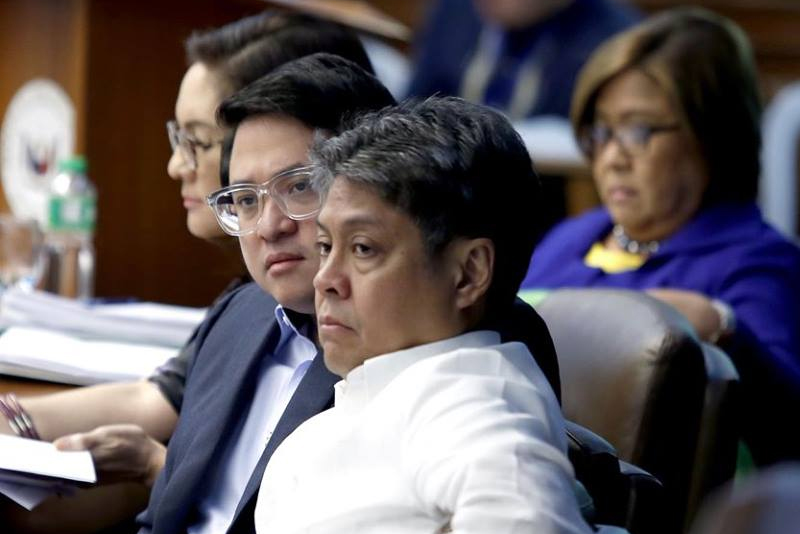 In this Feb. 7, 2017 photo, Liberal Party Sens. Kiko Pangilinan (center), President of the Liberal Party, Bam Aquino and Risa Hontiveros attend the hearing on the proposed revival of the death penalty with Sen. Leila de Lima (right). The Liberal Party said that social media sites are being used as springboards of fake news to become "legitimate news." Senate PRIB
LP: Social media being used to legitimize 'fake news'
MANILA, Philippines — The Liberal Party said Tuesday that social media is being used to bring fake news, essentially propaganda, into mainstream media.
"We recognize this pattern of putting on the defensive those with opposing views, by initially having social media trolls spread half truths so that these fake news items will be picked up by traditional media so that they become 'legitimate' news," the party said in a statement on Tuesday.
The statement came after photos depicting Senators Francis Pangilinan and Risa Hontiveros supposedly holding hands when they and other minority senators visited Sen. Leila de Lima in her detention cell in Camp Crame earlier this month spread on social media.
Actress Sharon Cuneta, Pangilinan's wife, addressed the implied affair in a statement on Monday, saying "there is no truth to the rumors going around."
Cuneta, in a Facebook post, said the photo had been edited to spark the rumors.
The LP also noted how old issues surrounding party president Pangilinan's Priority Development Assistance Fund transactions with local government units are being revived, such as a news item citing a Commission on Audit report released in 2013 that was made to appear new.
"Check out the news stories from that period — 'Jinggoy Estrada allegedly involves Senator Pangilinan in PDAF,' 'Sharon Cuneta defends Kiko Pangilinan on PDAF,' etc. — because some of them have been and will be re-released as if they were new," the Liberal Party, whose numbers have been reduced since the 2016 elections, said.
'Fake news meant to discredit opposition'
The party said that the sudden release of false information about Pangilinan came after he questioned the proposal to get alleged pork barrel mastermind Janet Lim-Napoles as state witness.
"This is meant to discredit those who oppose this plan," the party added.
Pangilinan, together with other senators, opposed the plan to make Napoles a state witness saying that she may be used to go after the critics of President Rodrigo Duterte and his administration.
Pangilinan said that it is "legally questionable" to have the alleged mastermind of the pork barrel scam as state witness.
The party then reminded the public to be "smart consumers" of information.
"News is complete, not piecemeal. News is what you witness, not just what you quote," the party said.
Pro-Duterte blogger Mocha Uson, who has dubbed journalists "presstitutes" and has been accused of spreading fake news in the past, has been appointed to the Presidential Communications Operations Office as an assistant secretary. She said she would use her post to combat fake news.
The administration has used the terms fake news and alternative facts to refer to news articles critical of the government's war on drugs.