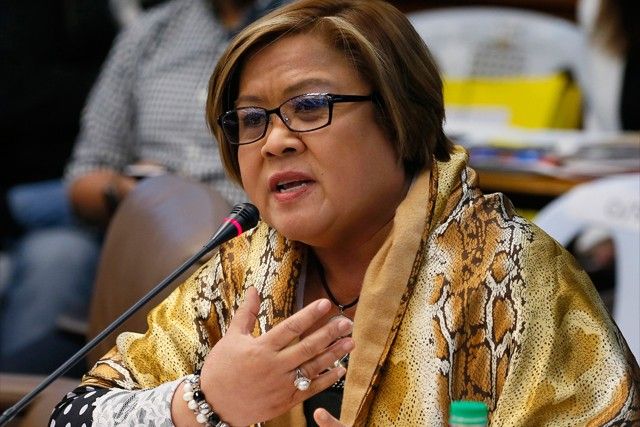 Sen. Leila De Lima, through her lawyers, on Monday submitted her Memorandum before the SC to question her arrest and continued detention.
AP/Bullit Marquez, file photo
De Lima asks SC to stop 'political persecution' vs her
MANILA, Philippines — Detained Sen. Leila de Lima insists that her case is a result of political persecution and is asking the Supreme Court to order her immediate release.
In her Memorandum submitted to the SC on Monday, De Lima said her case is not special because it involves a senator of the Republic of the Philippines who has been deprived of her liberty but because the cases filed against her by the government for trading in illegal drugs is a case of political persecution rather than legitimate prosecution.
"What makes this case special, in fact, has nothing to do with the petitioner but everything to do with the government officials who are going after her with all the might and power and state. What makes this case special is their willingness to use the strong arm of the law to persecute Petitioner simply to fulfill one man's promise to make her rot in jail," De Lima's prefatory statement in her memorandum read.
"She is not asking for any special consideration because of her public position or because she is in jail. She only seeks the fundamental right of every citizen to invoke the Constitution as shield and sword against government abuse," the statement read.
De Lima reiterated that the charges filed against her "are manifestly false and brought before a court that is manifestly without jurisdiction, simply to satisfy the lust for vengeance."
Grounds for political persecution
The detained senator had not been in good terms with Presdient Rodrigo Duterte since she investigated him while mayor of Davao City in 2009 for his alleged involvement in extrajudicial killings attributed to the Davao Death Squad.
De Lima also conducted hearings on extrajudicial killings at the start Duterte's term, when she headed the Senate Committee on Justice and Human Rights. She presented Edgar Matobato as a witness.
Matobato claimed to be a professional hitman who witnessed Duterte executing victims of the DDS.
The senator also cited in her memorandum that another witness, SPO3 Arthur Lascañas, also surfaced and testified before the Senate, tagging Duterte as the DDS mastermind responsible for the killing of hundreds of EJK victims in Davao City.
'Government confused on charges'
De Lima also mentioned that the government seemed confused on what crime she is being jailed for. She said this only proved that she was arrested and detained on the basis of fake charges.
De Lima was initially charged at the Muntinlupa City Regional Trial Court for Consummated Trading in Dangerous Drugs. However, the Office of the Solicitor General told the SC that the crime she actually committed is mere Conspiracy to Commit Trading in Illegal Drugs.
The senator said this was a violation of her constitutional rights to be informed of the nature and cause of the accusation against her.
"In plain terms, petitioner was charged and arrested for the wrong crime," she stressed in her Memorandum.
"She must therefore be released without delay, as every moment of confinement is unconstitutional," she added.
De Lima repeated that the RTC of Muntinlupa has no jurisdiction over her case since the Sandiganbayan, not a regular court, has jurisdiction over high public officials accused of committing crimes using their government positions.
De Lima, through her lawyers, on Monday submitted her Memorandum before the SC to question her arrest and continued detention. This is in compliance with the required submission of memorandum within the 20-day deadline after the oral arguments last March 28.
Both De Lima and Solicitor General Jose Calida were required to submit the memorandum and answer the interpellation of magistrates during the past three oral arguments last March. These oral arguments discussed the petitions filed by De Lima against Muntinlupa RTC Branch 204 Presiding Judge Juanita Guerrero and police officers who arrested her late February.
The deadline of submission for memoranda is on April 24.
De Lima was represented by several lawyers, including former Solicitor Genral Florin Hilbay, Jose Manuel Diokno, Teddy Esteban Rigoroso, Alexander Padilla, and former senators Wigberto Tañada, and Rene Saguisag.