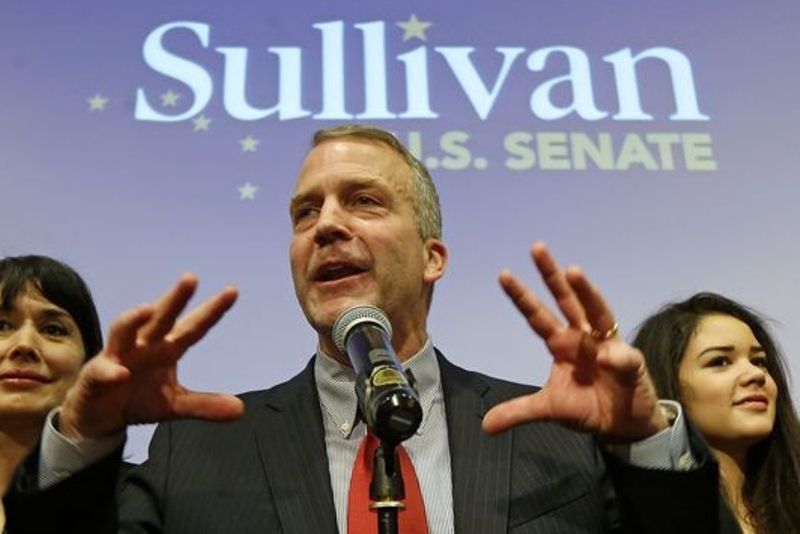 American Sen. Dan Sullivan said that the United States and its allies should not tolerate China's militarization of the South China Sea.
AP/Ted S. Warren, File
US senator: China's militarization of disputed sea should not be tolerated
MANILA, Philippines — An American senator condemned China's activities in the disputed South China Sea following reports that it has nearly completed weapon structures on three of its largest outposts.
Washington-based CSIS Asia Maritime Transparency Initiative recently released satellite images showing eight buildings being constructed on Fiery Cross (Kagitingan), Mischief (Panganiban) and Subi (Zamora) Reefs in the Spratly Islands.
US Sen. Dan Sullivan (R-Alaska) said that China's construction of structures designed to house surface-to-air missiles violates its promises not to militarize the region.
"Despite claims to the contrary, China is continuing to change the facts on the ground in the South China Sea," Sullivan said in a statement.
Sullivan noted that $5.3 trillion of trade - $1.2 trillion of it from the US - passes each year in the South China Sea.
China appears to be restricting access to the region by extending its defense capabilities throughout the so-called nine-dash line in the contested waters.
"The US military should continue to fly, sail and operate in the South China Sea, and everywhere else international law allows. China's attempts to restrict access to this critical region should not be tolerated by the US or our allies," Sullivan said.
The think tank said that China appears to have begun construction of the structures between late September and early November last year.
The structures may be used for HQ-9 surface-to-air missiles that Beijing has already deployed to Woody Island in the Paracel archipelago.
The Philippines also claims the three islands where China has built its weapons structures.
On July 12, 2016, the Permanent Court of Arbitration ruled that China's nine-dash line claim over the South China Sea does not have legal basis.
The arbitral tribunal also concluded that China violated its commitment to the United Nations Convention on the Law of the Sea as certain areas where it built artificial islands are within the exclusive economic zone of the Philippines.