Bato suspends drug war for 'internal cleansing' of PNP
January 30, 2017 | 1:30pm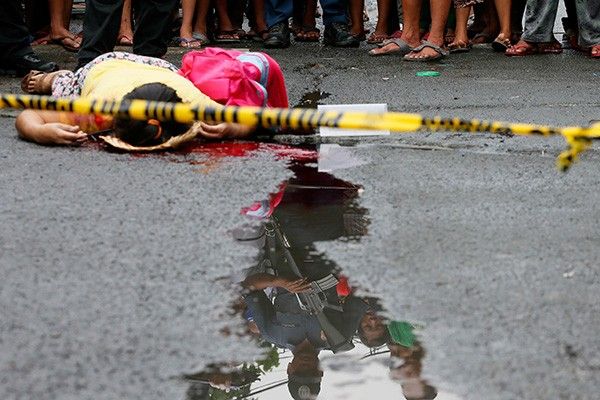 MANILA, Philippines — The Philippines' top cop suspended the country's drug war to prioritize the "internal cleansing" of the police force which he dubbed as the "war on scalawags."
Philippine National Police (PNP) chief Ronald "Bato" dela Rosa said it was President Rodrigo Duterte's directive that they clean up their ranks first.
"Humanda kayo ngayon kayong mga masasamang pulis. Wala na kaming war on drugs, meron kami ngayong war on scalawags. Linisin namin ang aming hanay ngayon," Dela Rosa said during the flag-raising ceremony at Camp Crame on Monday.
The president's order came after the kidnap-slay of Korean businessman Jee Ick-Joo allegedly perpetrated by operatives from the PNP-Anti-Illegal Drugs Group (AIDG). Dela Rosa also announced the dissolution of the AIDG in line with the internal cleansing.
The PNP chief said that it is his task to look out for the morale of the whole organization. He said the whole PNP is demoralized with the recent controversy they are facing.
Rights monitor Human Rights Watch (HRW), however, saw the move as an "empty public relations gesture."
HRW Deputy Asia Director Phelim Kine urged Dela Rosa to instead conduct a meaningful probe and seek accountability for the more than 7,000 deaths in the war on drugs since July 1, 2016.
Kine said that turning a blind-eye to those deaths is a disgraceful betrayal of the public trust and an indication of the police chief's disdain for the rule of law and the right to life.
"Dela Rosa's announcement also makes no mention of the 3,603 killings by 'unidentified gunmen' since July 1 despite mounting allegations that 'death squads' composed of police personnel operating in civilian clothes, are committing some and perhaps many of those killings."
'Bad eggs'
Dela Rosa said he has already ordered the Directorate for Investigation and Detective Management, Internal Affairs Service and Directorate for Personnel and Records Management to consolidate their efforts and come up with a list of miscreant police officers who got reinstated.
He said they will concentrate first in Metro Manila and Luzon as these are the areas where rogue cops proliferate.
He, however, clarified that not all anti-drugs units of the PNP are scalawags.
"May mga bag eggs lang po dyan pero hindi lahat."
The PNP chief also scored the Regional Appellate Boards for allowing erring cops to return.