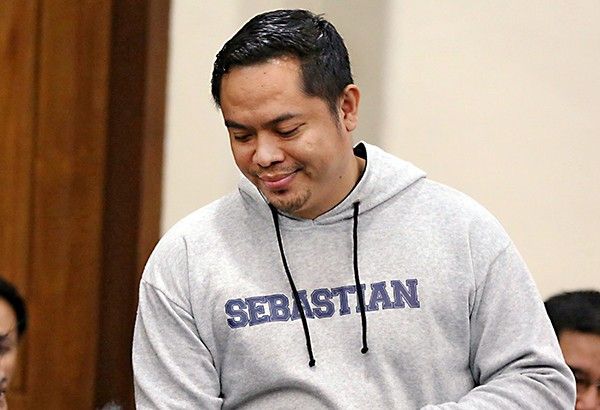 Liberal Party tagged in Jaybee slay try
MANILA, Philippines – The Liberal Party (LP) has been implicated in the reported attempt to kill high-value inmate Jaybee Sebastian.
Tomas Doniña, the inmate who stabbed Sebastian during a supposed riot inside Building 14 of the New Bilibid Prison (NBP)'s maximum security compound on Sept. 28 last year, referred to the LP in his confession.
Doniña mentioned the LP in his five-page affidavit where he also implicated Senators Leila de Lima and Antonio Trillanes IV.
In his affidavit dated Oct. 8, 2016 released by the Department of Justice (DOJ) only yesterday, Doniña revealed that the order to kill Sebastian came from a former fellow officer in the Philippine Navy whom he did not name.
Doniña claimed that his contact had been talking with Trillanes throughout their plan.
He said he was told that De Lima and Trillanes have joined forces to silence Sebastian to prevent him from testifying against De Lima in the House of Representatives inquiry over the alleged illegal drug trade at the NBP.
Doniña claimed that it was Sebastian who mentioned the LP during their conversation prior to the riot.
"Because Jaybee Sebastian and I have no personal grudge against each other, I advised him not to betray ma'am De Lima. At first, he said he would not betray her. He even said that the LP is strong," Doniña said.
Justice Secretary Vitaliano Aguirre II pointed out the obvious link of the LP to De Lima and Trillanes.
"We all know that Senator De Lima belongs to the LP and Senator Trillanes has been supportive of the party," Aguirre said.
Aguirre, however, said that Doniña's claims remained hearsay as there was no evidence to back up his story.
"De Lima and Trillanes were not charged because it appeared that the statements of Doniña were hearsay since he had no personal knowledge," the DOJ chief said.
Aguirre also belied the reported statements of De Lima and Trillanes that he invented the allegations of Doniña to implicate them in the attack on Sebastian.
"I only brought up these allegations against them when the media asked me for updates on our investigation on threats against Jaybee. And the stabbing incident is related to these threats against him," Aguirre explained.
Earlier, Aguirre disclosed that De Lima has been tagged in threats against Sebastian that led to his transfer from the national penitentiary in Muntinlupa City to the National Bureau of Investigation headquarters in Manila last week.
Sebastian has claimed that he gave P14 million in drug money to De Lima's alleged representatives – her former aide Jonel Sanchez and former Bureau of Corrections (BuCor) director Franklin Bucayu – during her term as DOJ secretary.
Several other inmates corroborated Sebastian's testimony and said they sold drugs through their contacts outside the prison to raise funds for De Lima's senatorial campaign.
Meanwhile, President Duterte's chief legal adviser slammed Trillanes for calling the Chief Executive "corrupt."
Trillanes labeled Duterte as corrupt in an interview over dzMM yesterday morning, saying he would resign if his allegation is proven wrong.
During the campaign period, Trillanes accused Duterte of having more than P2 billion in bank transactions and undeclared properties. Duterte has denied the allegation.
Chief presidential legal adviser Salvador Panelo said Trillanes may be describing himself when he used the term corrupt.
"Ask him. He should know. Maybe he should explain his suspicious visits to China during P-Noy (former president Benigno Aquino III)'s time," Panelo added. – With Alexis Romero