Rody allows Jack Lam to return, on 3 conditions
January 3, 2017 | 12:00am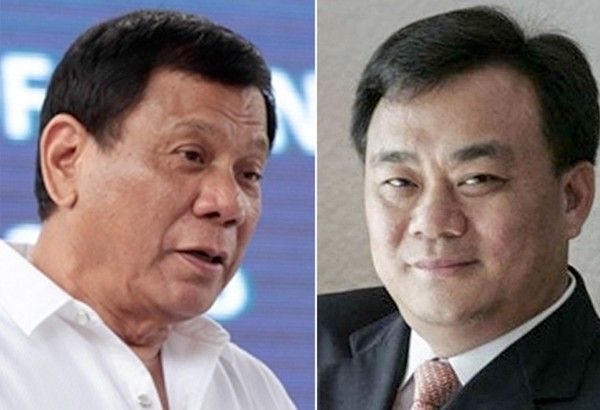 MANILA, Philippines – President Duterte is allowing Chinese casino mogul Jack Lam to return and continue his businesses in the country after earlier ordering his arrest and closure of his illegal casino operations in Clark Field, Pampanga.
"Jack Lam has been allowed by President Rodrigo Duterte to come back provided that he meets at least three conditions," Justice Secretary Vitaliano Aguirre II said yesterday.
He said the President specifically requires Lam to first settle the tax deficiencies of his online casino business at the Fontana Leisure Parks and Casino.
"He should also apply for a license with Pagcor (Philippine Amusement and Gaming Corp.) to legalize his operations and make sure he pays the correct taxes from here on," Aguirre explained.
Lastly, Aguirre said Duterte wants Lam to issue an undertaking or a promise not to corrupt officials following a reported bribery attempt by his camp on Bureau of Immigration officials supposedly for the release of 1,316 illegal Chinese workers arrested in Fontana last November. The BI officials are under investigation for the alleged P50-million bribe try.
The decision of President Duterte to allow Lam's return came after he also recently allowed several businesses inside Lam's Fontana to reopen, particularly the locators of Clark Development Corp. where over 2,000 local workers have been affected following an earlier closure order from the Palace.
But Aguirre earlier clarified the lifting of the cease and desist order did not apply to Lam's gambling businesses.
Of the 1,316 arrested Chinese nationals, 592 were granted bail by the BI board of commissioners. Only 43 of them have been charged before the Department of Justice (DOJ) for violation of Presidential Decree 1602 (Illegal Gambling) and Republic Act 10175 (Cybercrime Prevention Act of 2012).
Former BI deputy commissioners Al Argosino and Michael Robles earlier surrendered P30 million of the P50 million they admitted receiving from Lam's camp before the President ordered them dismissed upon Aguirre's recommendations.
Aguirre also dismissed BI intelligence chief Charles Calima Jr., who received P18 million, along with technical assistant for intelligence Edward Chan.
Calima surrendered the amount to the Criminal Investigation and Detection Group (CIDG) and filed plunder charges against Argosino and Robles before the Office of the Ombudsman.
Former police chief superintendent Wally Sombero, who supposedly served as Lam's middleman, also filed a similar complaint against the two dismissed BI deputy commissioners before the ombudsman and surrendered the P2 million he reportedly kept as commission.
Argosino and Robles in turn filed criminal charges of corruption of public officials and violation of anti-wiretapping law before the Parañaque prosecutor's office against Calima, Sombero and Lam.
Aguirre recently asked the CIDG to turn over to his office the amount surrendered by Calima, but the CIDG did not immediately heed his request.
"The amount has not been turned over yet. The CIDG is still asking direction on what to do with the P18 million from the ombudsman's office. They just wanted to respect the ombudsman because that is where the cases were filed by Sombero and Calima," he explained.
As for the P2 million surrendered by Sombero, Aguirre said he has no plans of asking the ombudsman to turn it over to the DOJ.
When confronted for keeping the bribe money, the former BI officials explained they were conducting intelligence operations to catch corrupt officials in the agency who aided Lam and that the cash would be used as evidence.