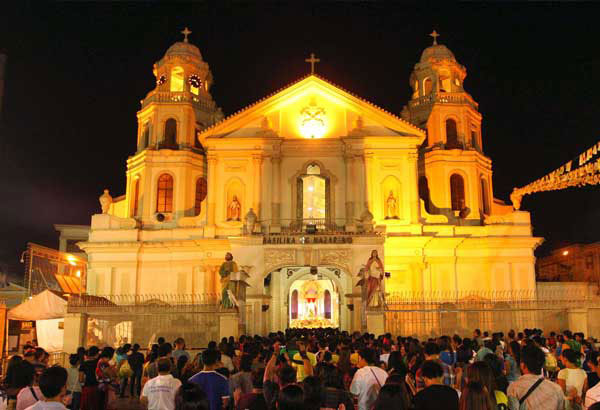 Completing nine-day simbang gabi or dawn masses leading to Christmas Day is not like a genie in a bottle that will grant wishes, a Catholic bishop said yesterday. ERNIE PEÑAREDONDO
'Simbang Gabi' won't grant wishes – Bishop
Edu Punay
(The Philippine Star) - December 19, 2016 - 12:00am
MANILA, Philippines – Completing nine-day simbang gabi or dawn masses leading to Christmas Day is not like a genie in a bottle that will grant wishes, a Catholic bishop said yesterday.
Manila Auxiliary Bishop Broderick Pabillo reminded the faithful that the purpose of the novena is to commemorate the birth of Jesus Christ and spiritually prepare Catholics for celebration of Christmas Day.
He called on priests to also remind their parishioners that going to dawn masses is not meant or designed for their wishes to be granted by the Lord, which he described as a misconception.
"Completing the nine days of simbang gabi is not for their wishes to be granted. That is a wrong belief. That is not what going to the simbang gabi is for," Pabillo said in an interview. "These should be explained in the masses in order to correct the people's thinking."
"The nine days of praying is part of the preparation for the big feast of Christmas. For the formation of the faith and thanking God for His generosity," he explained.
The prelate added that the novena was designed to represent the faithful's devotion to God.
"The nine days is a manifestation of the people's persistence. Imagine you will wake up early for nine straight mornings... It is a sign of your love of God," he explained.
The dawn masses started last Friday, Dec.16, and will end with the Misa de Gallo on Dec. 24, eve of Christmas Day.
Meanwhile, another bishop reminded the faithful that the Christmas season is a perfect time to make sacrifices for others.
Cubao Bishop Honesto Ongtioco has urged the faithful to reach out to the poor and victims of violence as a sign of love to fellow people.
He also appealed that acts of compassion, generosity and love should not be limited to Dec. 25 but should be done every day.