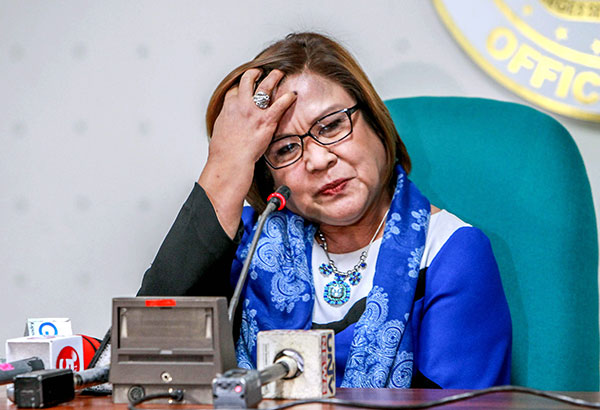 Sen. Leila De Lima is among the 13 global thinkers in the "Challengers" category under the 100 leading global thinkers of Foreign Policy magazine. Philstar.com/File
De Lima among 'leading global thinkers' for standing up vs Duterte
(Philstar.com) - December 13, 2016 - 5:51pm
MANILA, Philippines — Sen. Leila de Lima was included on the list of 100 global thinkers for 2016 by the influential Foreign Policy magazine for standing up against President Rodrigo Duterte and his drug war.
De Lima is among the 13 global thinkers in the "Challengers" category under the 100 leading global thinkers. The citation lauded the senator who formerly chaired the Senate Committee on Justice and Human Rights for leading the probe into the spate of drug-related killings.
"Since taking office in June, Philippine President Rodrigo Duterte has waged a brutal war on drugs. Thousands of alleged traffickers, dealers, and users have been executed by state forces or pro-government vigilantes," the citation said.
"In response, Sen. Leila de Lima has been a steadfast advocate for the rule of law. As the chair of the Senate Committee on Justice and Human Rights, she spearheaded an investigation into the extrajudicial killings—work that landed her firmly in Duterte's crosshairs," it added.
The Foreign Policy magazine also recognized De Lima for being brave and refusing to be silenced by the attacks of Duterte's allies as she defend herself from the allegations linking her to drug trade, among others.
"President Duterte's loyalists accused De Lima of being involved in the drug trade and ousted her as head of the investigation in September. That didn't silence her, though. She called on the United Nations to examine the violence, arguing that Manila isn't equipped 'to serve complete justice to the victims,'" the citation noted.
"After the criminal accusations, De Lima said, 'I am willing to resign; I am willing to be shot in front of the president…. I am confident to prove him wrong. I will stand by my innocence, any time now and forever,'" it added.
De Lima is currently in the United States to receive the award. Other leading global thinkers named for 2016 are notable individuals and organizations which include former US State Department Hillary Clinton, German Chancellor Angela Merkel, Canada Prime Minister Justin Trudeau and United Nations Secretary General Ban Ki-Moon, among others.
Another Filipino honored by Foreign Policy as among the "Challengers" is Rep. Geraldine Roman. Other personalities cited for the same category are French Penitentiary Administration Project Director Geraldine Blin, Women Without Borders Founder Edit Schlaffer and Zimbabwe Pastor Evan Mawarire, among others.
"Like a coat of many colors, these individuals showed that agitation takes myriad forms," the Foreign Policy said. — Rosette Adel