Duterte should retract 'threat' vs suspects' lawyers, HRW says
December 13, 2016 | 9:43am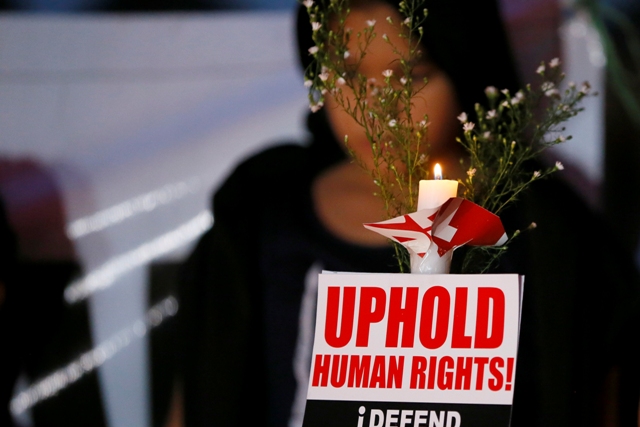 MANILA, Philippines — President Rodrigo Duterte should renounce a statement that has been perceived as a threat against lawyers of alleged drug dealers, a human rights group said.
In a statement early Tuesday, Human Rights Watch said that the president should reaffirm the rights of the suspects to due process and to access to legal counsel after President Duterte, in a speech on December 7, said that when he was a prosecutor, suspects were able to post bail because they had "good, high-profile lawyers."
He said that the suspects went back to crime when they were released on bail.
"Even their lawyers, I will include them," Duterte then said.
"Duterte's threats against lawyers and human rights defenders constitute a dangerous extension of his abusive 'war on drugs' that has already resulted in more than 5,000 killings," HRW deputy Asia director Phelim Kine said.
The rights to due process and to legal counsel are in the 1987 Constitution.
Threats against rights advocates
In the past, Duterte has also threatened human rights advocates, saying they are a hindrance to the war on drugs.
"Sabi ng human rights, pinapatay ko raw, sabi ko 'sige na maghinto tayo, paramihin natin.' Para pag panahon ng harvest time mas marami na tuloy mamatay, isali ko na kayo kasi kayo ang nagpalaki eh," Duterte said in his statement.
Kine said that the threats made by Duterte show that he will extend his "abusive war on drugs" from targeting criminals to targeting those who object to it.
He added that unless Duterte takes those threats back, "his government will bury the rule of law along with the thousands of suspected criminals killed since he took office on June 30,"
Meanwhile, Presidential Secretary Martin Andanar said that the president's "threats" should not be taken seriously as they are just figures of speech.
"It was just out of frustration. The president did not really mean na gagawin niya talaga yun," Andanar said in an interview with radio dzMM.
He said that that is just how Duterte speaks.