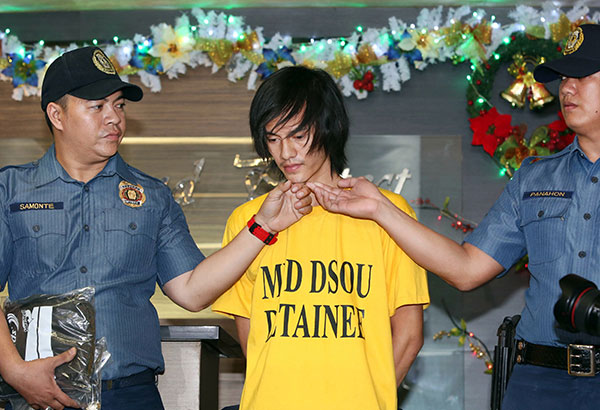 Bomb suspect Muhamad Jumao-as is presented during a press briefing at Camp Crame yesterday. BOY SANTOS
NCRPO presents third suspect in US embassy bomb try
MANILA, Philippines – The third suspect arrested in connection with the foiled bomb attack near the US embassy in Manila was presented to the media yesterday.
National Capital Region Police Office (NCRPO) chief Director Oscar Albayalde told reporters in Camp Crame, Quezon City that Mohammad Jumao-as, 25, was one of those who conducted casing and surveillance in the vicinity of Rizal Park, where their group initially planted the improvised explosives device (IED) last Nov. 28.
He said the group later moved the IED to another area near the US embassy along Roxas Boulevard. The explosive was found and detonated by police authorities.
Albayalde said Jumao-as was arrested at a hospital in Barangay Matimbo, Malolos, Bulacan, where he worked as an X-ray technician.
"After the arrest of Rayson Kilala, alias Rashid, he (Jumao-as) went into hiding in Bulacan," Albayalde said, adding that when the suspect thought the operation was over he went back to the hospital to get his things.
Albayalde said closed-circuit television camera footage captured Jumao-as together with Jiaher Guinar and Kilala, who planted the bomb.
Jumao-as was arrested on Dec. 3 but authorities did not make any announcement pending investigation.
Senior Supt. Joel Napoleon Coronel, director of the Manila Police District, said Jumao-as was part of the cell of Al-Khilafah in the Philippines (AKP) that operates out of Bulacan.
"They (suspects) are very cooperative. In fact, Rashid has already executed extrajudicial confession assisted by a counsel. There were some confidential information, that's why we still have follow-up operations and we expect hopefully to arrest their two companions," said Coronel.
Albayalde called on the public not to be alarmed with the presence of alleged cells of AKP.
"That's why we are on full alert… so that our target hardening measures, which include intelligence gathering, counterterrorism measures, will strengthen security efforts," he said.
Coronel said Facebook was helpful in the police investigation on the foiled bomb attack in Manila.