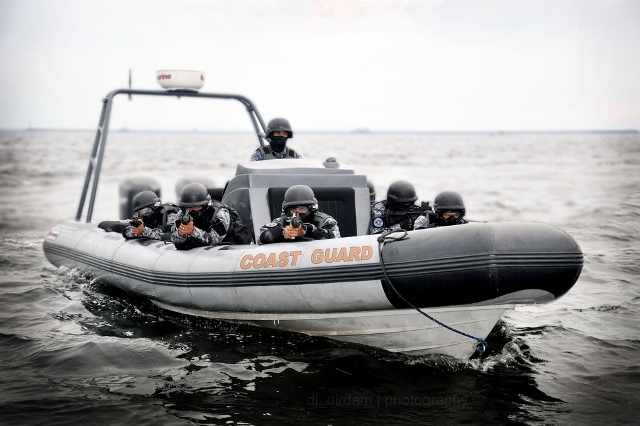 A stock photo of a group of Philippine Coast Guard personnel in training. Bernie Madrid/CC BY-NC
25 Coast Guard officers suspended
(philstar.com) - December 6, 2016 - 1:49pm
MANILA, Philippines — Ombudsman Conchita Carpio Morales on Tuesday ordered the preventive suspension of 25 high-ranking officers of the Philippine Coast Guard (PCG) for irregularities in cash advances totaling P67.5 million.
The respondents are facing charges for grave misconduct, serious dishonest and conduct prejudicial to the best interest of the service.
The following PCG officers will be suspended for six months:
Vice-Admiral Rodolfo Isorena
Rear Admiral William Melad
Rear Admiral Cecil Chen
Commodore Enrico Efren Evangelista, Jr.
Commodore Aaron Reconquista
Commander John Esplana
Commander William Arquero
Commander Jude Thaddeus Besinga
Commander Roben De Guzman
Commander Angel Lobaton IV,
Commander Ferdinand Panganiban
Commander Joselito Quintas
Commander Ivan Roldan
Commander Rommel Supangan
Commander George Ursabia, Jr.
Commander Ferdinand Velasco
Commander Wilfred Burgos
Commander Allen Dalangin
Captain Joeven Fabul
Captain Angelito Gil
Captain Ramon Lopez
Captain Christopher Villacorte
Lt. Junior Grade Mark Franklin Lim II
Lt. Mark Larsen Mariano
Accounting Head Rogelio Caguioa
The 25 officers allegedly used cash advances amounting to P67,533,289 to purchase office supplies and information technology equipment without complying with procurement regulations.
Liquidation documents showed the respondents' fraud and misrepresentation, according to a report from the Office of the Ombudsman. The Ombudsman also took note of the Commission on Audit's Audit Observation Memorandum last April 15, 2015.
"(T)he respondents' respective positions allow them to wield influence on possible witnesses and to access public records, [and] their continued stay in office may not only prejudice the cases against them but also allow them to commit further acts of malfeasance," Morales said.
Morales has directed Transportation Secretary Arthur Tugade to implement the preventive suspension order. — Patricia Lourdes Viray