JBC releases shortlist for SC post under Duterte administration
December 4, 2016 | 12:49pm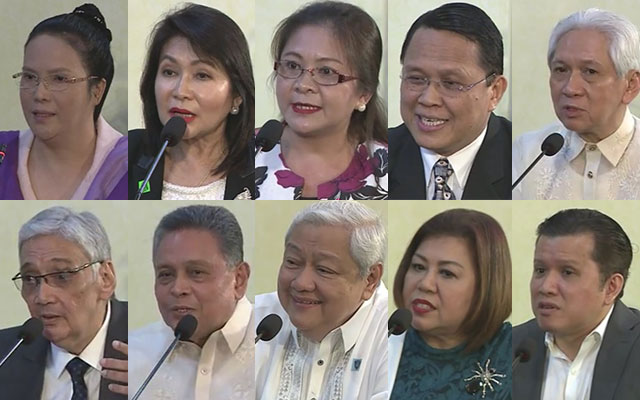 MANILA, Philippines (Philippines News Agency) — The Judicial and Bar Council on Friday released a shortlist of candidates to fill up the post which would be vacated by Supreme Court (SC) Associate Justice Jose Perez who would retire on December 14.
Included on the list were Court of Appeals Presiding Justice Andres Reyes (4 votes), Associate Justices Jose Reyes (7 votes), Apolinario Bruselas (5 votes), Japar Dimaampao (5 votes), and Sandiganbayan Associate Justice Samuel Martires (5 votes).
JBC Announcement (1/3) : JBC shortlist for Associate Justice of the SUPREME COURT (vice Hon. AJ Jose Perez) pic.twitter.com/eOCWW3U3dQ

— Supreme Court PIO (@SCPh_PIO) December 2, 2016
Perez's replacement will be the first appointee of President Rodrigo Duterte in the high court.
On the other hand, the JBC will deliberate again on December 9 to come up with another shortlist for the position to be vacated by Supreme Court Associate Justice Arturo Brion who will retire on December 29.
Under the Constitution, the president has 90 days from vacancy to choose from the shortlist of candidates provided by the JBC.
The seven-man council, which is constitutionally mandated to screen and vet nominees to the president for vacant posts in the judiciary and the Offices of the Ombudsman and Deputy Ombudsman, is chaired by Chief Justice Maria Lourdes Aranal-Sereno, with ex-officio members — Justice Secretary Vitaliano Aguirre II, along with the legislative branch namely: Sen. Richard Gordon and Mindoro Oriental Rep. Reynaldo Umali, who shall have a term sharing seat in the JBC.
Retired SC Justice Angelina Sandoval-Gutierrez is the head of the Executive Committee,lawyer Jose Mejia representing the Academe, and Milagros Fernan-Cayosa representing the Integrated Bar of the Philippines, and the newest member Judge Toribio Ilao, representing the private sector as the other regular members of the JBC.
Duterte is expected to appoint at least 10 justices in the SC during his six-year term.
The JBC also shortlisted nominees for associate justices of the Court of Appeals and the Sandiganbayan. The candidates will replace the vacancies of Vice Hon. Associate Justice Agnes Carpio and Vice Hon. Associate Justice Napoleon Inoturan, respectively.
JBC Announcement (2/3) : JBC shortlist for Associate Justice of the COURT OF APPEALS (vice Hon. AJ Agnes R. Carpio) pic.twitter.com/B3hxb04nBu

— Supreme Court PIO (@SCPh_PIO) December 2, 2016
JBC Announcement (3/3) : JBC shortlist for Associate Justice of the SANDIGANBAYAN (vice Hon. AJ Napoleon E. Inoturan) pic.twitter.com/ovnOUn1OQl

— Supreme Court PIO (@SCPh_PIO) December 2, 2016
—PNA/Christopher Lloyd Caliwan with a report from Philstar.com/Rosette Adel