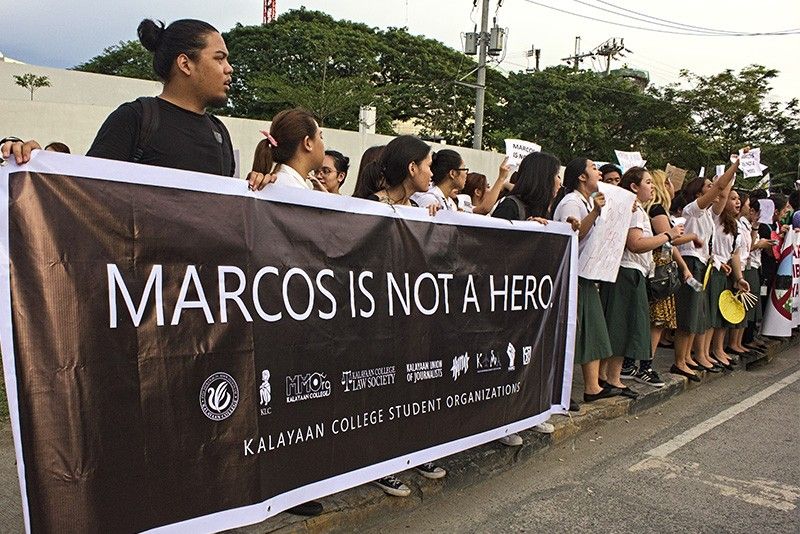 In this Nov. 18, 2016 photo, students in Quezon City rail against the burial of dictator Ferdinand Marcos at the Heroes' Cemetery, a move pushed by President Rodrigo Duterte.
Terzeus S. Dominguez for Philstar.com
Anti-Marcos protesters gear up for Black Friday rally
MANILA, Philippines — Thousands of protesters are expected to join the Black Friday demonstrations to condemn the "sneaky" burial of the late dictator Ferdinand Marcos at the Libingan ng mga Bayani.
The rallies will start by 2 p.m. in various areas in Metro Manila and nearby provinces. Earlier this week, organizers identified several assembly points—such as in front of the Philippine General Hospital, the Supreme Court and at Plaza Salamanca along Taft Avenue—before the demonstrators head to the Luneta Park. Students from schools along Taft Avenue are also expected to participate.
Several schools at Manila's "university belt" and youth activist organization Martsa ng Kabataan would assemble at Morayta, heading to Recto, Ayala, Taft and T.M. Kalaw to hold their protest at Luneta.
Other participants, including the community of the University of the Philippines Diliman, workers, farmers, urban poor, government employees, women, among others, would gather before proceeding to the Liwasang Bonifacio in Lawton, Manila.
Earlier, Manila Mayor Joseph Estrada said the police will exercise maximum tolerance during the Black Friday protest at the Luneta Park.
"We will allow the protest actions provided they (anti-Marcos protesters) will not resort to violence or destruction of properties," Estrada said.
"They should not cause inconvenience to other people, particularly motorists and commuters," he added.
At a midnight conference on Thursday upon President Rodrigo Duterte's return from Peru, he assured that the protesters' right to assemble will be protected.
"As your president you have my word and you have that commitment," he said.
While he disagrees with the protesters, the president said he would allow activists to stay in public places "for as long as they want, with no time limit," even without securing permits from the local government units.
"While your protest actions are being staged, our military forces will remain and be confined in their camps. They are restricted to be there in their proper places," Duterte said.
Although police forces are prohibited to carry long firearms, "a lean number of police personnel" will still be deployed to conduct traffic enforcement and other basic public policy standards, he added.
Duterte stood by his decision to allow the burial of the late dictator, stating that Marcos had been a president and soldier—two of the grounds which allowed the Libingan burial.
Critics, meanwhile, slam the move as a form of historical revisionism with Marcos and his family being accused of massive corruption and countless human rights violations in the 1970s to 1980s.