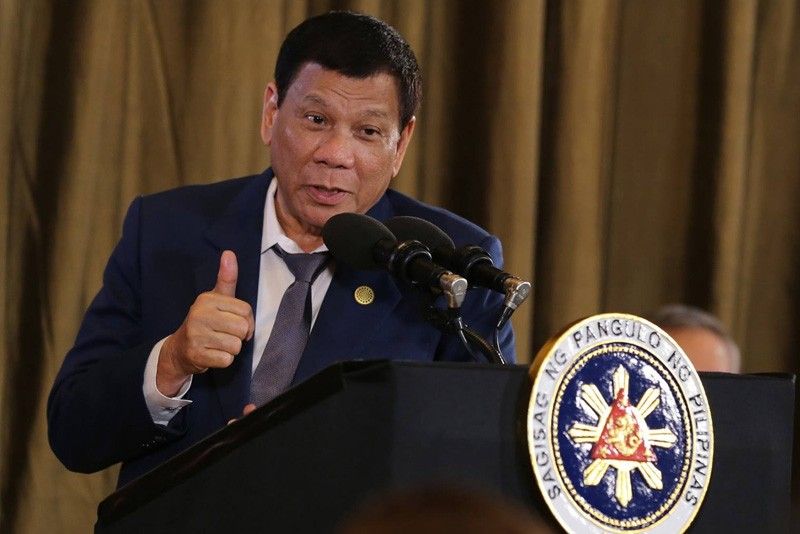 In this Nov. 20, 2016 photo, President Rodrigo Duterte declares his trip to the 24th Asia-Pacific Economic Cooperation Economic Leaders' Meeting to be a productive one during a press conference at the Melia Hotel in Lima, Peru.
PPD/Released
Duterte defends Marcos burial anew: It's for common good
(Philstar.com) - November 24, 2016 - 10:40am
MANILA, Philippines — Upon his return to the country, President Rodrigo Duterte again defended his decision to have deceased dictator Ferdinand Marcos buried at the Heroes' Cemetery.
On Thursday, Duterte challenged organizers of planned protests in the coming days to negate that Marcos was a president and a soldier—two conditions purportedly qualifying him to be buried at the national shrine.
"I will gladly and happy even to step down and relinquish my post if you can answer in the negative these two key questions: Was the late Ferdinand Marcos a president? And was he a soldier? Never mind about a hero," Duterte said, reading a prepared portion of his arrival address in Davao City.
Amid allegations that his family has a long history of allegiance with the Marcos family, Duterte said all his decisions are "always guided by the common good and the general welfare of the people."
"Be it in the foreign affairs or in the domestic front, all actions of the government will be always driven by the desire and to resolve to advance the national interest," Duterte added.
The hasty burial of Marcos at the Libingan ng mga Bayani on November 18 behind heavily guarded gates was followed by protests across Metro Manila decrying deception and secrecy in the controversial ceremony.
While Duterte insisted that the burial was for the good of all, the merits of Marcos as president and soldier have long been disputed.
In 1972, Marcos declared Martial Law, under which the freedom of speech and of the press was curtailed and thousands of the regime's opponents were killed, tortured and abused, including Sen. Benigno "Noynoy" Aquino II.
In a letter to Duterte earlier this month, government's top historian Maria Serena Diokno noted Marcos' "highly questionable" claims about his war medals and his rank while a soldier in World War II.
"There is a strong reason to doubt that [Marcos] ever received them, let alone in a foxhole during the war," Diokno wrote. "His guerillla unit, Ang mga Maharlika, was never recognized by the US government."
"His leadership of the unit was also doubted at officials levels and his practice of double listing his name on different guerilla rosters was called a 'malicious criminal act'," Diokno argued.
Critics have said that Marcos' burial in hallowed grounds would not serve the sense of history of younger generations and will open up wounds of victims of martial rule.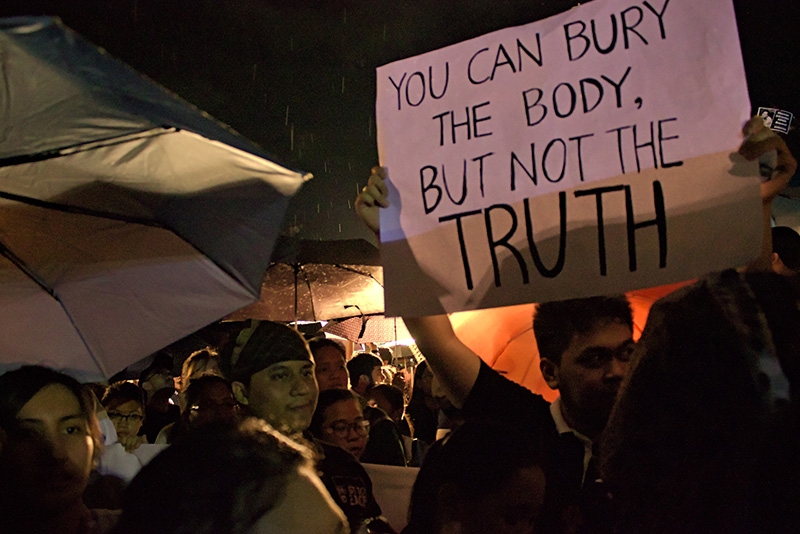 Protest at the People Power Monument in Quezon City along major thoroughfare EDSA on the night of Nov. 18, 2016. Earlier that day, former Philippine leader Ferdinand Marcos was buried at the Heroes' Cemetery in Taguig City in what critics called a sneak ceremony. Terzeus S. Domingez for Philstar.com
While disagreeing with protesters, Duterte, meanwhile, said demonstrations will be allowed in all open public places "for as long as they want with no time limit."
"The protesters will neither need—hindi na kailangan—to secure rally permits or being in fear of being evicted," Duterte said, ordering the military to stay in their camps and the police to maintain only a lean force during the upcoming protests. — Camille Diola