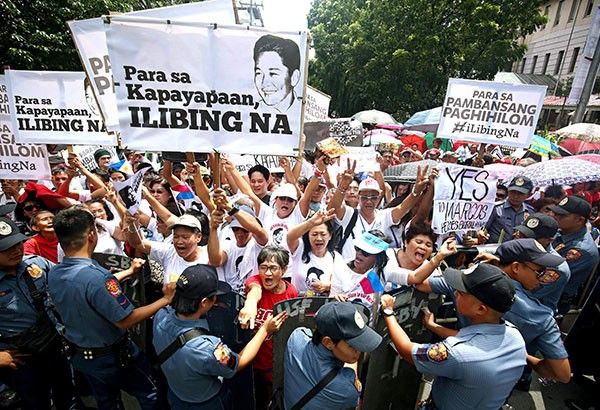 Marcos loyalists at a rally outside the Supreme Court in Manila in September.
MIGUEL DE GUZMAN, file
Caravan of loyalists heads for Manila to support Marcos burial
LAOAG CITY, Philippines -- A caravan of Marcos supporters began a four-day trip from Ilocos Norte to Metro Manila on Friday to show support for the burial of former President Ferdinand Marcos at the Libingan ng mga Bayani.
Dubbed the "Kailian March", the caravan started in Paoay Church, where a unity mass was held prior to setting off for Vigan City, Ilocos Sur. Kailian is an Ilocano word used to address or identify fellow members of a community, signifying something even deeper than "fellow Ilocano."
Similar vigil and candle lighting activities were held by other Marcos loyalist groups in the area.
The caravan is set to arrive in San Fernando City, La Union on Saturday and will pass by the Tomb of the Unknown Soldier to honor soldiers and guerillas killed during World War II.
Marcos himself was a military veteran, having joined the military in 1941. He was with Filipino forces in Bataan until it fell in April 1942. Marcos was interred at Camp O'Donnell in Capas, Tarlac and was released in August 1942.
He joined the 14th Infantry Battalion of the United States Armed Forces in the Philippines, Northern Luzon in 1944.
After San Fernando, the caravan will proceed to Pangasinan, and then to Tarlac. Unity masses will be held in each location.
On Sunday, Marcos supporters will travel through the provinces of Pampanga and Bulacan.
The caravan is expected to arrive in Metro Manila by Monday, when another unity mass and vigil will be held in front of the Supreme Court.
Ilocos Norte Gov. Imee Marcos will join the group on Monday, according to sources.
She had said in a previous statement, "Patay na yung tao. Pagbigyan na natin na mamayapa, at malay mo, sa pagbibigay ng pagpapatawad… ikaw din mismo na galit na galit ay… mapanatag ang loob at matahimik, at ito ang makakabuti sa lahat."
"Iyon lang yung sinasabi ko, pero ako naman yung anak. Siguro, sana pahintulutan na lamang na malibing na yung tatay ko. Talagang 'yon ang gusto niya, eh," she added, "sana pagbigyan na. Kung anuman yung pagkakasala, dahil kahit kailan wala namang nagsabi na perfect tayo… Sa atin na pangkaraniwang mga nilalang, magbigayan ng kaunting kapatawaran."
Marcos was ousted from power in 1986. The government is currently processing claims for compensation filed by the victims of human rights violations during the Marcos administration. The government, through the Presidential Commission on Good Government, has also been suing the Marcos estate as well as former Marcos cronies to recover alleged ill-gotten wealth.
The compensation for the Martial Law victims will come from P10 billion transferred to the Philippine government by Swiss Federal Supreme Court and that has been ajudged Marcos ill-gotten wealth by the Supreme Court of the Republic of the Philippines.
The SC, which has heard oral arguments on petitions to block Marcos' burial at the Libingan ng mga Bayani, issued a status quo ante order on a Defense department order to prepare for the burial.
Those who oppose Marcos' burial at the hero's cemetery say that doing so will be disrespectful of those who died, were tortured or were imprisoned for opposing the Marcos administration, which was in power from 1965 to 1986.
The order lapses on Oct. 18, Tuesday.