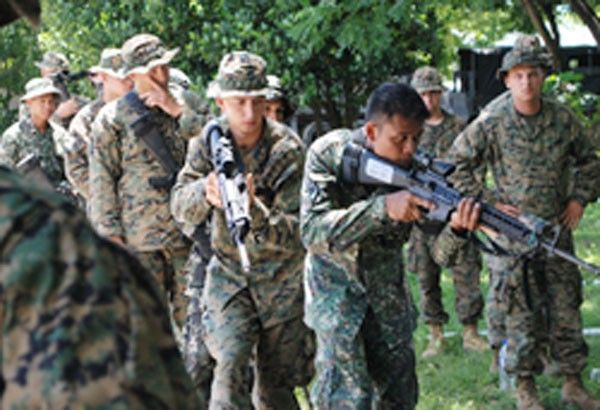 Philippine and American soldiers training together.
File photo
Duterte to DND: No joint drills with US troops next year
(Philstar.com) - October 12, 2016 - 8:33pm
MANILA, Philippines -- He may not be cutting ties with the United States but President Rodrigo Duterte has instructed the Defense department not to prepare for joint military drills with American troops next year.
Duterte, who has been at odds with the US because of its critical stance on his bloody war on drugs, said stopping of the military exercises is in line with his aim to chart an independent foreign policy.
"I insist that we realign, that there will be no more exercises next year," the president said during the 115th anniversary of the Philippine Coast Guard in Manila on Wednesday.
"Do not prepare. I told Defense Secretary (Delfin) Lorenzana: 'do not make preparations for next year.' I do not want it anymore. And I will chart an independent foreign policy," he added.
Duterte issued the statement a day after Philippine and American Marines concludes the PHIBLEX amphibious exercises a day ahead of schedule. The president has said that the exercise would be the last under his term.
The Philippines' relationship with the US has been strained by the rift between Duterte and American officials who have raised concerns over the killings related to his crackdown on narcotics. More than 3,000 drug suspects have been killed since Duterte assumed office, alarming human rights advocates and international bodies.
The tough-talking Duterte accused the US of interfering in Philippine affairs and of shaming him before the international community.
He has also challenged the US to withdraw its aid from the Philippines, saying Filipinos can survive even without its "crumbs."
Duterte, who is seeking stronger ties with China, has also suspended joint patrols with the US in the South China Sea, where the Philippines has maritime claims.
Despite his harsh criticisms against the US, Duterte reiterated that he would not sever the Philippines' military ties with the superpower.
"We will maintain our military alliances because I said that we need it for our defense," Duterte said.
"We need not really, you know, break or abrogate existing treaties because they say that it would provide us with the umbrella," he added.
Duterte, however, believes that military alliances would be rendered irrelevant if a world war breaks out.
"Should World War III come to a fore upon the civilization, do you think, we still have time to discuss Third World War?" the president, who often foregoes prepared speeches, said.
"When all the ICBMs (intercontinental ballistic missiles), when all the Poseidon (are launched), then where will we be? See you in heaven."