In Laos, Duterte backs Cayetano's possible presidential bid
VIENTIANE, Laos — Only two months have passed since President Rodrigo Duterte assumed office but as early as now, he is ready to endorse the candidacy of a potential successor.
Speaking to the Filipino community here last Monday, Duterte said he is ready to back his former runningmate, Sen. Alan Peter Cayetano, if he decides to run for president.
"Sen. Cayetano is here. He is good," Duterte said.
"He will still be president. If he aspires for the presidency, I'll give him my support and I say it now," he added.
Sought for comment, Cayetano said it is too early to talk about the next presidential race.
"He (Duterte) was overwhelmed to be with Filipinos here. Don't read politics into it. We still have six years and a lot can happen," the senator told reporters in a chance interview.
When asked if he is considering running for president, Cayetano replied: "The most important thing is for our country to be successful in the next six years. We are focused on that."
Cayetano was Duterte's vice presidential candidate during the 2016 polls.
Despite Duterte's popularity, Cayetano lost the vice presidential race, garnering 5.9 million votes as against then Camarines Sur Rep. Leni Robredo's 14.4 million and then Sen. Ferdinand "Bongbong" Marcos Jr.'s 14.1 million.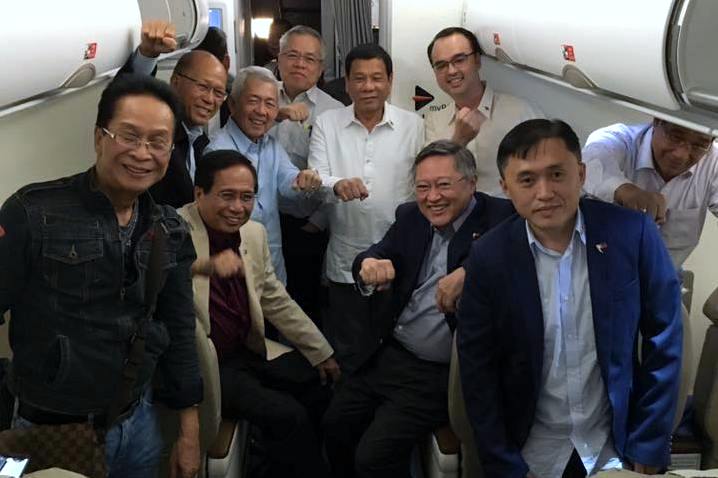 President Rodrigo Duterte with members of his Cabinet and Sen. Alan Peter Cayetano on the flight to Vientiane, Laos on Monday, Sept. 5, 2016. Cayetano staff/Released
Cayetano became senator in 2007 and was reelected in 2013. His term will end in 2019.
The senator has been a staunch defender of Duterte's war on drugs, which has been criticized by human rights groups for allegedly encouraging extralegal killings.