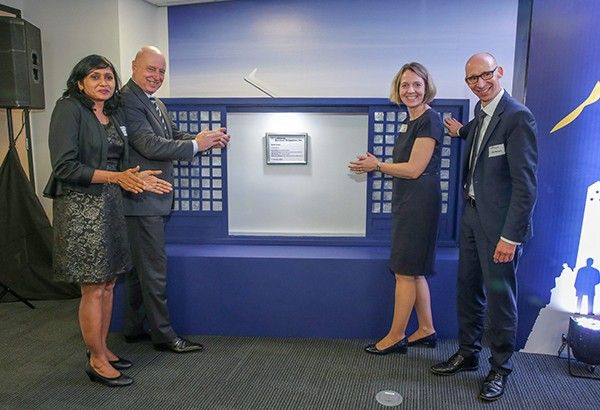 Lufthansa Group's new Manila service center opens officially in Alabang district and Inagurated by Kay Kratky – CEO Austrian Airlines, Sharmini Krishnan – MD Lufthansa Services Philippines Inc., Astrid Hartmann – MD Lufthansa Global Business Services and Erik Mosh – MD Lufthansa InTouch. The group aims to strengthens its footprint in the Philippines and to create more jobs for the future.
Geremy Pintolo
Military calls for calm, sobriety after Davao explosion
MANILA, Philippines — The Armed Forces of the Philippines on Saturday called for sobriety amid unconfirmed reports and speculations following the blast that ripped through a night market in Davao City.
Military spokesperson Col. Edgard Arevalo said state forces are prepared for any task under President Rodrigo Duterte's declaration of a "state of lawlessness" early on Saturday, advising the public not to spread rumors to make the situation worse.
"The reports about the explosion are still sketchy. We call for sobriety and for the people to stay calm and refrain from any speculation so as not to exacerbate the situation," Arevalo told the Philippine News Agency.
Saying it is not martial law, Duterte said that under a "state of lawlessness" the military and police are authorized to conduct security searches in cars and frisk individuals at checkpoints.
Duterte said the declaration does not suspend the writ of habeas corpus, an order asking for a person to be brought before the court.
As of posting time, authorities estimate 14 people killed in the blast on Friday night, while at least 64 others were injured.
READ: At least 14 killed, 67 other hurt in Davao blast
Duterte earlier this month ordered the military to crush the Abu Sayyaf after the group beheaded a young man. Arevalo said the military has foreseen a grave incident that might be linked with the group.
"We have predicted this and has warned our troops accordingly but the enemy is also adept at using the democratic space granted by our Constitution to move around freely and unimpeded to sow terror," he said. — Reports by Priam F. Nepomuceno, PNA