Duterte gets diplomatic passport ahead of ASEAN swing
MANILA, Philippines — Rodrigo Duterte applied for a new passport, now as president of the Philippines, ahead of his official trips to Brunei, Laos and Indonesia next month.
The president's first official visit will be in Brunei on September 4 before swinging to the Association of Southeast Asian Nations (ASEAN) leaders' summit in Vientiane, Laos from September 5 to 7. He will go to Jakarta, Indonesia after the ASEAN summit.
In his speech at the Camp Capinpin in Tanay, Rizal on Wednesday, Duterte underscored the need to strengthen ties with our ASEAN neighbors especially in the wake of the United Nations tribunal's award of historic rights over the disputed areas at West Philippine Sea to the Philippines.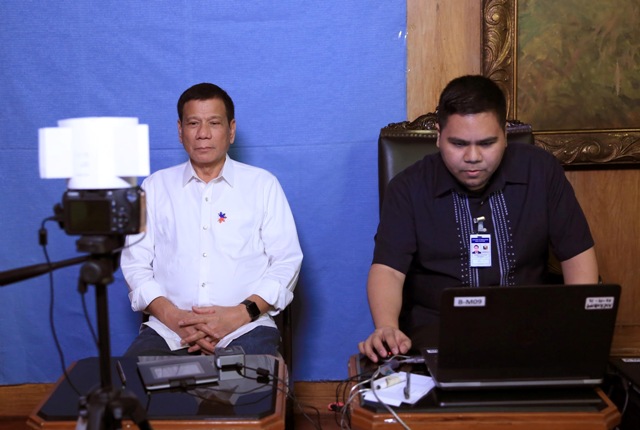 President Rodrigo Duterte has his passport photo taken at the mobile registration booth set up by the Department of Foreign Affairs in Malacañan's Study Room on Aug. 23, 2016. PPD/Rey Baniquet
Although Duterte said he is not keen on bringing up the issue during his ASEAN trip, he did not discount the possibility that other claimant countries such as Vietnam, Thailand, Malaysia and Brunei might bring up the matter during their meetings.
The president had his fingerprints scanned for his new passport to be used for his state visits. The Department of Foreign Affairs had set up a mobile registration booth just for the president at Malacañan's Study Room last Tuesday.
Photos released by the Media Accreditation and Relations Division of Malacañang also showed Duterte affixing his digital signature for the new passport. The president was clad in a white long-sleeves when his photo was taken at the mobile registration booth.
The processing for the application for his diplomatic passport came in between his meetings at the Palace, wherein he led the oath-taking of newly-appointed directors and officers of the Philippine Chamber of Commerce and Industry, Philippine Exporters Confederation Employers' Confederation of the Philippines and the Philippine Franchise Association.
He also filled in the personal details of his passport, which showed his full name, date of birth, citizenship, place of birth, among others.
The president also swore in Armed Forces of the Philippines chief Gen. Ronaldo Visaya and the flag officers of the AFP before giving an ambush