Duterte, Robredo meet for the first time
MANILA, Philippines (UPDATED 8:24 p.m.) — President Rodrigo Duterte and Vice President Leni Robredo met for the first time on Friday after assuming office as the country's top two government officials.
Both Duterte and Robredo attended the Armed Forces of the Philippines turnover ceremony at Camp Aguinaldo in Quezon City.
Duterte acknowledged the presence of Robredo in his speech after new AFP chief of staff Lt. Gen. Ricardo Visaya took command of the military.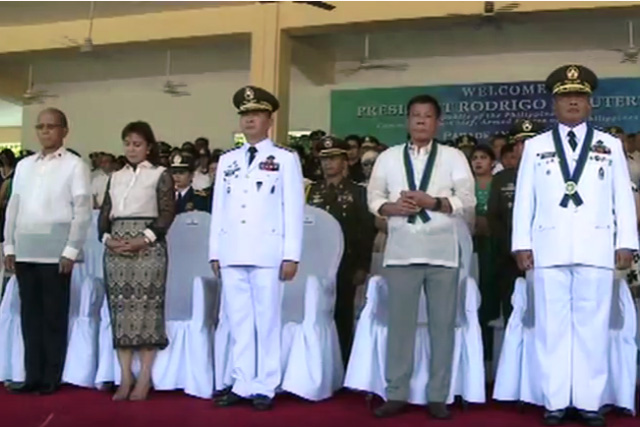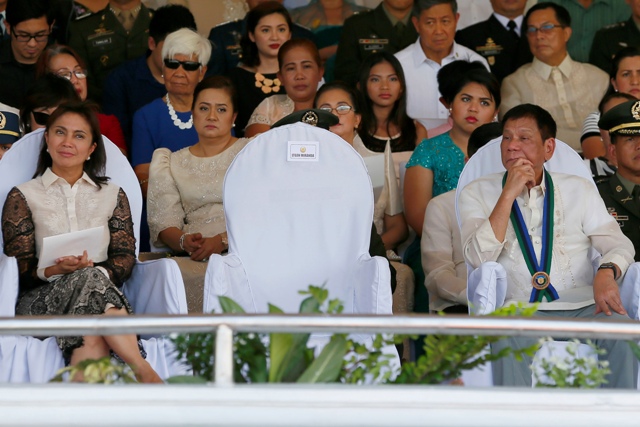 President Rodrigo Duterte said that he wanted to sit beside Vice President Leni Robredo but Defense Secretary Delfin Lorenzana was seated between them. RTVM screenshot; AP/Bullit Marquez
"Vice President Leni Robredo, this is my first time to meet you personally. I would have preferred to be seated beside you but nandyan si (Defense Secretary Delfin Lorenzana)," Duterte told Robredo.
Duterte and Robredo both assumed office on Thursday and held separate inaugural ceremonies at the Malacañang Palace and the Quezon City Reception Hall, respectively.
The two leaders were supposed to meet in Davao City before taking office but conflicting schedules has not allowed them to meet.
After the informal meeting, Robredo said her first encounter with Duterte was "very cordial." She also took the opportunity to ask him if she could pay him a courtesy visit soon.
"Mukhang welcome naman para sa kanya," Robredo said, according to her media office.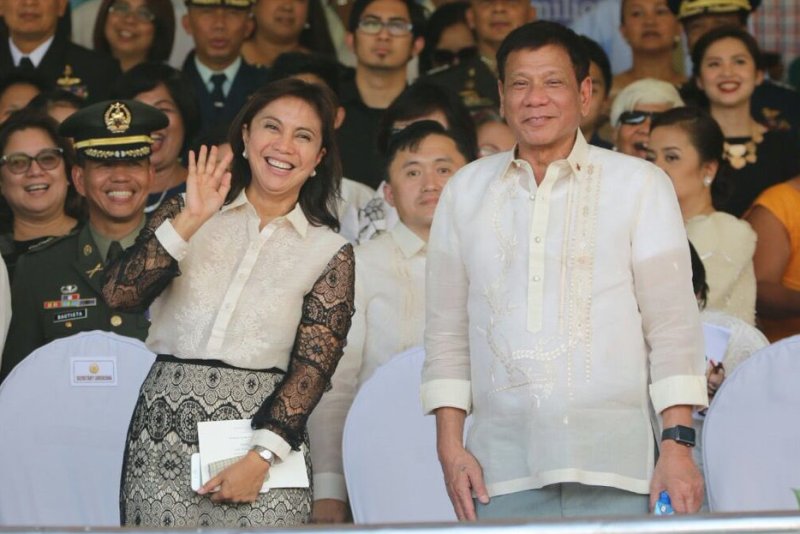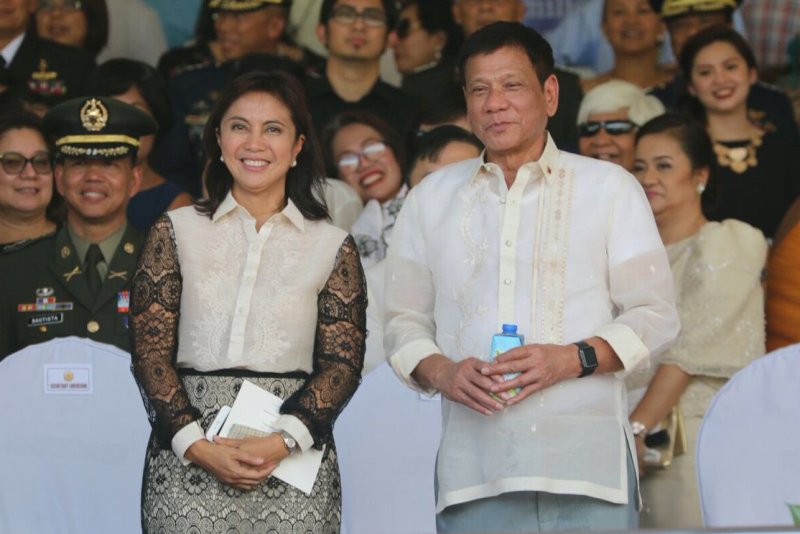 First meeting of the two highest officials after their inauguration. OVP/Released
Duterte previously said his decision not to appoint Robredo, who comes from an opposition party, to a Cabinet post was partly to avoid hurting his friend, Sen. Bongbong Marcos, who lost the vice presidential race.
Marcos on Wednesday filed a poll protest at the Presidential Electoral Tribunal asking it to stop Robredo's oath-taking set for the next day.
READ: Leni Robredo takes oath as 14th vice president | Rodrigo Duterte sworn in as 16th Philippine president