US helps take down site with leak of Filipinos' data
MANILA, Philippines (UPDATED 2:55 p.m.) — The Commission on Elections (Comelec) on Friday announced that a website built by hackers containing a massive leak of almost 55 million registered voters has been taken down.
Comelec spokesperson James Jimenez said the United States Department of Justice helped to disable the website that angered Filipinos Thursday upon finding their names and personal information on the website.
Hacking group LulzSec Pilipinas launched the website wehaveyourdata.com featuring a search engine enabling users to search for their names in the leaked Comelec database hacked and stolen in March. Included in the listing are full names, birthdates, addresses, parents' names, passport numbers and even, at times, text markers of fingerprints.
READ: Sorry over leaked data, Comelec tells public to change passwords
Citing the Philippines's Department of Justice, which oversees the National Bureau of Investigation (NBI) in charge of the hacking probe, Jimenez said the data was preserved by the US DOJ via web security provider CloudFlare and repurchased from domain registrar GoDaddy.
"DOJ [is] currently in the process of requesting for the preserved data on Cloudflare and GoDaddy, through official channels, [and] coordinating with NBI," Jimenez said in a statement on Twitter.
On Friday afternoon, a review by Philstar.com of the WhoIs domain name registration of the website shows that the site wehaveyourdata.com was successfully reregistered on GoDaddy at 1:56 p.m., Manila time.
Experts say, however, that even with the site taken down, crooks may have already backed up the data and planning on their next moves.
"Taking down the website doesn't matter. The people who can do damage with the information already [have] the data," Carlo Ople, managing director of Dentsu Digit, said on Twitter.
The data, meanwhile, are still available on torrent listings for downloading.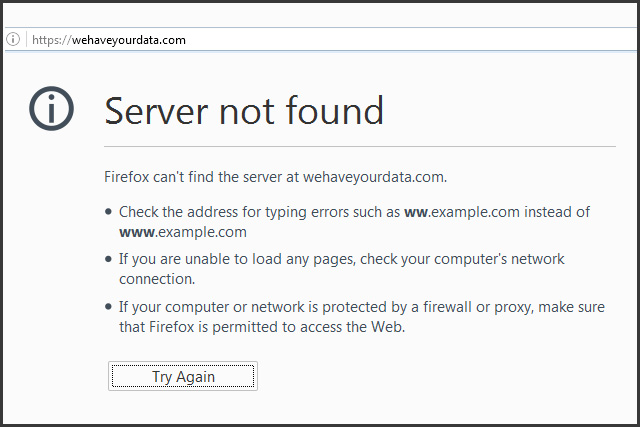 Screenshot at 2:42 p.m. on Friday, April 22, 2016 shows that the website, which went viral on Thursday for containing a dump of personal information of millions of Filipino voters, has been taken down. Philstar.com
The NBI is still investigating the matter and going after individuals behind the hacking and what could possibly be the largest government leak in history.
Election officials say the May 9 national elections will go ahead despite the hacking scandal.
Government agents late Wednesday arrested a 23-year-old suspect, a new graduate of information technology, in his home in Manila. Officials say they are still hunting down his alleged accomplices.
Jimenez said the automated elections will be run on a different server, not on the one that was hacked, and that experts say the polls are unlikely to be compromised. — with a report by Associated Press