UN chief alarmed over Islamic State sympathy in Southeast Asia, Philippines
February 11, 2016 | 10:47pm
MANILA, Philippines — United Nations Secretary General Ban Ki Moon warned security officials of member nations of the gravity of threat and expansion of the so-called Islamic State (IS) in many parts of the world, including Southeast Asia.
In a report to the UN Security Council, Ban said the IS has rapidly stretched its sphere of influence in just 18 months across West and North Africa, the Middle East, South and Southeast Asia.
"The complexity of the recent attacks and the level of planning, coordination and sophistication involved raise concerns about its future evolution," Ban said in the report delivered on January 26 and released this week.
He noted other terrorist groups in the Middle East and Southeast Asia, including Ansar al-Khalifah in the Philippines, have sworn allegiance to the IS.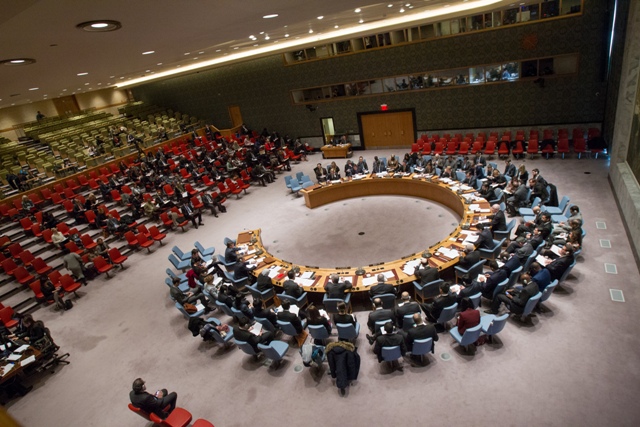 The United Nations Security Council holds a debate on the working methods of its sanctions committees on Feb. 11, 2016. UN photo/Manuel Elias
"[The groups] are sufficiently attracted by [the IS's] underlying ideology to pledge allegiance to its so-called caliphate and self-proclaimed caliph," Ban said, referring to IS leader Abu Bakr al-Baghdadi.
"It is able to adapt quickly to the changing environment and to persuade or inspire like-minded terrorist groups in various regions of the world to facilitate and commit acts of terrorism," he added.
Southeast Asian politics expert Zachary Abuza, a professor at the National War College in Washington, said the effective propaganda of the IS is a main reason why the group is a matter of concern in the region.
"ISIS propaganda is very slick, well-produced, and on message to the target demographic, creating a sense of triumph. It is designed for mobile platforms, ubiquitous in the region," Abuza said in a commentary published by the think tank Center for Strategic and International Studied.
"It is tailored for recruitment in Southeast Asia," Abuza added.
Abuza said said IS ideology has influenced Mindanao-based terror organization Abu Sayyaf, which has released two IS-inspired videos.
As early as 2013, the security community has been watching the spread of IS influence in the country, notably through what seemed to be a Black Flag Movement in southern Philippines.
READ: ISIS popularity growing in Philippines
In April last year, Foreign Affairs Secretary Albert del Rosario bared before the Association of Southeast Asian Nations reports of IS threat , while the United States admitted it is closely monitoring reported threats in the Philippines.
Armed Forces Chief of Staff Gen. Hernando Iriberri said the military has launched efforts to contain homegrown extremist groups sympathetic to the IS.