Decommissioning inspection prompted Pemberton transfer from US ship?
October 22, 2014 | 3:01pm
MANILA, Philippines — Prior to the detention transfer on Wednesday of an American marine suspected of killing a Filipino transgender from the USS Peleliu to the Philippine military headquarters, the US military said the amphibious assault ship is set for decommissioning.
In a statement on Tuesday, the US Pacific Command bared a scheduled decommissioning inspection and survey (INSURV) on October 27 and 28.
"Peleliu's INSURV inspection falls on the other end of the spectrum as its function is to ensure the ship maintains a mission readiness status after its scheduled 2015 decommissioning," Ryan Batchelder of USS Peleliu Public Affairs team said.
The ship had been ordered to remain at Subic Bay in Zambales by Admiral Samuel Locklear, chief of the US Pacific Command, after Marine Private First Class Joseph Scott Pemberton, tagged in the October 11 death of Jeffrey "Jennifer" Laude, was detained aboard.
Hull Technician 1st Class Randi Macrorie, Peleliu's assistant INSURV coordinator, admitted that the ship's deployed status presents many challenges to the its crew's inspection preparations.
Combat systems, engineering, damage control, electrical, deck, habitability, medical, propulsion, navigation, supply and weapons checks will all be a part of the inspection, he explained.
"The crew will complete 199 events and the preparations and rehearsals will not go unnoticed by the INSURV inspectors. Being deployed as we are, the crew is doing an excellent job," Macrorie said.
On Wednesday, the Peleliu was allowed to leave the Philippines at noontime shortly after Pemberton was transferred via airlift to Camp Aguinaldo in Quezon City.
While Pemberton remains under the custody of American authorities, Philippine officials said his transfer was a sign of Washington's cooperation in the murder case that posed a challenge to healthy US-Philippines relations and the Visiting Forces Agreement.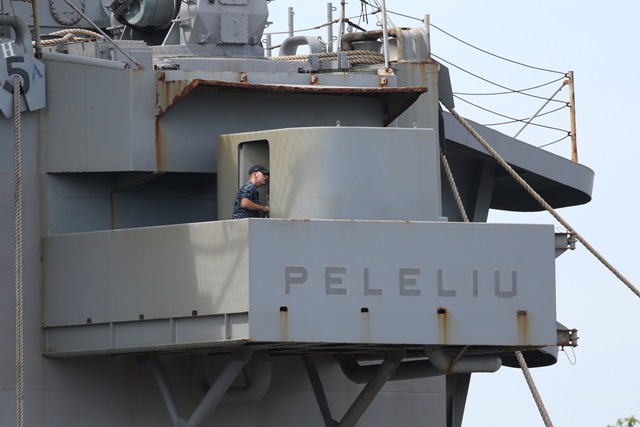 In this Friday, Oct. 17, 2014 photo, a U.S. marine walks inside the USS Peleliu, where U.S. Marine Pfc. Joseph Scott Pemberton is said to be detained after allegedly killing Filipino transgender Jefrrey "Jennifer" Laude at the Subic Bay free port in Zambales province. AP/Aaron Favila
Macrorie, meanwhile, is positive about the inspection preparations despite the huge amount of work involved and its deployed status.
"The crew of Peleliu is no stranger to challenges and just like any other mission, from anywhere in the world, the crew will show strength and perseverance, and get the job done," he said.