Taliban takeover of Afghanistan
+ Follow Story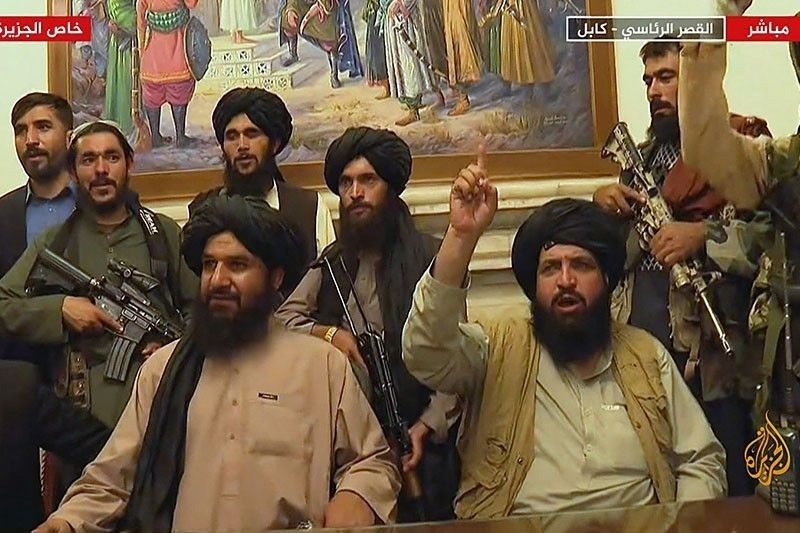 May 23, 2022
Women television presenters on Afghanistan's leading news channels on Sunday vowed to speak up for their rights after being forced by Taliban authorities to cover their faces on air.
After defying the order a day earlier, presenters on Sunday wore full hijabs and veils that left only their eyes on view across leading channels including TOLOnews, Ariana Television, Shamshad TV and 1TV.
"Today, they have imposed a mask on us, but we will continue our struggle using our voice," Sonia Niazi, a presenter for TOLOnews, told AFP after presenting a bulletin.
"I will never ever cry because of this order, but I will be the voice for other Afghan girls."
The diktat was an attempt to push women journalists to quit their jobs, Niazi said.
"It is like stripping off your identity," she added. — AFP
May 17, 2022
Afghanistan's interior minister promises "very good news" soon on the return of girls to secondary schools, in a rare interview broadcast Monday by CNN.
At the end of March, the Taliban, who took power after US forces withdrew from the country last August, closed high schools and colleges for girls just hours after their reopening.
The unexpected reversal, ordered by Hibatullah Akhundzada, the supreme leader of the Taliban and of the country, outraged many Afghans and the international community.
"I would like to provide some clarification. There is no one who opposes education for women," said Interior Minister Sirajuddin Haqqani, long one of the most secretive Taliban leaders and who only showed his face in public for the first time in March. — AFP
May 3, 2022
Taliban officials in Afghanistan's most progressive city have told driving instructors to stop issuing licences to women, professionals from the sector told AFP.
While Afghanistan is a deeply conservative, patriarchal country, it is not uncommon for women to drive in larger cities – particularly Herat in the northwest, which has long been considered liberal by Afghan standards.
"We have been verbally instructed to stop issuing licences to women drivers ... but not directed to stop women from driving in the city," said Jan Agha Achakzai, the head of Herat's Traffic Management Institute that oversees driving schools. — AFP
May 1, 2022
The United Nations secretary-general on Saturday slammed a bomb blast in the Afghan capital the day before that ripped through a mosque and killed at least 10 worshippers.
"The Secretary-General strongly condemns yesterday's deadly attack on the Khalifa Sahib Mosque in western Kabul during Friday prayers," a spokesperson for Antonio Guterres said in a statement.
"He extends his deepest condolences to the families of the victims and wishes a swift recovery to those injured. Attacks against civilians and civilian objects, including mosques, are strictly prohibited under international humanitarian law."
The target of the blast appeared to be members of the minority Sufi community who were performing rituals after completing Friday prayers, an official said.
Grisly images of the blast posted on social media showed survivors running out of the mosque, with some carrying victims including children. Patches of blood could be seen on the floor of the mosque compound.
Interior ministry spokesman Abdul Nafi Takor said at least 10 people were killed, while Kabul police said another 30 were injured.
The bombing was the latest in a wave of attacks that have rocked Afghanistan during the fasting month of Ramadan.
Dozens of civilians have been killed in the primarily sectarian attacks -- some claimed by the Islamic State group -- targeting members of the Shiite and Sufi Muslim communities.
Friday's blast comes a day after two bombs on separate minibuses killed at least nine people in the northern city of Mazar-i-Sharif, targeting Shiite passengers heading home to break their Ramadan fast. -- AFP
April 29, 2022
Afghanistan's supreme leader called again Friday for the international community to recognise the Taliban government, saying the world had become a "small village" and proper diplomatic relations would help solve the country's problems.
No nation has formally recognised the regime installed by the Taliban after they seized power in August and reintroduced the hardline Islamist rule that is increasingly excluding women from public life.
In a written message ahead of the Eid al-Fitr holiday that marks the end of Ramadan, supreme leader Hibatullah Akhundzada did not mention international sticking points — including reopening secondary schools for girls.
Instead, he said recognition should come first "so that we may address our problems formally and within diplomatic norms and principles". — AFP
April 20, 2022
Several casualties were feared after two bombs rocked a boys' school in a Shiite Hazara neighbourhood of the Afghan capital on Tuesday, police said, with social media showing grisly images of dead and wounded at the scene.
Kabul police spokesman Khalid Zadran told AFP that two improvised explosive devices were placed outside the Abdul Rahim Shahid high school in the capital's western Dasht-e-Barchi neighbourhood.
He earlier tweeted that three blasts had rocked the school, which is in an area mainly inhabited by the Hazara community and has been previously targeted by the jihadist Islamic State group.
Tuesday's blasts occurred as students were coming out of their morning classes, a witness told AFP. — AFP
April 1, 2022
The United Nations says 41 international donors had pledged $2.44 billion in humanitarian aid for Afghanistan, falling short of a $4.4 billion target.
The promises, which the world body said it hoped would be delivered as soon as possible, were made at a virtual conference co-hosted with Britain, Germany and Qatar. — AFP
March 27, 2022
The United States expects the Taliban to reverse its decision to keep girls out of Afghan schools "in coming days", US special envoy Thomas West said Saturday.
The United States called off talks with the hardline administration on the sidelines of the Doha Forum in response to the ban announced on Wedesday.
West who led talks with the Taliban, told the forum: "I'm hopeful that we'll see a reversal of this decision in coming days.
"I was surprised at the turnaround this past Wednesday and I think you have seen the world react and condemn this. It is a breach first and foremost of the Afghan people's trust." — AFP
March 23, 2022
The Taliban ordered girls' secondary schools in Afghanistan to shut Wednesday just hours after they reopened, an official confirmed, sparking confusion and heartbreak over the policy reversal by the hardline Islamist group.
"Yes, it's true," Taliban spokesman Inamullah Samangani told AFP when asked to confirm reports that girls had been ordered home.
He would not immediately explain the reasoning, while education ministry spokesman Aziz Ahmad Rayan said: "We are not allowed to comment on this".
An AFP team was filming at Zarghona High School in the capital, Kabul, when a teacher entered and said class was over.
Crestfallen students, back at school for the first time since the Taliban seized power in August last year, tearfully packed up their belongings and filed out.
"I see my students crying and reluctant to leave classes," said Palwasha, a teacher at Omra Khan girls' school in Kabul.
"It is very painful to see your students crying." -- AFP
March 18, 2022
The UN Security Council adopts a resolution Thursday to secure a formal presence in Afghanistan, whose Taliban government remains unrecognized by the international community.
The resolution — which avoids using the word Taliban — will allow the UN to continue its "crucial" work in Afghanistan, still reeling after decades of war and whose economy was devastated when the international community cut off aid as the Taliban took power last year.
The vote was 14 in favor, with one abstention, by Russia. — AFP
March 14, 2022
Afghan embassies around the world that have refused to recognise the new Taliban regime are struggling to stay afloat and facing increasing pressure from Kabul to accept loyalist replacements.
None of the country's 60 or so ambassadors, consuls or heads of diplomatic missions who were appointed by Western-backed former president Ashraf Ghani have agreed to serve the hardline Islamist group since it seized power in August last year.
The Taliban government has yet to be formally recognised by any nation, and the international community is grappling with how to deal with the country's new rulers while also helping Afghans face an economic and humanitarian crisis. — AFP
February 15, 2022
Strolling through the town of Maymana, the new mayor appears to inspire goodwill from war-weary constituents in the Afghan provincial capital.
But Damullah Mohibullah Mowaffaq has a reputation as one of the top snipers in the ranks of the Taliban, until last summer waging war to take control of the country.
Mowaffaq was made mayor of Maymana, capital of Faryab province in the far reaches of northwest Afghanistan, in November, three months after the Taliban ousted the Western-backed government and seized power.
He rose to prominence as a fighter, but now his schedule is packed with the daily tasks of local government -- unblocking sewers, planning roads, and smoothing over neighbourhood quarrels.
His switch reflects the broader transformation that the Taliban are undergoing, as the insurgents grapple with administering territory. -- AFP
February 15, 2022
Afghanistan will be forced to reconsider its policy towards the United States unless Washington reverses a decision to freeze part of the country's assets as compensation for victims of the September 11 attacks, the Taliban says Monday.
"The 9/11 attacks had nothing to do with Afghanistan. If the United States does not deviate from its position and continues its provocative actions, the Islamic Emirate will also be forced to reconsider its policy towards the country," the Taliban deputy spokesman says in a statement posted to Twitter. — AFP
February 14, 2022
A Taliban delegation arrived in Doha Sunday in a new bid to convince governments to provide humanitarian aid, six months after the hardline Islamists toppled Afghanistan's Western-backed regime, officials said.
The delegation, led by Foreign Minister Amir Khan Muttaqi, will meet with the EU delegation in Doha, diplomatic missions and officials from Gulf countries, the Taliban's foreign ministry said on Twitter.
Their arrival in Doha was confirmed by international sources including a spokesman for the British government, and the trip comes as Afghanistan's aid-starved economy sinks deeper into an unprecedented crisis. — AFP
January 31, 2022
A United Nations report says the Taliban and its allies allegedly killed more than 100 former Afghan government members, security personnel and people who worked with international forces.
The report, an advance copy of which was seen by AFP, describes severe curtailing of human rights by Afghanistan's new fundamentalist rulers. In addition to the political killings, women's rights and the right to protest have also been curbed.
"Despite announcements of general amnesties for former members of the Government, security forces and those who worked with international military forces, UNAMA continued to receive credible allegations of killings, enforced disappearances, and other violations towards these individuals," UN Secretary-General Antonio Guterres's report says. — AFP
January 31, 2022
US President Joe Biden calls on the Taliban to "immediately release" the man believed to be its last American hostage, withholding any hope of recognizing the militants' rule in Afghanistan until he is free.
"The Taliban must immediately release Mark before it can expect any consideration of its aspirations for legitimacy. This is not negotiable," Biden says in a statement.
"Threatening the safety of Americans or any innocent civilians is always unacceptable, and hostage-taking is an act of particular cruelty and cowardice," he adds. — AFP
January 24, 2022
A meeting between the Taliban and Afghan civil society members served as an "icebreaker" Sunday in Oslo, on the eve of talks between the Islamist fundamentalists and Western diplomats, an Afghan participant says.
"It was a positive icebreaking meeting," feminist activist Jamila Afghani told AFP, adding: the "Taliban displayed goodwill. They listened patiently and responded to most of our concerns. Let's see what their actions will be, based on their words". — AFP
January 23, 2022
Human rights and the humanitarian crisis in Afghanistan, where hunger threatens millions, will be in focus at talks opening Sunday in Oslo between the Taliban, the West and members of Afghan civil society.
In their first visit to Europe since returning to power in August, the Taliban will meet Norwegian officials as well as representatives of the United States, France, Britain, Germany, Italy and the European Union.
The Taliban delegation will be led by Foreign Minister Amir Khan Mutaqqi.
On the agenda will be "the formation of a representative political system, responses to the urgent humanitarian and economic crises, security and counter-terrorism concerns, and human rights, especially education for girls and women", a US State Department official said. — AFP
January 23, 2022
A Taliban delegation arrived Saturday in Norway for three days of talks with Western diplomats and members of Afghan civil society, which it hopes will help "transform the atmosphere of war" in Afghanistan.
"The Islamic Emirate has taken steps for meeting the demands of the Western world and we hope to strengthen our relations through diplomacy with all the countries, including European countries and the West in general," Taliban spokesman Zabihullah Mujahid told AFP on Saturday.
The Taliban want to "transform the atmosphere of war... into a peaceful situation". — AFP
January 19, 2022
The Taliban's prime minister calls on Muslim nations to be the first to officially recognise the Afghan government that seized power in August.
"I call on Muslim countries to take the lead and recognise us officially. Then I hope we will be able to develop quickly," Mohammad Hassan Akhund tells a conference in Kabul to address the country's massive economic crisis.
No country has yet recognised the Taliban government, with Western nations watching to see how the hardline Islamists -– notorious for human rights abuses during their first stint in power between 1996 and 2001 -– will rule this time around. — AFP
January 10, 2022
A baby lost during the chaotic evacuation of tens of thousands of Afghans at Kabul airport has been reunited with his relatives after five months, his elated grandfather has said.
The boy's father handed two-month-old Sohail Ahmadi to a foreign soldier among jostling crowds desperate to flee the Taliban after the Islamists seized the capital in mid-August.
The pair were separated, and what happened next is unclear -- but taxi driver Hamid Safi said he found the baby crying and alone on the floor of the airport the same day.
"I took him to some women to breastfeed him but they would not... I kept looking for his family," said Safi, who had gone to the airport to help his brother with evacuation.
"I then called my wife and she said to bring the baby home."
The couple said they kept searching for the boy's parents but on failing to find them, gave him the name Mohammad Abed and began to care for him.
"If we had not found his family then we would have protected and raised him as our own child," Safi, 29, told AFP. — AFP
December 30, 2021
The United States on Wednesday appointed an envoy to defend the rights of Afghan women, signaling a key priority as the Taliban ratchet up restrictions.
Rina Amiri, an Afghan-born US scholar and mediation expert who served at the State Department under former president Barack Obama, will take the role of special envoy for Afghan women, girls and human rights, Secretary of State Antony Blinken announced.
Months after the United States ended its 20-year war in Afghanistan, Blinken said that Amiri will address issues of "critical importance to me" and the rest of President Joe Biden's administration.
"We desire a peaceful, stable and secure Afghanistan, where all Afghans can live and thrive in political, economic and social inclusivity," Blinken said in a statement. — AFP
December 26, 2021
Afghanistan's Taliban authorities say that women seeking to travel anything other than short distances should not be offered transport unless they are accompanied by a close male relative.
The guidance, issued by the Ministry for the Promotion of Virtue and Prevention of Vice, also calls on all vehicle owners to offer rides only to those women wearing Islamic hijabs.
"Women travelling for more than 45 miles (72 kilometres) should not be offered a ride if they are not accompanied by a close family member," ministry spokesman Sadeq Akif Muhajir tells AFP on Sunday, specifying that it must be a close male relative. — AFP
December 21, 2021
China, backed by Russia, blocked a US draft resolution Monday in the UN Security Council that would have provided a system for humanitarian exceptions to economic sanctions imposed on Taliban-controlled Afghanistan.
"They want the deletion" of a paragraph of the resolution allowing the sanctions committee responsible for Afghanistan to provide "exemptions from the freezing of assets" if it considers that "such a waiver is necessary to facilitate further assistance to Afghanistan," a diplomat told AFP on condition of anonymity.
China, which is "opposed in principle to sanctions," is "against a case-by-case exemption mechanism," another diplomat confirmed.
"Humanitarian aid and life-saving assistance must be able to reach the Afghan people without any hindrance," China's UN Ambassador Zhang Jun said in a tweet Monday. "Artificially created conditions or restrictions are not acceptable." — AFP
December 5, 2021
The United States on Saturday led a group of Western nations and allies in condemnation of the Taliban over the "summary killings" of former members of the Afghan security forces reported by rights groups, demanding quick investigations.
"We are deeply concerned by reports of summary killings and enforced disappearances of former members of the Afghan security forces as documented by Human Rights Watch and others," read a statement by the United States, the European Union, Australia, Britain, Japan and others, which was released by the State Department.
"We underline that the alleged actions constitute serious human rights abuses and contradict the Taliban's announced amnesty," the group of nations said, as it called on Afghanistan's new rulers to ensure the amnesty is enforced and "upheld across the country and throughout their ranks."
Early this week Human Rights Watch released a report that it says documents the summary execution or enforced disappearance of 47 former members of the Afghan National Security Forces (ANSF), other military personnel, police and intelligence agents "who had surrendered to or were apprehended by Taliban forces" from mid-August through October. — AFP
November 30, 2021
The World Bank will consider a compromise plan to release humanitarian aid for Afghanistan by shifting funds intended for rebuilding efforts, a source told AFP Monday.
The bank's management will discuss the proposal at an informal board meeting on Tuesday to re-direct funds from the Afghanistan Reconstruction Trust Fund (ARTF) "to support humanitarian efforts through UN and other humanitarian agencies with presence and logistic capabilities in the country," the source said, without providing further details.
The United Nations has warned that around 22 million Afghans, or more than half the country, will face an "acute" food shortage in the winter months due to the combined effects of drought caused by global warming and an economic crisis aggravated by the Taliban takeover in August.
The financial crunch worsened after Washington froze about $10 billion of the country's reserves and deteriorated further after the World Bank and International Monetary Fund halted Afghanistan's access to funding. — AFP
November 24, 2021
The United States will resume talks with the Taliban next week in Qatar, addressing among other issues the fight against terrorism and the humanitarian crisis in Afghanistan.
The American delegation will be led by the US special representative for Afghanistan, Tom West, for the planned two weeks of discussions, State Department spokesman Ned Price said Tuesday.
The two sides will discuss "our vital national interests," which include counterterrorism operations against the Islamic State group and Al-Qaeda, humanitarian assistance, Afghanistan's devastated economy, and safe passage out of Afghanistan for US citizens and Afghans who worked for the United States during the 20 year war. — AFP
November 22, 2021
Afghanistan's Taliban authorities on Sunday issued a new ''religious guideline'' that called on the country's television channels to stop showing dramas and soap operas featuring women actors.
In the first such directive to Afghan media issued by the Ministry for the Promotion of Virtue and Prevention of Vice, the Taliban also called on women television journalists to wear Islamic hijabs while presenting their reports.
And the ministry asked the channels not to air films or programmes in which the Prophet Mohammed or other revered figures are shown. — AFP
November 17, 2021
The Taliban called Wednesday on US Congress members to release Afghan assets frozen after their takeover of the country, warning economic turmoil at home could lead to trouble abroad.
In an open letter, Taliban Foreign Minister Amir Khan Muttaqi said the biggest challenge facing Afghanistan was financial insecurity, "and the roots of this concern lead back to the freezing of assets of our people by the American government".
Washington has seized nearly $9.5 billion in assets belonging to the Afghan central bank, and the aid-dependent economy has effectively collapsed -- with civil servants unpaid for months and the treasury unable to pay for imports.
Concerned nations have pledged hundreds of millions of dollars in aid, but are reluctant to commit funds unless the Taliban agree to a more inclusive government and to guarantee the rights of women and minorities. — AFP
November 17, 2021
Facebook reveals Tuesday it had worked to block a hacker group that targeted the accounts of people tied to Afghanistan's then-government and security forces as the Taliban was moving in to take power.
The Pakistan-based group, known as SideCopy, used "romantic lures" from what appeared to be young women on the platform to try to trick the targets into giving the hackers access to their pages.
Executives from Meta, Facebook's parent company, did not detail what the ultimate motive appeared to be but noted the attacks were directed at "those with links to the Afghan government, military and law enforcement in Kabul." — AFP
November 16, 2021
The Taliban says Monday at least four Islamic State operatives and two civilians were killed in a crackdown on the group's hideouts in southern Afghanistan after a recent increase in bloody attacks.
The operation against Islamic State-Khorasan — the local chapter of the jihadist group — started around midnight in at least four districts of Kandahar province and continued through Monday morning, Taliban provincial police chief Abdul Ghafar Mohammadi tells AFP.
"So far, four Daesh (IS) fighters have been killed and ten arrested... one of them blew himself up inside a house," he says. — AFP
November 12, 2021
The new US special envoy for Afghanistan will visit Pakistan this week for a meeting with the Taliban foreign minister and senior diplomats from China and Russia, a Pakistani official and the US State Department said.
It will be Thomas West's first trip to the region since taking over from Zalmay Khalilzad, the long-serving diplomat who spearheaded the talks that led to the US withdrawal from Afghanistan.
The so-called "troika plus" meeting, due to take place on Thursday in Islamabad, will include the Afghan Taliban's new foreign minister Amir Khan Muttaqi, a senior Pakistani government official told AFP on condition of anonymity. — AFP
November 9, 2021
Afghanistan's harsh winter will create new difficulties for people wishing to leave with the Kabul airport still in disrepair, a US official warns Monday.
Thomas West, the US pointman on Afghanistan, says that the Taliban still has largely made good on promises to let US citizens and US long-term residents leave if they so choose after the insurgents' overthrow of the Western-backed government.
"I think the real challenge we face," West tells reporters, "is potentially logistical especially as we head into the winter months." — AFP
November 6, 2021
Four women have been found dead in the northern city of Mazar-i-Sharif, a spokesman for Afghanistan's Taliban government says, following reports that activists had been killed.
Two suspects have been arrested after the four bodies were found at a house in the city's fifth police district, interior ministry spokesman Qari Sayed Khosti says in a video statement.
"The arrested people have admitted in initial interrogation that the women were invited to the house by them. Further investigations are under way and the case has been referred to court," he says. — AFP
November 3, 2021
The Islamic State-Khorasan (IS-K) group claims the bombing of a military hospital in the Afghan capital of Kabul on Tuesday that killed at least 19 people and wounded 50 more.
In a statement released on its Telegram channels, the jihadist group — rivals of the Taliban — says that "five Islamic State group fighters carried out simultaneous coordinated attacks" on the sprawling site.
It says that one jihadist detonated an explosive belt at the entrance of the hospital before other militants stormed the facility and opened fire. — AFP
November 3, 2021
Afghanistan's Taliban government announces a ban on the use of foreign currencies on Tuesday, threatening further disruption to an already ailing economy.
Taliban spokesman Zabiullah Mujahid declares that from now on anyone using foreign currency for domestic business would be prosecuted.
"The economic situation and national interests in the country require that all Afghans use the Afghani currency in every transaction," he says.
"The Islamic Emirate instructs all citizens, shopkeepers, traders, businessmen and the general public to henceforth conduct all transactions in Afghanis and strictly refrain from using foreign currency." — AFP
October 31, 2021
Taliban supreme leader Haibatullah Akhundzada addressed supporters in the southern city of Kandahar, officials announced Sunday, his first public appearance since taking control of the group in 2016.
Akhundzada has been the spiritual chief of the Islamist movement since 2016 but has remained a reclusive figure, even after his group seized power in Afghanistan in August.
His low profile has fed speculation about his role in the new Taliban government — and even rumors of his death.
On Saturday, he visited the Darul Uloom Hakimah madrassa to "speak to his brave soldiers and disciples", according to Taliban officials.
There was tight security at the event and no photographs or video have emerged, but a 10-minute audio recording was shared by Taliban social media accounts.
In it, Akhundzada -- referred to as "Amirul Momineen", or commander of the faithful — gives a religious message.
The speech did not touch on political organisation, but sought God's blessing for the Taliban leadership. — AFP
October 20, 2021
Russian Foreign Minister Sergei Lavrov recognizes Taliban "efforts" to try and stabilize the situation in volatile Afghanistan as Moscow hosted the Islamist regime for international talks.
"A new administration is in power now," Lavrov tells the gathering. "We note their efforts to stabilize the military and political situation and set up work of the state apparatus." — AFP
October 19, 2021
Zalmay Khalilzad, the veteran US envoy whose months of diplomacy failed to prevent the Taliban from taking power in Afghanistan, resigned on Monday.
Secretary of State Antony Blinken announced Khalilzad's departure, saying that the envoy's deputy, Thomas West, would take over. — AFP
October 14, 2021
Russian President Vladimir Putin says Wednesday that battle-hardened militants from Iraq and Syria are "actively" entering Afghanistan.
"The situation in Afghanistan is not easy," Putin says during a video conference with security service chiefs of ex-Soviet states.
"Militants from Iraq, Syria with experience in military operations are actively being drawn there," he says. — AFP
October 12, 2021
The Taliban held their first face-to-face talks with a joint US-EU delegation Tuesday in Qatar as Brussels pledged one billion euros ($1.2 billion) in aid for Afghanistan.
The hardline Islamists are seeking recognition, as well as assistance to avoid a humanitarian disaster, after they returned to power in August following the withdrawal of US troops after 20 years of war.
UN chief Antonio Guterres earlier urged the world to donate to drought-hit and impoverished Afghanistan to head off economic collapse, but also slammed the Taliban's "broken" promises to Afghan women and girls.
European Commission President Ursula von der Leyen announced the EU aid package, meant "to avert a major humanitarian and socio-economic collapse", at a virtual G20 summit hosted by Italy on Tuesday. — AFP
October 12, 2021
A flight carrying 84 Afghans — people who worked for the Spanish forces and their families — arrived in Madrid on Monday, after being evacuated via Pakistan.
The military plane landed at the Torrejon de Ardoz airbase near Madrid at 9:00 pm (1900 GMT) on schedule, a government statement said.
The defence, foreign and migration ministers were at the airport to meet them.
The 84 passengers comprised 14 people who had worked for the Spanish force in Afghanistan and their families, TVE television reported. — AFP
October 11, 2021
The United States and Britain warned their citizens on Monday to stay away from hotels in the Afghan capital Kabul, particularly the well-known Serena.
"US citizens who are at or near the Serena Hotel should leave immediately," the US State Department said, citing "security threats" in the area.
In an update to its advice not to travel to Afghanistan, the UK Foreign Office said: "In light of the increased risks you are advised not to stay in hotels, particularly in Kabul (such as the Serena Hotel)." — AFP
October 10, 2021
The Taliban warns the United States not to "destabilize" the regime during their first face-to-face talks since the US withdrawal, its foreign minister Amir Khan Muttaqi said on Saturday.
Muttaqi's comments come as the Taliban attempt to re-establish their rule in Afghanistan, 20 years after the hardline Islamists were driven out by the US-led invasion.
"We clearly told them that trying to destabilise the government in Afghanistan is good for no one," Muttaqi tells the Afghan state news agency Bakhtar after talks in the Qatari capital, Doha. — AFP
October 9, 2021
The United States and the Taliban will hold their first in-person talks since the US withdrawal from Afghanistan starting Saturday, the State Department says.
The US delegation will meet Saturday and Sunday in the Qatari capital Doha with senior Taliban representatives, a State Department spokesperson says.
The United States has remained in contact with the Taliban since the longtime foes seized Kabul in August as US troops pulled out but the meeting will be the first that is face to face. — AFP
October 8, 2021
The European Union wins its battle at the UN Human Rights Council to create a new special rapporteur on Afghanistan, despite opposition from China, Russia and Pakistan.
The rapporteur will be responsible for monitoring the rights situation in the country following the Taliban takeover, and will make recommendations on improvements.
"This is an essential step to ensure continued monitoring, through a dedicated and independent expert, and to help prevent a further deterioration of the human rights situation in Afghanistan," says Lotte Knudsen, the EU's ambassador to the United Nations in Geneva.
"The rights of women and girls are of particular concern to us. The actions of the Taliban directed against women and girls and the violation of their rights is highly worrying." — AFP
October 7, 2021
Afghanistan's humanitarian crisis is growing alarmingly worse, a top UN official warned Wednesday, calling on the international community to do more to help the war-torn nation.
"It's the first time I've seen a crisis like this escalate and accelerate at the pace and scale that it is," Mary-Ellen McGroarty, the World Food Program's Country Director for Afghanistan, told reporters in New York during a video press conference.
Before the Taliban seized power in mid-August, Afghanistan already "had a humanitarian crisis of incredible proportions," affecting some 18 million people, McGroarty said. "It's just escalating and getting worse." — AFP
October 5, 2021
Girls have returned to some secondary schools in a northern province of Afghanistan, Taliban officials and teachers said Tuesday, but they remain barred from classrooms in much of the country.
The new hardline government also announced at a stage-managed rally that some women civil servants have been called back to work and a backlog of salaries would be paid, signs the Islamists may be trying to soften their public image after 50 days in power.
A video posted by the group's spokesman Suhail Shaheen showed dozens of schoolgirls in black, some wearing white head scarves and others with black face veils, sat in chairs waving Taliban flags.
"Girls are going to high schools in Khan Abad, Kunduz Province," tweeted Doha-based Shaheen, who has been nominated as the new Afghan government's permanent representative to the United Nations.
But in Kabul, education ministry official Mohammad Abid said there had been no policy change from the Taliban's interim central government, telling AFP on Tuesday: "High schools still remain closed for girls." — AFP
October 3, 2021
More than 1,500 Taliban supporters attended a rally on Sunday in a vast field to the north of Kabul, in a show of strength as they consolidate their rule of Afghanistan.
The crowd, exclusively men and boys, heard speeches by leading Taliban officials and commanders at Kohdaman township in the hilly outskirts of the capital.
The rally was the first of its kind in the capital since the Islamist group seized control of the country seven weeks ago following a lightning offensive.
Flanked by white and black Taliban standards and fighters in combat gear carrying assault rifles, the speakers addressed an audience sat in rows of chairs under awnings.
As the event went on, more and more supporters arrived, leaving several hundred sitting to watch from chairs in the midday sun. — AFP
September 30, 2021
Qatar's top diplomat on Thursday labelled a recent string of rights abuses in Afghanistan "disappointing" and called on the Taliban leadership to look to Doha for how to run an Islamic system.
The Taliban publicly strung up four alleged kidnappers from cranes in Herat last week and older girls are still unable to resume their studies after weeks.
"The recent actions that we have seen unfortunately in Afghanistan, it has been very disappointing to see some steps being taken backward," Qatari Foreign Minister Sheikh Mohammed bin Abdulrahman Al-Thani said at a media briefing in Doha.
Doha has become a key broker in Afghanistan following last month's withdrawal of US forces, helping to evacuate thousands of foreigners and Afghans, engaging the new Taliban rulers and supporting operations at Kabul airport.
"We need to keep engaging them and urging them not to take such actions, and we have also been trying to demonstrate for the Taliban how Muslim countries can conduct their laws, how they can deal with the women's issues," said Sheikh Mohammed. — AFP
September 29, 2021
Top US generals say that they advised keeping American troops in Afghanistan to bolster the Afghan government and expressed concern that the Taliban has not severed ties with Al-Qaeda.
"I think that our credibility with allies and partners around the world and with adversaries is being intensely reviewed by them to see which way this is going to go and I think 'damage' is one word that could be used, yes," General Mark Milley, the chairman of the Joint Chiefs of Staff tells the Senate.
Milley says the Taliban "was and remains a terrorist organization and they still have not broken ties with Al-Qaeda," which used Afghanistan as a base to plot the September 11, 2001 attacks on New York and Washington. — AFP
September 28, 2021
The International Criminal Court's new prosecutor says he would focus on the Taliban and Islamic State-Khorasan's actions in Afghanistan instead of alleged US crimes.
Karim Khan asked judges to relaunch the court's probe into Afghanistan, which was paused last year at Kabul's request, saying the Taliban's takeover meant war crimes would no longer be investigated properly.
But rights defenders reacted with fury after Khan, who took office in June with a vow to reform the ICC, announced that he would "deprioritise" the investigation into American forces and concentrate on Islamist groups. — AFP
September 26, 2021
After seeing photos of black-clad Afghan women in full face veils at a pro-Taliban rally in Kabul, Bahar Jalali, an Afghan-American historian, launched a campaign highlighting the vibrant colors of traditional Afghan dresses.
"I was very concerned that the world would think that those clothing worn by those women in Kabul was traditional Afghan clothing, and I don't want our heritage and culture to be misrepresented," said Jalali, who lives in Glenwood, Maryland, about an hour's drive from Washington.
Jalali, 56, created the social media hashtags #DoNotTouchMyClothes and #AfghanistanCulture, which quickly became popular, with women posting photos of themselves wearing colorful, embroidered Afghan clothing and smiling for the camera.
"Afghan women don't wear hijab," Jalali told AFP.
"We wear a loose chiffon headscarf that reveals the hair. And anybody who's familiar with Afghanistan history, culture, knows that the clothing worn by those women have never been seen before in Afghanistan," she said, referring to demonstrators at the pro-Taliban protest at a university lecture in Kabul earlier this month. — AFP
September 25, 2021
Prime Minister Narendra Modi raises concerns about Pakistan during talks with US President Joe Biden as well as a broader four-way summit with the leaders of Australia and Japan, according to Indian officials, who said the others concurred.
"There was a clear sense that a more careful look and a more careful examination and monitoring of Pakistan's role in Afghanistan -- Pakistan's role on the issue of terrorism -- had to be kept," Foreign Secretary Harsh Vardhan Shringla told reporters after the White House talks.
Khan, addressing the UN General Assembly, said that the Taliban have promised to respect human rights and build an inclusive government since taking over last month, despite global disappointment in a caretaker cabinet. — AFP
September 25, 2021
The United States announces two exemptions to its sanctions imposed on Afghanistan in a bid to facilitate the entry of humanitarian aid into the conflict-wracked, Taliban-controlled country.
The provisions allow the US government, aid groups and international organizations "to engage in the provision of humanitarian assistance to Afghanistan or other activities that support basic human needs" there, the US Treasury said in a statement.
They also allow "certain transactions related to the exportation or reexportation of agricultural commodities, medicine, and medical devices," the statement says. — AFP
September 24, 2021
US Secretary of State Antony Blinken says Thursday he believed the world was united on pressing the Taliban after speaking with Pakistan, China and Russia, key players with Afghanistan's new rulers.
"I think there is very strong unity of approach and unity of purpose," Blinken tells reporters.
"The Taliban says that it seeks legitimacy, that it seeks support, from the international community. The relationship that it has with the international community is going to be defined by the actions it takes." — AFP
September 23, 2021
The five permanent Security Council members are united on seeking a stable Afghanistan, UN Secretary-General Antonio Guterres says Wednesday after talks among foreign ministers following the Taliban takeover.
All five powers want "a peaceful and stable Afghanistan where humanitarian aid can be distributed without problems and without discrimination," Guterres tells reporters after the meeting during the annual General Assembly.
They seek "an Afghanistan where the rights of women and girl are respected, an Afghanistan that is not a sanctuary for terrorism, an Afghanistan with an inclusive government representing all sections of the population," he says. — AFP
September 22, 2021
The UN released emergency funds on Wednesday to help prevent Afghanistan's battered healthcare system from collapsing, with the WHO chief warning of an imminent catastrophe.
UN aid chief Martin Griffiths said he had released $45 million, warning in a statement that "medicines, medical supplies and fuel are running out in Afghanistan".
"Cold chains are compromised. Essential health-care workers are not being paid," he said.
Afghanistan's healthcare system was plunged into crisis after the Taliban swept into power last month, complicating aid deliveries and leaving many health facilities understaffed. -- AFP
September 21, 2021
Girls in Afghanistan will be allowed to return to school as soon as possible, the Taliban said Tuesday, after announcing the remaining positions in its all-male cabinet.
"We are finalising things... it will happen as soon as possible," spokesman Zabihullah Mujahid said on girls' education.
It comes after the education ministry ordered male teachers and students back to secondary school at the weekend, but made no mention of the country's women educators and girl pupils. — AFP
September 20, 2021
Four Afghan refugees, members of the country's robotics team who fled to Mexico after the Taliban's takeover of Kabul last month, participated Sunday in a bike parade in the capital organized to welcome the women.
"First of all, we want to thank Mexico government for making all these facilities for us," one of the team members, whose name is being withheld for security reasons, told AFP.
The group, made up of five team members and one of their partners, were the first Afghan refugees to arrive in Mexico after the Taliban retook the country from the American-backed government after 20 years last month. — AFP
September 17, 2021
Dutch Foreign Minister Sigrid Kaag resigns on Thursday after parliament formally condemned her handling of the Afghanistan evacuation crisis.
"The House considers that the government has acted irresponsibly," Kaag says in a statement to parliament after parliament voted by 78 votes to 72 to condemn her.
"And although I stand by our commitment, I can only accept the consequences of this judgement as the minister with ultimate responsibility," she adds. — AFP
September 14, 2021
US Secretary of State Antony Blinken called Monday on Pakistan to deny legitimacy to the Taliban unless they meet international demands, acknowledging concerns that Islamabad has supported militants from Afghanistan.
Testifying before Congress on the Taliban victory in Afghanistan, Blinken heard from lawmakers across party lines who pushed for a harder line on Pakistan, an uneasy partner of Washington over the 20-year war.
"What we have to look at is an insistence that every country, to include Pakistan, make good on the expectations that the international community has of what is required of a Taliban-led government if it's to receive any legitimacy of any kind or any support," Blinken told the House Foreign Affairs Committee. — AFP
September 12, 2021
Afghan police at Kabul airport have returned to work manning checkpoints alongside Taliban security for the first time since the Islamists seized power, officers said Sunday.
When the Taliban swept into Kabul last month ousting the government, police abandoned their posts, fearful of what the Islamists would do.
But two officers said they had returned to work Saturday after receiving calls from Taliban commanders.
On Sunday, an AFP correspondent at the airport saw border police members deployed at several checkpoints outside the main buildings of the airport, including the domestic terminal.
"I came back to work yesterday more than two weeks after being sent home," one of the police force members told AFP, speaking on condition of anonymity. — AFP
September 11, 2021
A second charter flight leaves Afghanistan carrying foreigners and Afghans in a sign the country's main airport was close to resuming commercial operations, as the United Nations warns of "credible allegations" of reprisal killings by the Taliban.
The plane departed for Qatar the day after just over 100 passengers, including some Americans, left Kabul airport on the first flight carrying foreigners out of the Afghan capital since a US-led evacuation ended on August 30.
Another 32 US citizens or permanent residents left Afghanistan with Washington's support on Friday, either on the Qatar Airways flight or by land, National Security Council spokeswoman Emily Horne said. — AFP
September 11, 2021
A video analysis shows the United States may have mistakenly targeted an aid worker rather than Islamic State fighters in its final strike in Afghanistan which killed 10 civilians, The New York Times says.
The Pentagon has said it disrupted a new attack planned by the Islamic State extremist group through a Reaper drone strike on August 29 -- the day before US troops ended their 20-year mission and following a devastating attack outside the airport where vast crowds rushed to leave the victorious Taliban.
But Kabul resident Aimal Ahmadi earlier told AFP that the strike killed 10 civilians including his small daughter, nephews, nieces and his brother Ezmarai Ahmadi, who was driving the car that was struck after he parked. — AFP
September 10, 2021
The Taliban have carried out reprisal killings since their victory despite their promises of amnesty, the UN envoy on Afghanistan, Deborah Lyons, tells the Security Council on Thursday.
"We are also concerned that despite the many statements granting general amnesties to ANDSF personnel and those who have worked as civil servants, there have been credible allegations of reprisal killings of ANDSF personnel and the detention of officials who worked for previous administrations," she says, referring to the collapsed Western-backed Afghan National Defense and Security Forces. — AFP
September 8, 2021
The Taliban show "pragmatism" and should be judged on their actions, a top Qatari official told AFP in an exclusive interview, adding there was "no question" the Islamists were Afghanistan's de facto rulers.
"They have shown a great deal of pragmatism. Let's seize the opportunities there... and look at their public actions," said Assistant Foreign Minister Lolwah al-Khater, who stopped short of announcing formal recognition of Afghanistan's new rulers.
"They are the de facto rulers, no question about that." — AFP
September 7, 2021
The Taliban claims total control over Afghanistan, saying they had won the key battle for the Panjshir Valley, the last remaining holdout of resistance against their rule.
Following their lightning-fast victory in mid-August over the former Afghan government's security forces and the withdrawal of US troops after 20 years of war, the Taliban turned to fighting the forces defending the mountainous Panjshir Valley.
As the Islamist hardliners claimed victory, their chief spokesman warned against any further attempts to rise up against their rule while urging former members of the security forces to join their regime's ranks. — AFP
September 6, 2021
The Taliban said Monday they had captured the last pocket of resistance in Afghanistan, the Panjshir Valley, even as opposition fighters vowed to keep up their struggle against the hardline Islamists.
Following their lightning-fast rout of Afghanistan's army last month and celebrations when the last US troops flew out after 20 years of war, the Taliban turned to fight the forces defending the mountainous Panjshir Valley.
"With this victory, our country is completely taken out of the quagmire of war," chief spokesman Zabihullah Mujahid said. -- AFP
September 6, 2021
Resistance forces holed up in Afghanistan's Panjshir Valley against the Taliban have called for a ceasefire, a statement from their leaders said, after reports they had suffered heavy losses at the weekend.
The National Resistance Front (NRF) said late Sunday it "proposes that the Taliban stop its military operations in Panjshir... and withdraw its forces. In return, we will direct our forces to refrain from military action."
In a separate tweet late Sunday, the NRF said spokesman Fahim Dashty — a well-known Afghan journalist — and General Abdul Wudod Zara had been killed in the latest fighting. — AFP
September 6, 2021
The Taliban on Sunday pledges to guarantee the safety of humanitarian workers and aid access in Afghanistan in a meeting with the UN humanitarian chief in Kabul, a UN spokesman said.
Martin Griffiths was in the Afghan capital on Sunday for several days of meetings with Taliban leadership amid a looming humanitarian disaster in the country newly under the control of the hardline Islamists.
"The authorities pledged that the safety and security of humanitarian staff, and humanitarian access to people in need, will be guaranteed and that humanitarian workers — both men and women — will be guaranteed freedom of movement," a statement from UN spokesman Stephane Dujarric says. — AFP
September 5, 2021
Afghanistan will "likely" erupt in civil war, the top US general told US media Saturday, warning that those conditions could see a resurgence of terrorist groups in the country.
As American forces began their withdrawal, the Taliban took over Afghanistan in a lightning campaign, with only the northern province Panjshir holding out against the hardline Islamists.
"My military estimate... is that the conditions are likely to develop of a civil war," General Mark Milley, chairman of the Joint Chiefs of Staff, told Fox News.
He questioned whether the Taliban — who are yet to declare a government — would be able to consolidate power and establish effective governance.
"I think there's at least a very good probability of a broader civil war and that will then in turn lead to conditions that could, in fact, lead to a reconstitution of Al-Qaeda or a growth of ISIS or other... terrorist groups," Milley said. — AFP
September 4, 2021
Fresh fighting happens Saturday between the Taliban and resistance forces in Afghanistan's Panjshir Valley, even as the hardline Islamists finalize a new government that will set the tone for their rule.
Facing the challenge of morphing from insurgents to rulers, the Taliban appear determined to snuff out the Panjshir resistance before announcing who will lead the country in the aftermath of Monday's US troop withdrawal, which was supposed to end two decades of war.
But Panjshir, which held out for nearly a decade against the Soviet Union's occupation and also the Taliban's first rule from 1996-2001, is stubbornly holding out. — AFP
September 4, 2021
The Taliban are due to form a government within days despite fighting in Afghanistan's Panjshir Valley where forces battling the hardline Islamists say they are enduring "heavy" assaults.
The Islamists face the enormous challenge of shifting gears from insurgent group to governing power, days after the United States fully withdrew its troops and ended two decades of war.
But they are still battling to extinguish the last flame of resistance in the Panjshir Valley, which held out for a decade against the Soviet Union's occupation and also the Taliban's first rule from 1996-2001. — AFP
September 3, 2021
The Taliban are expected to form a government as early as Friday with the new regime under intense international scrutiny over its vow to rule Afghanistan with greater tolerance, especially on women's rights.
The announcement of a new administration could be made after Friday afternoon prayers, two Taliban sources told AFP, as the Islamists shift gears from insurgent group to governing power, days after the United States fully withdrew its troops and ended two decades of war.
While the West has adopted a wait-and-see approach to the Taliban, there were some signs of engagement with the new leaders gathering pace. — AFP
September 2, 2021
Qatar is working with the Taliban to reopen Kabul's airport as soon as possible, its foreign minister says, urging the hardline Islamists to allow Afghans to leave.
The airport, the scene of a frenzied evacuation which ended with the US troop withdrawal on Tuesday, is out of operation with much of its infrastructure destroyed or degraded.
"We are working very hard (and) we remain hopeful that we will be able to operate it as soon as possible," says Qatari Foreign Minister Sheikh Mohammed bin Abdulrahman al-Thani. — AFP
September 2, 2021
The Taliban parades some of the military hardware they captured during their takeover of Afghanistan, as a team from Qatar landed at the trashed airport in Kabul -- a first step towards getting the facility back up and running as a lifeline for aid.
The Qatar Airways flight, the first to land in Kabul since the US withdrew from Afghanistan Monday, brought a team of technical experts to work on the airport, a source close to the matter told AFP.
The goal was to resume flights for aid, after the United Nations warned of a looming "humanitarian catastrophe" in war-ravaged Afghanistan, and to provide a way out for those wanting to flee the new regime. — AFP
September 1, 2021
Qatar urges the Taliban to ensure "safe passage" for people still wanting to leave Afghanistan after the chaotic US-led evacuations came to an end.
More than 123,000 foreign nationals and Afghans fled the country in a frenzied airlift operation that wound up on Tuesday, but many more are desperate to depart.
"We stress on the Taliban the issue of freedom of movement and that there be safe passage for people to leave and enter if they so wish," Qatari Foreign Minister Sheikh Mohammed bin Abdulrahman al-Thani tells a press conference after a meeting with his Dutch counterpart, Sigrid Kaag. — AFP
September 1, 2021
Britain has opened talks with the Taliban over the "safe passage" of its remaining nationals and allies out of Afghanistan after the hardline Islamist group's quickfire takeover of the country last month.
The British government confirmed to AFP it has dispatched senior civil servant Simon Gass to meet with Taliban representatives in Doha.
Much of the group's senior leadership lived in exile in the Qatari capital until the overthrow of Afghanistan's Western-backed government after 20 years of war. — AFP
September 1, 2021
The Pentagon denies Tuesday that US military personnel abandoned some of their dogs at Kabul airport during Washington's final pullout from Afghanistan.
"To correct erroneous reports, the US military did not leave any dogs in cages at Hamid Karzai International Airport, including the reported military working dogs," Pentagon spokesman John Kirby tweets.
Photographs posted on social media showed dogs in an Afghan animal shelter and not animals under the responsibility of the US military, Kirby adds on Twitter. — AFP
To correct erroneous reports, the U.S. Military did not leave any dogs in cages at Hamid Karzai International Airport, including the reported military working dogs. Photos circulating online were animals under the care of the Kabul Small Animal Rescue, not dogs under our care.

— John Kirby (@PentagonPresSec) August 31, 2021
September 1, 2021
The choice for the United States in Afghanistan was either to withdraw from the country or escalate the conflict, President Joe Biden says Tuesday after the final US pullout.
"That was the choice: between leaving or escalating. I was not going to extend this forever war, and I was not extending a forever exit," Biden says. — AFP
August 31, 2021
The United States expects the Taliban to live up to their commitments now that US troops have pulled out of Afghanistan, but any legitimacy or support will need to be "earned," US Secretary of State Antony Blinken says.
America's top diplomat, speaking just hours after the final US evacuation flights left Kabul, said Washington has suspended its diplomatic presence in Kabul as of Monday and shifted its operations to Qatar.
"Our troops have departed Afghanistan," Blinken says. "A new chapter of America's engagement with Afghanistan has begun. — AFP
August 31, 2021
The United States expects the Taliban to live up to their commitments now that US troops have pulled out of Afghanistan, but any legitimacy or support will need to be "earned," US Secretary of State Antony Blinken said Monday.
America's top diplomat, speaking just hours after the final US evacuation flights left Kabul, said Washington has suspended its diplomatic presence in Kabul as of Monday and shifted its operations to Qatar.
"Our troops have departed Afghanistan," Blinken said. "A new chapter of America's engagement with Afghanistan has begun. — AFP
August 31, 2021
A senior Taliban official said Tuesday the Taliban had "made history", as celebratory gunfire was heard across the Afghan capital after the last US troops pulled out.
"We made history again. The 20-year occupation of Afghanistan by the United States and NATO ended tonight," said Anas Haqqani, a senior official in the hardline Islamist movement, in a tweet. "I am very happy that after 20 years of jihad, sacrifices & hardships I have this pride to see these historic moments." — AFP
August 31, 2021
The United Nations Security Council adopted a resolution Monday calling on the Taliban to honor its pledges to allow Afghans and foreign nationals "safe" departure from Afghanistan.
The 15-member Council passed the resolution with 13 votes in favor and two abstentions, from China and Russia. — AFP
August 30, 2021
US President Joe Biden has been briefed on the rocket attack at Kabul airport and "operations continue uninterrupted," his press secretary Jen Psaki said early Monday.
"The president was informed that operations continue uninterrupted at (Kabul airport) HKIA, and has reconfirmed his order that commanders redouble their efforts to prioritize doing whatever is necessary to protect our forces on the ground," Psaki said in a statement. — AFP
August 30, 2021
Several rockets were heard flying over the Afghan capital by AFP staff Monday morning, a day after the US said it had destroyed a potential car bomb with an air strike.
It was not immediately clear where the rockets landed or what the targets were, but it comes as the US is due to withdraw the last of its troops by late Tuesday. — AFP
August 30, 2021
Foreign ministers from several countries will meet virtually Monday to discuss their next steps in Afghanistan, the US State Department says, as the airlift evacuation out of the country enters its final days.
The United States will host the meeting of "key partners," the State Department says Sunday, with the summit coming one day before US military forces are set to withdraw from Afghanistan following 20 years of war and slightly more than two weeks after the Taliban swept back to power.
Representatives from Canada, France, Germany, Italy,?Japan, the United Kingdom, Turkey, Qatar, the European Union and NATO are set to participate, the State Department says. — AFP
August 29, 2021
The United States warned Saturday of a "specific, credible threat" near Kabul airport and urged its citizens to leave the area, days after a deadly attack on crowds fleeing Taliban rule in Afghanistan.
A series of urgent terror warnings have rattled evacuation efforts overseen by US forces, who have been forced into closer security cooperation with the Taliban to prevent a repeat of Thursday's carnage at one of the facility's main access gates.
"Due to a specific, credible threat, all US citizens in the vicinity of Kabul airport... should leave the airport area immediately," the US Embassy in Kabul said in a security alert.
In its alert, the embassy noted the threat to "the South (Airport Circle) gate, the new Ministry of the Interior (gate), and the gate near the Panjshir Petrol station on the northwest side of the airport." — AFP
August 28, 2021
The US military says it had carried out a drone strike against a "planner" of the Islamic State-Khorasan, the group which claimed credit for the deadly suicide bombing at Kabul airport.
"The unmanned airstrike occurred in the Nangarhar Province of Afghanistan. Initial indications are that we killed the target," says Captain Bill Urban of the Central Command.
"We know of no civilian casualties," he adds in a statement annoucing the first reported US strike since the attack. — AFP
August 27, 2021
The death toll from two blasts at Kabul's airport has risen to 72, two officials who worked in the ministry of health until the Taliban takeover tell AFP on Friday.
"There are many women and children among the victims. Most of the wounded people are in trauma and shock," one of the former officials says, adding the toll only accounted for those taken to city hospitals.
August 27, 2021
Australia says Friday it pulled all its troops out of Afghanistan on the eve of the Kabul airport bombings after receiving "very clear intelligence" of an impending attack.
Australian Defence Minister Peter Dutton says the Australian authorities had sent warnings in text messages on Thursday to Australian citizens and those in the area of the attack.
"There was very clear intelligence that ISKP intended to strike and strike hard, and they have done that," he tells Nine Network television, referring to an Islamic State-affiliated group active in parts of south and central Asia. — AFP
August 27, 2021
The White House says more than 100,000 people from Afghanistan have been evacuated since August 14, the eve of the Taliban's return to power.
"Since August 14, the US has evacuated and facilitated the evacuation of approximately 100,100 people," the White House says in a statement issued hours after Islamic State suicide bombers killed dozens, including 13 US troops, as they attacked crowds gathered outside Kabul airport hoping to flee.
The announcement came as the August 31 deadline looms for the United States to withdraw its troops, and for it and other Western countries to end their massive airlift. — AFP
August 27, 2021
The US Defense Department says that the number of American troops killed in the suicide bombings at Kabul airport rose by one to 13, and the number of wounded was 18.
"A thirteenth US service member has died from his wounds suffered as a result of the attack on Abbey Gate," Central Command spokesman Captain Bill Urban says in a statement.
Ten of those killed and several wounded were US Marines, Marine Corps spokesman Major Jim Stenger says in a statement. — AFP
August 27, 2021
US President Joe Biden says he has seen no evidence that the Taliban colluded with Islamic State militants in carrying out the deadly attacks in Kabul.
"There is no evidence thus far that I've been given as a consequence by any of the commanders in the field that there has been collusion between the Taliban and ISIS in carrying out what happened today," Biden says in an address at the White House. — AFP
August 27, 2021
President Joe Biden vows that the United States will not be deterred from its mission to evacuate thousands of civilians from Afghanistan despite the deadly suicide attack on Kabul airport.
"We will not be deterred by terrorists. We will not let them stop our mission. We will continue the evacuation," Biden says in a televised address. — AFP
August 26, 2021
Canada said Thursday it had ended its evacuation operations in Afghanistan, where foreign governments are rushing to airlift citizens and Afghan allies in the wake of a Taliban takeover and ahead of an August 31 deadline.
"Over the last day, our evacuation operations have ceased," Canadian defense ministry representative Lieutenant-General Wayne Eyre told a press conference.
"We wish we could have stayed longer and rescued everyone who was so desperate to leave, that we could not is truly heartbreaking, but the circumstances on the ground, rapidly deteriorated," he added. — AFP
August 26, 2021
The United Arab Emirates has helped evacuate 28,000 people from Afghanistan since the Taliban takeover of Kabul, a senior Emirati official says.
The UAE and Qatar have been instrumental staging posts for evacuation flights for Western countries' citizens as well as Afghan interpreters, journalists and others.
Western countries including Britain, France and the US are scrambling to get the last of their citizens and protected Afghans out while Poland and the Netherlands are wrapping up their operations. — AFP
August 25, 2021
A flight carrying Afghan evacuees fleeing the Taliban takeover of their country touched down early Wednesday in Uganda where they will be given temporary refuge, government and diplomatic officials said.
"The Government of the Republic of Uganda this morning received Fifty One (51) evacuees from Afghanistan who arrived aboard a privately chartered flight at the Entebbe International Airport," the foreign ministry said in a statement.
It said it followed a request from the US government to temporarily host "at-risk" Afghan nationals and others who are in transit to the United States and other destinations worldwide. — AFP
August 25, 2021
Afghans on Wednesday faced an increasingly desperate race to escape life under the Taliban after President Joe Biden confirmed US-led evacuations will end next week.
More than 70,000 people have already been evacuated, but huge crowds remain outside Kabul airport hoping to flee the threat of reprisals and repression in Taliban-ruled Afghanistan.
Biden said Tuesday the United States would stick to his August 31 deadline to completely withdraw its troops despite warnings from European allies that not all vulnerable Afghans would able to leave by then.
"The sooner we can finish, the better... each day of operations brings added risk to our troops," Biden said Tuesday.
"We are currently on the pace to finish by August 31." — AFP
August 25, 2021
President Joe Biden says Tuesday that the US-led airlift from Afghanistan has to finish soon because of the increasing threat from the Islamic State group's Afghan arm.
The longer the US stays in the country, Biden says, there is an "acute and growing risk of an attack by a terrorist group known as ISIS-K," or Islamic State-Khorasan.
"Every day we're on the ground is another day we know that ISIS-K is seeking to target the airport and attack both US and allied forces," he says. — AFP
August 25, 2021
The World Bank has suspended aid to Afghanistan, saying it is "deeply concerned" about the situation there after the Taliban seized power and especially the prospects for women, a bank spokesperson told AFP.
"We have paused disbursements in our operations in Afghanistan and we are closely monitoring and assessing the situation," the official said.
The World Bank has more than two dozen development projects ongoing in the country and has provided $5.3 billion since 2002, mostly in grants, according to the bank's website. — AFP
August 25, 2021
President Joe Biden has informed G7 leaders that the US mission in Kabul is "on pace" to end by an August 31 pullout deadline, the White House said Tuesday.
Biden warned that meeting the deadline would depend on Taliban cooperation regarding evacuee access to Kabul airport and has ordered contingency plans to "adjust the timeline" if necessary, said a statement from Press Secretary Jen Psaki. — AFP
August 24, 2021
US troops led an increasingly desperate effort Tuesday to airlift thousands of people out of Kabul, after the Taliban warned they would allow foreign forces to carry out evacuations for just one more week.
US President Joe Biden is under increasing pressure to extend an August 31 deadline to pull out American forces, with Britain to lobby at a virtual G7 summit on Tuesday for a longer presence.
About 50,000 foreigners and Afghans have fled the country from Kabul's airport since the Taliban swept into power 10 days ago.
But crowds continued to mass outside the airport, with Afghans terrified of facing life under the Taliban. — AFP
August 24, 2021
French Foreign Minister Jean-Yves Le Drian says that Paris believed it necessary to continue Afghan evacuations beyond Washington's August 31 deadline following the Taliban takeover.
France is seeking to evacuate more than 1,000 Afghans who are fleeing the country following the Taliban's lightning takeover a week ago, one of a number of nations scrambling to pull out vulnerable individuals.
"We are concerned about the deadline set by the United States on August 31. Additional time is needed to complete ongoing operations," Le Drian tells reporters at the UAE's Al-Dhafra air base, where France has set up an air bridge for people evacuated from Kabul. — AFP
August 23, 2021
US President Joe Biden says Sunday he was still planning to finalize the dramatic evacuation from Afghanistan by August 31, but left the door open to extending the deadline if necessary.
In a televised address from the White House on the chaotic exit, Biden says his "hope is we will not have to extend."
But he adds that "we'll see what we can do" if he is asked by foreign leaders to push back the deadline. — AFP
August 22, 2021
Seven Afghan civilians have died in the chaos near Kabul airport, the British defence ministry said Sunday.
"Our sincere thoughts are with the families of the seven Afghan civilians who have sadly died in crowds in Kabul," a ministry spokesperson said. — AFP
August 22, 2021
The United States and allies were on Saturday racing against "time and space" in the increasingly chaotic and dangerous bid to evacuate people from Taliban-held Afghanistan, with the EU warning it may be "impossible" to get everyone out in time.
Six days after the Taliban swept to power, tens of thousands of people were still trying to leave the country in what has been dubbed one of the most difficult airlifts in history.
As desperate people, including children, wait for hours and days in the heat and crush outside the US-controlled Hamid Karzai International Airport, the delay has turned deadly for some.
Britain's Sky News on Saturday aired footage of at least three dead bodies covered in white tarpaulins outside the airport. It was not clear how they had died.
Sky reporter Stuart Ramsay, who was at the airport, called the deaths "inevitable" and said that people at the front of one part of the crowd were being "crushed", while others were "dehydrated and terrified". — AFP
August 21, 2021
The Department of Foreign Affairs says in a situation bulletin that it evacuated another 40 Filipinos in Afghanistan.
Thirrty of the evacuees are currently in Pakistan. The remaining 10 departed Kabul "for different destinations -- 8 for Dubai, 1 for Doha, and 1 for Paris."
August 21, 2021
President Joe Biden reassures the United States on the dramatic evacuation from Afghanistan, promising no Americans would be abandoned in one of the "most difficult" airlifts in history.
Widely criticized over the chaotic exit after a sudden Taliban victory, Biden warned that the frantic effort to fly Americans, other foreigners and Afghan allies out of Taliban-occupied Kabul was dangerous.
"This is one of the largest, most difficult airlifts in history," he says in a televised address from the White House. "I cannot promise what the final outcome will be." — AFP
August 21, 2021
An official says the US military in Afghanistan deployed three helicopters to rescue 169 Americans unable to reach the Kabul airport gates to leave the country.
In the first evidence that US forces are willing and able to go beyond the US-secured airport to help people seeking evacuation, three Chinook helicopters flew to pick up the group of US citizens at the Baron hotel, not far from the airport, according to Pentagon spokesman John Kirby.
The group had planned to walk to the Abbey Gate of the airport, but a crowd was gathered there and US officials were concerned for the Americans' safety. — AFP
August 20, 2021
As of Friday, 13 more Filipinos were able to exit Afghanistan for the United Kingdom, bringing the number up to 18.
The Philippine Embassy in London facilitates their return to the Philippines.
There are 81 estimated Filipinos in Afghanistan, 70 of which are requesting repatriation.
DFA: 13 more Filipinos were able to exit Afghanistan for the UK, bringing the number up to 18 as the PH Embassy in London facilitates their return to the Philippines.

There are 81 estimated Filipinos in Afghanistan, 70 of which are requesting repatriation @PhilstarNews pic.twitter.com/Zkav0LbQU5

— Patricia Viray (@patriciaviray) August 20, 2021
August 20, 2021
Taliban fighters in Afghanistan have shot and killed a relative of a Deutsche Welle journalist while hunting for him, the German public broadcaster said.
The militants were conducting a house-to-house search for the journalist, who now works in Germany, DW said Thursday.
A second relative was seriously wounded but others were able to escape, it said, without giving details of the incident. — AFP
August 20, 2021
Facebook releases new security measures to protect users in Afghanistan after the lightning takeover of the country by the Taliban, who are already barred from the social media giant's platforms.
Following recommendations from activists, journalists and civil society groups, the company said users can now shield their posts from people they don't know.
Also, users of Facebook-owned Instagram in Afghanistan will receive notifications informing them of methods to protect their accounts. — AFP
August 20, 2021
The Taliban is intensifying a search for people who worked with US and NATO forces, a confidential United Nations document says, despite the militants vowing no revenge against opponents.
The report — provided by the UN's threat-assessment consultants and seen by AFP — says the group has "priority lists" of individuals it wants to arrest.
Most at risk are people who had central roles in the Afghan military, police and intelligence units, according to the document. — AFP
August 19, 2021
President Joe Biden said Wednesday that US troops could stay in Afghanistan beyond their August 31 withdrawal deadline if necessary to evacuate all Americans from the country.
When asked in an ABC interview if the troops would stay until every American who wants to be has been evacuated, Biden replied: "Yes."
"Americans should understand that we're going to try to get it done before August 31st," he said, before adding: "If there's American citizens left, we're gonna stay to get them all out." — AFP
August 19, 2021
President Joe Biden on Wednesday said the Taliban was cooperating with evacuation of Americans and foreigners from Kabul, but US forces were facing "difficulty" in getting Afghan allies out.
"They're cooperating, letting American citizens get out, American personnel get out, embassies get out, etcetera, but they're having — we're having some more difficulty having those who helped us when we were in there," he said in an interview with ABC News. — AFP
August 19, 2021
The IMF will withhold funds to Afghanistan amid the uncertainty over the status of the leadership in Kabul, a spokesperson for the institution told AFP Wednesday.
The move comes after the US government took steps to block Afghanistan's assets held in US accounts following the swift Taliban takeover of the country over the weekend.
"There is currently a lack of clarity within the international community regarding recognition of a government in Afghanistan, as a consequence of which the country cannot access... IMF resources," the official said. — AFP
August 18, 2021
Australia says it had no plans to allow in tens of thousands of Afghan refugees fleeing the Taliban, citing security concerns and casting doubt on promises from other Western nations.
Britain announced this week a resettlement scheme to let in up to 20,000 Afghans over the long term, with priority given to women, children and those facing persecution.
Canada said last week it would take in up to 20,000 people. — AFP
August 18, 2021
Up to 20,000 Afghans will be resettled in Britain in the coming years, including 5,000 in the first year, the government says, after the Taliban's stunning return to power.
"We owe a debt of gratitude to all those who have worked with us to make Afghanistan a better place over the last 20 years. Many of them, particularly women, are now in urgent need of our help," Prime Minister Boris Johnson says. — AFP
Get the latest news as Taliban gains control of Afghanistan. Photo courtesy of Al Jazeera/AFP