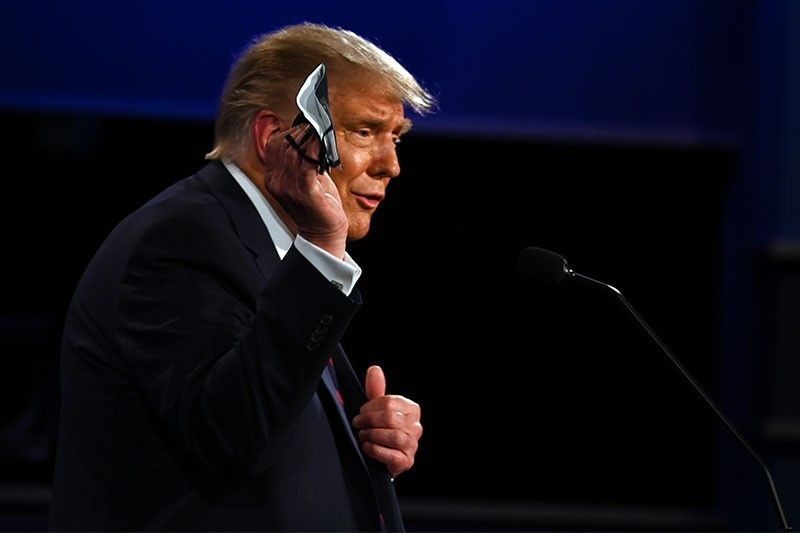 LATEST UPDATE: November 10, 2020 - 8:21am
+ Follow Story
November 10, 2020
Two more people close to US President Donald Trump tested positive for the coronavirus, media reports said Monday.
Housing and Urban Development Secretary Ben Carson. 69, has contracted the virus, his deputy chief of staff Coalter Baker told NPR.
"He is in good spirits and feels fortunate to have access to effective therapeutics which aid and markedly speed his recovery," Baker said in a statement.
According to ABC television, Carson was briefly treated at Walter Reid military hospital outside Washington DC, where Trump himself was treated for the virus.
Carson had spent Tuesday evening at the White House watching the election results come in.
Another top aide to the president, David Bossie, was also at the White House event and tested positive on Sunday and has been self-isolating at home, NBC news said. — AFP
October 28, 2020
Joe Biden flayed Donald Trump on Tuesday with accusations the US president has surrendered to a surging pandemic, as the Democrat took his campaign to the Republican stronghold of Georgia one week before the US election.
While the former vice president went on electoral offense, seeking to expand the campaign map and his state-by-state path to victory on November 3, Trump barnstormed the Midwest in a last-gasp bid to shore up states that voted for him in 2016 but which polls show are tilting Biden's way.
And with the campaign narrowing down to its final days, Biden tapped one of his top surrogates, popular former president Barack Obama, to deliver a closing argument for Democrats in Florida, a must-win swing state for Trump if he is to defy the odds and earn reelection. — AFP
October 25, 2020
US Vice President Mike Pence's chief of staff tested positive for COVID-19 on Saturday, a spokesman said, the latest in a list of figures connected to Donald Trump's administration to do so.
Marc Short began quarantine and was assisting in the contract tracing process, Pence spokesman Devin O'Malley said in a statement.
"Vice President Pence and Mrs. Pence both tested negative for COVID-19 today, and remain in good health," he added. — AFP
October 23, 2020
Democratic White House hopeful Joe Biden says Thursday during his final debate with US President Donald Trump that presiding over the nation as 220,000 Americans died from the coronavirus should disqualify Trump from reelection.
"Anyone who's responsible for that many deaths should not remain as president of the United States of America," Biden said in the opening remarks of the showdown that comes just 12 days before the election.
"The president still has no comprehensive plan," Biden adds. — AFP
October 16, 2020
Democratic White House hopeful Joe Biden says Thursday that US President Donald Trump has refused to boost efforts to combat the coronavirus even after he tested positive, accusing the him of doing "nothing" to improve conditions for Americans.
"We're in a situation where we have 210,000 plus people dead and what's he doing? Nothing. He's still not wearing masks," Biden says during a televised town hall event being held live at the same time Trump was holding his own town hall on a different network. — AFP
October 13, 2020
Deprived of his beloved campaign trail for 10 days by COVID-19, US President Donald Trump took center stage again Monday in Florida, vowing that he is in "great shape" with 22 days to go until he faces Joe Biden in the election.
"I went through it and now they say I'm immune," Trump told a cheering crowd in Sanford, near Orlando, few of whom wore masks.
"I feel so powerful. I'll walk in there, I'll kiss everyone in that audience. I'll kiss the guys and the beautiful women, just give you a big fat kiss."
Trump's medical team announced he had tested negative and was no longer contagious as he jetted to Florida — the first of four battleground states he plans to visit over the next four days. His claim of immunity is unproven.
Trailing his Democratic challenger by double digits in the polls, Trump is seeking to rally his base on a blitz of key swing states. — AFP
October 13, 2020
Donald Trump has been found negative for Covid-19 using a rapid test, his White House physician said Monday, 10 days after the president announced he had contracted the potentially-deadly illness.
"I can share with you that he tested negative, on consecutive days, using the Abbot BinaxNOW antigen card," Sean Conley said in a memo released to the public.
The doctor said the negative determination had taken into account a number of measurements, and not just the rapid test alone.
Antigen tests are less sensitive than the more traditional PCR diagnostic test to low levels of virus. — AFP
October 12, 2020
Top government scientist Anthony Fauci says Sunday that an ad aired by US President Donald Trump's reelection campaign was edited to make him seem to endorse the president's handling of the coronavirus pandemic.
"In my nearly five decades of public service, I have never publicly endorsed any political candidate," Fauci, the longtime director of the National Institute of Allergies and Infectious Diseases, says in a statement sent to AFP.
The 30-second campaign ad cites Trump's personal experience with the virus — "President Trump is recovering from the coronavirus, and so is America," it says — before including a brief clip in which Fauci appears to praise the president's response to the pandemic.
"I can't imagine that anybody could be doing more," Fauci is shown as saying, creating the clear impression he is referring to Trump.
But a complete clip of Fauci's comments, made during an interview in March with Fox News, shows the doctor saying: "I have been devoting almost full time on this. I'm down at the White House virtually every day with the task force. It's every single day. So, I can't imagine that under any circumstances that anybody could be doing more." — AFP
October 11, 2020
US President Donald Trump is no longer contagious, nine days after being stopped in his tracks by COVID-19, his physician says in a statement released late Saturday.
"This evening I am happy to report that in addition to the President meeting CDC criteria for the safe discontinuation of isolation, this morning's COVID PCR sample demonstrates, by currently recognized standards, he is no longer considered a transmission risk to others," the president's physician Sean Conley says in the statement. — AFP
October 10, 2020
US President Donald Trump will give a public speech at the White House Saturday for the first time since testing positive for COVID-19, as he prepares a dramatic campaign trail return just three weeks before the election.
The 74-year-old commander-in-chief has announced a Florida rally on Monday in an attempt to relaunch his stumbling reelection campaign against surging Democratic rival Joe Biden, who called the president's behavior "reckless." — AFP
October 9, 2020
US President Donald Trump should be able to resume "public engagements" from Saturday, the White House physician announced Thursday, saying the US leader has responded "extremely well" to COVID-19 treatment.
"Saturday will be Day 10 since Thursday's diagnosis, and based on the trajectory of advanced diagnostics the team has been conducting, I fully anticipate the President's safe return to public engagements at that time," Trump's doctor Sean Conley says in a statement. — AFP
October 8, 2020
US President Donald Trump declares his COVID-19 illness a "blessing from God," as he got back to work in the Oval Office despite warnings that his return could put others at risk.
Trump has worked hard since he checked out of the hospital on Monday -- including a made-for-television return to the White House -- to cast his illness as a personal triumph.
"I think this is a blessing from God that I caught it," Trump says in a video, referring to the virus which has killed over 210,000 people in the United States. — AFP
October 7, 2020
The University of Notre Dame, one of America's most prestigious institutions of higher learning, is bullish on mask-wearing and social distancing to fight the coronavirus.
Now, its president, the Rev. John Jenkins, is under fire after attending a notorious White House event with US President Donald Trump at which both precautions were largely ignored — and testing positive for COVID-19.
Some students called for Jenkins' resignation but he survived. Jenkins is big on coronavirus safety — back in August, after students returned to class and there seemed to be a spike in Covid cases, he did not hesitate to suspend in-person classes for two weeks. — AFP
October 6, 2020
US President Donald Trump on Monday left the hospital where he was being treated for Covid-19, just after announcing he would be "back on the campaign trail soon".
Wearing a mask, the president stepped out of the hospital near Washington, giving a thumbs-up sign as he entered a vehicle that took him to a waiting helicopter.
"Will be back on the Campaign Trail soon!!!" Trump had tweeted moments earlier. "The Fake News only shows the Fake Polls." — AFP
October 5, 2020
US President Donald Trump sparked an angry backlash from the medical community Sunday with a protocol-breaking visit to his supporters outside the hospital where he is being treated for the highly-infectious, potentially deadly new coronavirus.
He was masked as he waved from inside his bulletproof vehicle during the short trip outside Walter Reed military medical center near Washington, which appeared designed to take back the narrative on his improving health after a weekend of muddled messaging from his doctors.
The last-minute limousine outing came with Trump's doctors satisfied enough about his progress to suggest the possibility of his being discharged on Monday.
But experts complained that the outing broke his own government's public health guidelines requiring patients to isolate while they are in treatment and still shedding virus -- and endangered his Secret Service protection. — AFP
October 5, 2020
US President Donald Trump waved at supporters from a motorcade Sunday on a short drive outside the hospital where he was being treated for COVID-19.
The outing came minutes after the president had announced "a surprise" for fans, and it appeared designed to personally take back the narrative on his improving health after a weekend of confused and contradictory messaging from the White House and Trump's medical team.
Seen in a dark face mask and waving, the president rolled past delighted supporters before returning to the Walter Reed military hospital near Washington.
"We're going to pay a little surprise to some of the great patriots that we have out on the street," Trump had said in a video posted to Twitter moments earlier.
"I'm about to make a little surprise visit."
Trump, who has been repeatedly rebuked for flouting public health guidelines and spreading misinformation on the pandemic, added that he had "learned a lot about Covid" by "really going to school," as he has battled the virus. — AFP
US President Donald Trump said in a video released on Twitter Saturday night that he was feeling "much better" in his battle against the coronavirus -- but the next few days would be "the real test."
The 74-year-old assured the public of his progress hours after a source with knowledge of the president's condition had warned his vital signs were worrying, with the next 48 hours critical.
"I came here, wasn't feeling so well," said Trump, who is being treated at Walter Reed military medical center near Washington following his Covid-19 diagnosis.
"I feel much better now, we're working hard to get me all the way back." — AFP
Photo: US President Donald Trump holds a face mask as he speaks during the first presidential debate at the Case Western Reserve University and Cleveland Clinic in Cleveland, Ohio on September 29, 2020. AFP/Jim Watson