South Korea and Japan
+ Follow Story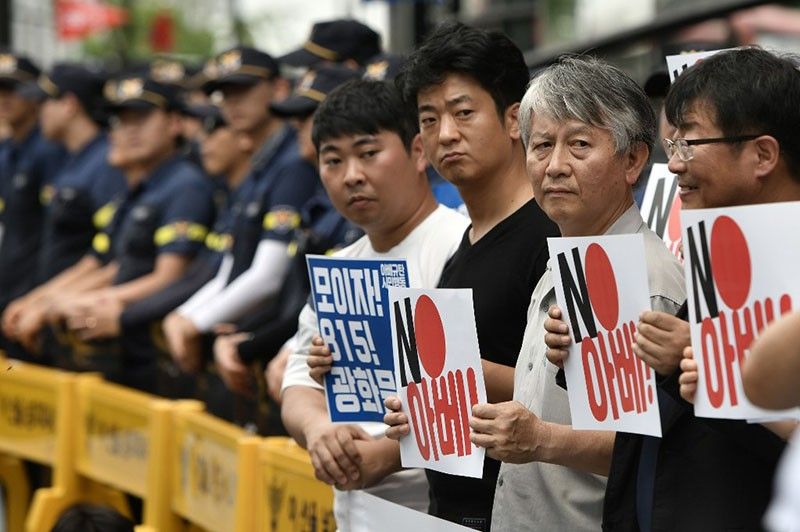 March 18, 2023
South Korea will fully implement a key military intelligence-sharing pact with Japan, a defense ministry official tells AFP on Saturday, as the two countries move to thaw long-frozen relations and renew diplomacy to counter Pyongyang.
At a fence-mending summit on Thursday, the neighbors agreed to turn the page on a bitter dispute over Japan's use of war-time forced labour.
South Korean President Yoon Suk Yeol, who has been keen to end the spat and present a united front against the nuclear-armed North, had flown to Japan to meet Prime Minister Fumio Kishida, the first such summit in 12 years. — AFP
March 16, 2023
The leaders of Japan and South Korea have agreed to restart frequent reciprocal visits, Japanese Prime Minister Fumio Kishida says.
"We agreed on the resumption of shuttle diplomacy by leaders of Japan and South Korea, no matter what the format" of the trips, Kishida says as he met President Yoon Suk Yeol in Tokyo. — AFP
March 16, 2023
Japan will end export controls on materials for semiconductors destined for South Korea, and Seoul will withdraw a complaint filed with the World Trade Organization, the countries announce Thursday.
Trade ministries from the two sides made the announcement as South Korean President Yoon Suk Yeol arrived in Tokyo for a summit with Japan's prime minister intended to rebuild ties between the two neighbours.
Tense relations between Japan and South Korea reached a nadir in 2018 after a South Korean court ordered Japanese firms to compensate victims of wartime forced labour and their families. — AFP
March 15, 2023
South Korea's President Yoon Suk Yeol has hailed growing cooperation with Japan on issues from North Korea to semiconductors, saying it was part of a historic "new chapter" for the two countries.
Yoon will travel to Tokyo on Thursday, his first visit since taking office last year, which follows his controversial move to try and finally settle a bitter historic dispute over Japanese World War II-era forced labour.
Yoon said he was confident his new plan to compensate victims would work, telling media including AFP in a written interview that "the Japanese government will join us in opening a new chapter of Korea-Japan relations".
Yoon's plan, unveiled this month, involves compensating Korean victims without Tokyo's direct involvement, which has enraged some victims who say this falls far short of their demand for a full apology and direct compensation from the Japanese companies involved. — AFP
March 9, 2023
South Korean President Yoon Suk Yeol will visit Japan next week, his office says, as the two neighbors try to ease their diplomatic strains over Japan's wartime atrocities during its 35-year colonial rule.
The visit comes after Seoul announced plans Monday to compensate Korean victims of Japan's wartime forced labor without the direct involvement of Tokyo, which drew strong protests from victims' groups.
Yoon will visit Japan from March 16 to 17 for a summit with Japanese Prime Minister Fumio Kishida, the presidential office says, adding that the trip came at Tokyo's invitation.
"This visit will resume bilateral summit exchanges between South Korea and Japan, which had been suspended for 12 years, and will mark an important milestone in the improvement and development of South Korea-Japan relations," it adds. — AFP
March 7, 2023
South Koreans who were forced to work for Japanese companies during World War II on Tuesday have denounced Seoul's new plan to compensate them and end a historic dispute with Tokyo as "dirty money".
Seoul announced plans Monday to pay the victims with money taken from South Korean companies that benefited from a 1965 reparations deal, in a bid to break the "vicious cycle" in its relations with Tokyo.
Japan and the United States immediately welcomed the plan, which does not involve a fresh apology and envisages only voluntary contributions from the Japanese companies involved, such as Mitsubishi and Nippon Steel.
But victims' groups say it fell far short of their demand for a full apology from Japan and direct compensation from the companies involved. — AFP
November 18, 2021
A joint press conference in Washington between the deputy foreign ministers of Japan and South Korean was canceled at the last minute because of "differences" between the two US allies, says US Deputy Secretary of State Wendy Sherman, who had been due to host the event.
"As has been the case for some time, there are some bilateral differences between Japan and the Republic of Korea that are continuing to be resolved," Sherman says.
"And one of those differences which is unrelated to today's meeting, has led to the change in format for today's press availability," she says, standing alone on the podium where she had been scheduled to be joined by Choi Jong Kun of South Korea and Mori Takeo of Japan. — AFP
August 15, 2019
South Korean President Moon Jae-in strikes a conciliatory tone towards Japan, offering to "join hands" if Tokyo chooses dialogue as relations between the two countries dip to fresh lows.
Seoul and Tokyo -- both of them democracies and market economies -- are mired in long-running disputes over Japan's use of forced labour in the first half of the 20th century.
The two neighbours have been embroiled in a tit-for-tat trade war that saw them remove each other from their lists of trusted trading partners this month, raising concerns over global supply chains. — AFP
August 13, 2019
Japan's trade minister says the country is "in the dark" as to why South Korea has downgraded Tokyo's trading status, amid an intensifying trade war between the two neighbours and US allies.
South Korea on Monday created a new category of trading status for Japan, with Trade Minister Sung Yun-mo saying it was "hard to work closely with a country that frequently violates the basic rules."
South Korea's list of trade partners was divided into two groups, those who are members of the world's top four export control agreements and those who are not.
But Seoul said Monday it had created a new category for countries that had signed the four pacts "but operate an export control system that violates international norms".
Japan is the only country in the new category. — AFP
South Korean President Moon Jae-in condemns Japan's decision to remove his country from a "white list" of favoured trading partners, calling it a "very reckless" move and threatening unspecified countermeasures.
Tokyo's move is a "selfish, destructive act that will cripple the global supply chain and wreak havoc on the global economy", he says in remarks to a cabinet meeting called at short notice and televised live.
"The Japanese government must withdraw its unilateral and unwarranted measures as soon as possible and take a path toward dialogue," he adds in resolute tones, wearing a jacket and shirt but no tie. — AFP