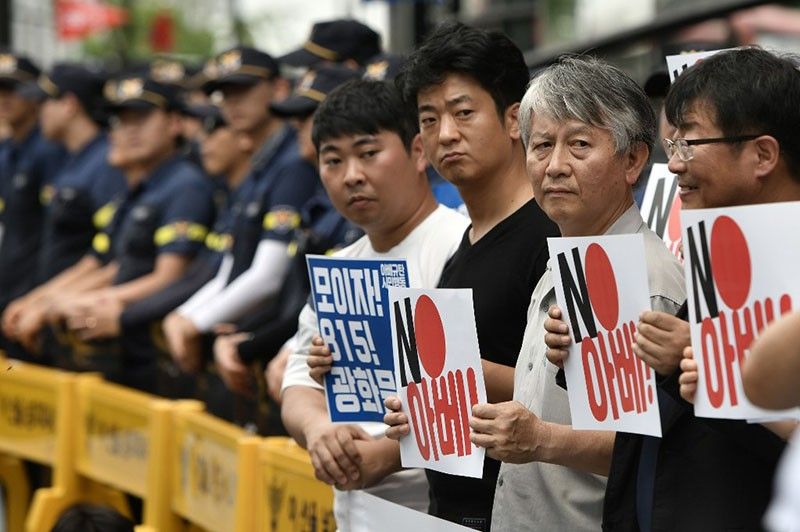 LATEST UPDATE: August 15, 2019 - 2:47pm
LOCATION:
+ Follow Story
August 15, 2019
South Korean President Moon Jae-in strikes a conciliatory tone towards Japan, offering to "join hands" if Tokyo chooses dialogue as relations between the two countries dip to fresh lows.
Seoul and Tokyo -- both of them democracies and market economies -- are mired in long-running disputes over Japan's use of forced labour in the first half of the 20th century.
The two neighbours have been embroiled in a tit-for-tat trade war that saw them remove each other from their lists of trusted trading partners this month, raising concerns over global supply chains. — AFP
August 13, 2019
Japan's trade minister says the country is "in the dark" as to why South Korea has downgraded Tokyo's trading status, amid an intensifying trade war between the two neighbours and US allies.
South Korea on Monday created a new category of trading status for Japan, with Trade Minister Sung Yun-mo saying it was "hard to work closely with a country that frequently violates the basic rules."
South Korea's list of trade partners was divided into two groups, those who are members of the world's top four export control agreements and those who are not.
But Seoul said Monday it had created a new category for countries that had signed the four pacts "but operate an export control system that violates international norms".
Japan is the only country in the new category. — AFP
South Korean President Moon Jae-in condemns Japan's decision to remove his country from a "white list" of favoured trading partners, calling it a "very reckless" move and threatening unspecified countermeasures.
Tokyo's move is a "selfish, destructive act that will cripple the global supply chain and wreak havoc on the global economy", he says in remarks to a cabinet meeting called at short notice and televised live.
"The Japanese government must withdraw its unilateral and unwarranted measures as soon as possible and take a path toward dialogue," he adds in resolute tones, wearing a jacket and shirt but no tie. — AFP