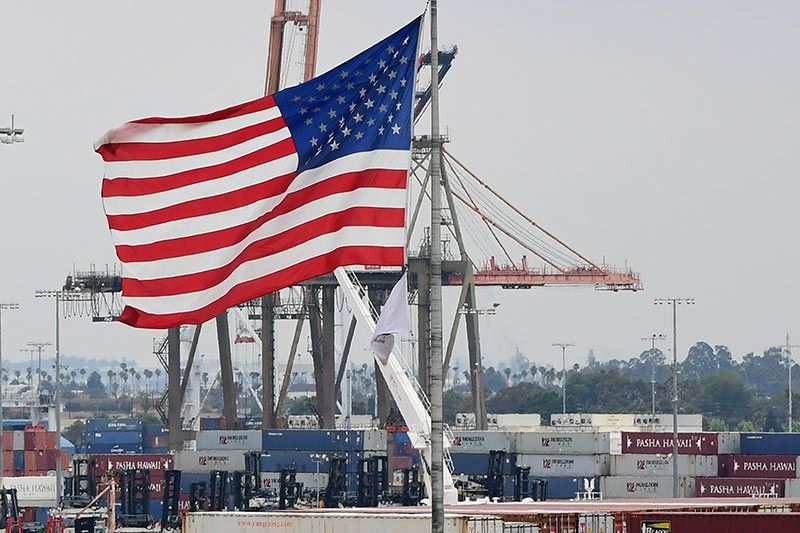 LATEST UPDATE: February 3, 2020 - 7:17pm
+ Follow Story
February 3, 2020
The Organisation of Islamic Cooperation rejects US President Donald Trump's plan for the Middle East, calling on its 57 member states not to help implement it.
The pan-Islamic body, which represents more than 1.5 billion Muslims worldwide, "rejects this US-Israeli plan, as it does not meet the minimum aspirations and legitimate rights of the Palestinian people, and contradicts the terms of reference of the peace process," it says in a statement.
It calls on "all member states not (to) deal with this plan or cooperate with the US Administration efforts to enforce it in any way or form." — AFP
January 29, 2020
President Donald Trump's long-delayed Middle East peace plan wins support in Israel but was bitterly rejected by Palestinians facing possible Israeli annexation of key parts of the West Bank.
Trump, who unveiled the plan on Tuesday at the White House standing alongside Israel's Prime Minister Benjamin Netanyahu with no Palestinian representatives on hand, says his initiative can succeed where others had failed.
Major powers and some regional players responded with caution, saying Trump's project deserves study while stressing that a durable solution to the conflict can only emerge through Israeli-Palestinian negotiations.
But Trump's proposals reportedly included no Palestinian input and grants Israel much of what it has sought in decades of international diplomacy, namely control over Jerusalem as its "undivided" capital, rather than a city to share with the Palestinians. — AFP
December 20, 2019
US lawmakers in the House of Representatives approve a new continental free trade agreement, advancing a central plank in President Donald Trump's trade agenda even as he faces impeachment.
A law to implement the new US-Mexico-Canada Agreement passed by an overwhelming bipartisan majority — an unusual occurrence in the current political atmosphere — with a vote tally of 385-41.
The bill now must be approved by the Senate, where the Republican majority leader has said it will have to wait until 2020. — AFP
December 6, 2019
President Donald Trump calls a crackdown on demonstrations in Iran "brutal" and said the United States would react "strongly" to any threat from Iran to its interests in the region.
"They're killing a lot of people and they're arresting thousands of their own citizens in a brutal crackdown," Trump says at a meeting with UN diplomats at the White House.
Calling it a "horrible situation," Trump warns that any new threat from Iran "will be met very strongly." — AFP
November 19, 2019
Israeli Prime Minister Benjamin Netanyahu says a US policy shift deeming Israeli settlement not to be illegal "rights a historical wrong."
"This policy reflects an historical truth — that the Jewish people are not foreign colonialists in Judea and Samaria. In fact, we are called Jews because we are the people of Judea," he said in a statement, using the biblical term for the West Bank.
His comments came after US Secretary of States Mike Pompeo said the United States no longer considers Israeli settlements to be "inconsistent with international law", in a shift in American foreign policy. — AFP
October 25, 2019
The governments of the United States, Brazil, Argentina and Colombia propose a second round in the Bolivian elections after incumbent President Evo Morales was controversially declared the winner on Thursday.
The group of countries calls on Bolivia's government "to restore credibility in its electoral system" by calling a second round run-off between socialist Morales and centrist former president Carlos Mesa.
Observers from the Organization of American States have expressed concern over the vote count, which triggered riots, a general strike and opposition accusations of fraud. — AFP
October 15, 2019
US President Donald Trump urged his Turkish counterpart Recep Tayyip Erdogan to "stop the invasion" of Syria, Vice President Mike Pence says.
Trump pressed the Turkish leader in a telephone call to "stop the invasion, to enact an immediate ceasefire and to begin negotiations with Kurdish forces in Syria," Pence tells reporters, adding that he would be traveling urgently to Turkey at the president's request.
"He's directed me to lead a delegation. I will be leaving as quickly as possible to travel into the region to pursue a ceasefire and negotiated settlement," Pence says.
Trump has given orders to pull all US troops from northern Syria — about 1,000 soldiers — as Turkey presses a military operation against Kurdish forces there. — AFP
October 11, 2019
President Donald Trump asked US diplomats to broker a ceasefire between Turkey and Kurdish forces in Syria, a US official says.
"We have been tasked by the president to try to see if there are areas of commonality between the two sides (and if) there's a way that we can find our way to a ceasefire," the official says on condition of anonymity. — AFP
October 9, 2019
At least 30 civilians were killed when the US bombed several drug-making facilities in western Afghanistan in May, a UN agency says in a report, though the US military immediately disputed the findings.
The United Nations Assistance Mission in Afghanistan says in a statement that it had "verified 39 civilian casualties (30 deaths, five injured and four undetermined), including 14 children and one woman, due to the 5 May air strikes." — AFP
October 8, 2019
The US has redeployed only 50-100 troops away from Syria's northern border as Turkish troops threaten to cross, a senior administration official says, denying reports that Washington is pulling out completely from the country.
"It appears the Turks are intent on some sort of military operation," the official says, adding: "There will be no US armed forces involvement." — AFP
October 3, 2019
The European Union deplored a wave of fresh anti-EU tariffs by the United States, saying that they would primarily harm US consumers.
The EU "regrets that the United States appears to have taken the decision to impose additional tariffs on EU exports," European Commission spokesman Daniel Rosario tells a news briefing.
"This is a move that will first and foremost hit US consumers and companies," he adds. — AFP
October 1, 2019
The United States confirms it will resume nuclear talks with North Korea in a matter of days.
"I can confirm that US and DPRK officials plan to meet within the next week," State Department spokeswoman Morgan Ortagus says.
She says she had no further details on the meeting. — AFP
September 22, 2019
Iran's President Hassan Rouhani says the presence of foreign forces creates "insecurity" in the Gulf, after the US ordered the deployment of more troops to the region.
"Foreign forces can cause problems and insecurity for our people and for our region," Rouhani says in a televised speech at an annual military parade, adding that Iran would present to the UN a regional cooperation plan for peace.
— AFP
September 19, 2019
The United States accuses Afghanistan's government of failing to fight corruption and cut more than $160 million in direct funding, little over a week before the country's elections.
"We stand against those who exploit their positions of power and influence to deprive the Afghan people of the benefits of foreign assistance and a more prosperous future," Secretary of State Mike Pompeo says in a statement.
September 15, 2019
US President Donald Trump condemns drone attacks at two Saudi Aramco oil facilities that reportedly disrupted production and marked a new escalation in regional tensions with Iran.
"The United States strongly condemns today's attack on critical energy infrastructure. Violent actions against civilian areas and infrastructure vital to the global economy only deepen conflict and mistrust," the White House says in a statement following a phone call between Trump and Saudi Crown Prince Mohammed bin Salman.
Trump offered Prince Mohammed "his support for Saudi Arabia's self-defense," the White House says, following an earlier statement from Riyadh saying the crown prince told Trump the kingdom was "willing and able" to respond to the attacks blamed on Yemeni rebels.
"The United States Government is monitoring the situation and remains committed to ensuring global oil markets are stable and well supplied," the US statement says. — AFP
September 10, 2019
US Secretary of State Mike Pompeo accuses Iran of "possible undeclared nuclear activities," as the UN's nuclear watchdog presses Tehran for answers on its atomic safeguards.
"The Iranian regime's lack of full cooperation with @iaeaorg raises questions about possible undeclared nuclear material or activities," Pompeo tweets.
"The world won't fall for it. We will deny the regime all paths to a nuclear weapon."
Pompeo's warning came a day after the head of the International Atomic Energy Agency urged Iran to respond quickly to its concerns, as the troubled 2015 deal with world powers over Tehran's nuclear program threatens to fall apart. — AFP
September 8, 2019
President Donald Trump says he has called off talks with the Taliban about a deal to withdraw US troops from Afghanistan after a Kabul attack that left a US service member dead.
"Unbeknownst to almost everyone, the major Taliban leaders and, separately, the President of Afghanistan, were going to secretly meet with me at Camp David on Sunday," Trump says in a tweet.
"Unfortunately, in order to build false leverage, they admitted to an attack in Kabul that killed one of our great great soldiers, and 11 other people. I immediately cancelled the meeting and called off peace negotiations."
Unbeknownst to almost everyone, the major Taliban leaders and, separately, the President of Afghanistan, were going to secretly meet with me at Camp David on Sunday. They were coming to the United States tonight. Unfortunately, in order to build false leverage, they admitted to..

— Donald J. Trump (@realDonaldTrump) September 7, 2019
....only made it worse! If they cannot agree to a ceasefire during these very important peace talks, and would even kill 12 innocent people, then they probably don't have the power to negotiate a meaningful agreement anyway. How many more decades are they willing to fight?

— Donald J. Trump (@realDonaldTrump) September 7, 2019
August 25, 2019
President Donald Trump says the United States and Japan are "very close" to a major bilateral trade deal.
Speaking shortly before holding talks with Prime Minister Shinzo Abe on the sidelines of the G7 summit in Biarritz, France, Trump says the US is "very close to a major deal with Japan."
"It's a very big deal. It will be one of the biggest deals we've ever made with Japan."
August 18, 2019
An Afghanistan peace agreement that the US seems close to reaching with the Taliban raises worries that President Donald Trump's desire to quickly withdraw US troops could further plunge the country into civil war.
Trump said Friday he was pleased with talks on ending the war, 18 years after the September 11, attacks that prompted the US invasion of Afghanistan in the first place.
In recent days several US officials have suggested that an accord could be imminent in discussions with the Taliban in Qatar. The US negotiator, Zalmay Khalilzad, is expected to return to the region very soon in hopes of sealing an agreement with the Afghan rebel force. — AFP
August 8, 2019
Venezuelan President Nicolas Maduro blames Washington in canceling scheduled talks with the political opposition, as his embattled regime struggles under the weight of US sanctions.
Maduro's oil-rich leftist government has been hurt hard since US President Donald Trump on Monday ordered a freeze on all Venezuelan government assets in the United States and barred transactions with its authorities.
In response, Maduro "has decided to not send the Venezuelan delegation" to the latest round of talks, which are scheduled for Thursday and Friday and are to be held in Barbados and mediated by Norway, according to a statement.
August 7, 2019
Washington warns China and Russia to avoid doing business with the Venezuelan regime of Nicolas Maduro, as delegates from some 60 countries discussed ways of ending the crisis in the South American nation.
The admonition came a day after President Donald Trump ordered a freeze on all Venezuelan government assets in the United States and barred transactions with its authorities.
"We are sending a signal to third parties that want to do business with the Maduro regime: Proceed with extreme caution," says Trump's National Security Advisor John Bolton, speaking in Lima.
August 6, 2019
The US says it will use every tool to end Nicolás Maduro's "dictatorship" in Venezuela. — AFP
August 5, 2019
Australia rules out hosting ground-based US missiles after talks with Washington's top defense and diplomatic officials.
Following an announcement that the United States plans to deploy intermediate-range missiles in Asia — widely seen as an effort to contain China — Australia scotched the notion of locating them Down Under.
"It's not been asked of us, not being considered, not been put to us. I think I can rule a line under that," Prime Minister Scott Morrison says of the notion.
His comments came hours after US Defense Secretary Mark Esper and Secretary of State Mike Pompeo departed Sydney following talks.
August 4, 2019
The US and the Taliban will seek to thrash out elements of a deal to bring a close to Afghanistan's 18-year conflict in the second day of renewed talks in Doha.
The US, which invaded Afghanistan and toppled the Taliban in 2001, wants to withdraw thousands of troops and turn the page on its longest ever war.
But it would first seek assurances from the insurgents that they would renounce Al-Qaeda and stop other militants like the Islamic State group using the country as a haven.
The talks, now in their eighth round, began on Saturday and were due to resume Sunday morning after pausing overnight, US and Taliban sources tell AFP. — AFP
July 30, 2019
The United States asked Germany to join a naval mission to help secure the strategic Strait of Hormuz amid its tense standoff with Iran, the US embassy in Berlin says.
"We've formally asked Germany to join France and the UK to help secure the Strait of Hormuz and combat Iranian aggression," says a statement by embassy spokeswoman Tamara Sternberg-Greller. — AFP
July 23, 2019
China calls US sanctions against Chinese companies "illegal," a day after US Secretary of State Mike Pompeo announced he was putting a leading oil importer on a blacklist.
Pompeo said Monday that the US was imposing sanctions on Zhuhai Zhenrong and its chief executive Li Youmin as part of a "maximum pressure campaign" for trading in Iranian crude oil.
"They violated US law by accepting crude oil," he said. — AFP
July 18, 2019
The US House votes to block $8.1 billion in arms sales to Saudi Arabia and other allies, a rebuke of Donald Trump that will likely lead to a veto by the president.
Lawmakers, many of whom are outraged with the kingdom over Riyadh's role in the murder of Saudi journalist Jamal Khashoggi last year, approved three resolutions that would prevent the controversial sales announced under emergency measures earlier this year by Trump.
— AFP
July 2, 2019
US President Donald Trump warns that Iran is "playing with fire" after Tehran said it exceeded a limit on enriched uranium reserves under a 2015 nuclear deal abandoned by Washington.
"They know what they're doing. They know what they're playing with and I think they're playing with fire," Trump tells journalists when asked if he had a message for Iran.
— AFP
June 25, 2019
Iran's President Hassan Rouhani says new US sanctions against senior Iranian officials including top diplomat Mohammad Javad Zarif showed Washington is "lying" about offering to negotiate.
"At the same time as you call for negotiations you seek to sanction the foreign minister? It's obvious that you're lying," Rouhani says in a meeting with ministers broadcast live on TV.
His comments come after US National Security Advisor John Bolton said Washington had "held the door open to real negotiations" but that "in response, Iran's silence has been deafening."
June 25, 2019
US sanctions against Iranian leaders represent the "permanent closure" of the path to diplomacy with Washington, Iran's foreign ministry says.
"Imposing fruitless sanctions against Iran's supreme leader (Ayatollah Ali Khamenei) and the commander of Iran's diplomacy (Foreign Minister Mohammad Javad Zarif) is the permanent closure of the path to diplomacy with Trump's desperate government," ministry spokesman Abbas Mousavi says in a tweet.
June 25, 2019
The UN Security Council calls for dialogue to address rising tensions between the United States and Iran and stresses that measures must be taken to end tensions in the Gulf.
In a unanimous press statement drafted by Kuwait, the council condemns recent attacks on oil tankers, calling them a threat to the world's energy supply and to international peace and security.
Monitor updates on US foreign policies that affect the world.