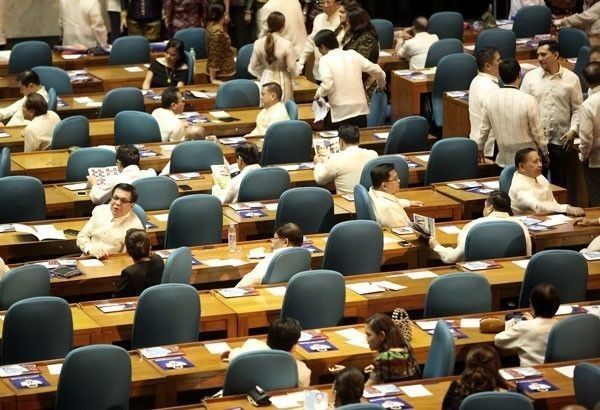 General Appropriations Act of 2019
LATEST UPDATE: February 11, 2019 - 4:16pm
LOCATION:
+ Follow Story
February 11, 2019
Budget Secretary Benjamin Diokno says House Majority Leader Rolando Andaya (Camarines Sur)'s assertion that P75 billion in funds would be restored to the Department of Public Works and Highways through President Rodrigo Duterte's veto message on the General Appropriations Act of 2019 is "unecessary speculation."
Diokno, in a statement, says: "The president can veto particular line items in the budget, but he cannot introduce new items or bring back items that have already been deleted by Congress."
Diokno adds: "Congress should respect the president's constitutional power to veto. It is improper for a legislator to interfere with the president's constitutional power, or to encourage such wild speculation around it."
January 21, 2019
The Senate approves on third and final reading the proposed P3.757 trillion national budget for 2019.
— with Paolo Romero
January 18, 2019
Budget watchdog Social Watch Philippines appeals to Congress to fast track passage of the delayed General Appropriations Bill for 2019 as the government is expected to run on a re-enacted budget until February.
"Operating under a re-enacted budget effectively means that funding for basic goods and services necessary to protect, if not uplift, peoples' standard of living such as additional provision of cash assistance for the poorest or health support, will be effectively hampered. Further delay in the passage of the proposed budget law would be unfair to our people," SWP Co-Convenor Ma. Victoria Raquiza says in a statement.
The House of Representatives has approved the proposed P3.7-trillion national budget for 2019, ONE News reports.
JUST IN | The House of Representatives vote 196-8 to approve the proposed P3.757-T national budget for 2019. (via News5 / @RoicesNaguit) pic.twitter.com/MwkHYB2881

— ONE News PH (@onenewsph) November 20, 2018
The approval comes more than a month since the chamber approved the budget bill on second reading, which was done after three weeks of debates on the floor.
That budget bill included the P52 billion in alleged pork barrel funds the House earlier realigned from appropriations of the Department of Public Works and Highways.
Majority Leader Rolando Andaya Jr. (Camarines Sur) presented the realignments as amendments coming from the committee on appropriations.
For changes to be proposed by individual members, the House created a "small committee" to receive them. The panel includes Andaya and Minority Leader Danilo Suarez (Quezon).
Budget bills emanate from the House of Representatives, although the Senate also needs to pass its own version. Failure to pass the budget bill before yearend will mean the government will run on a reenacted budget.