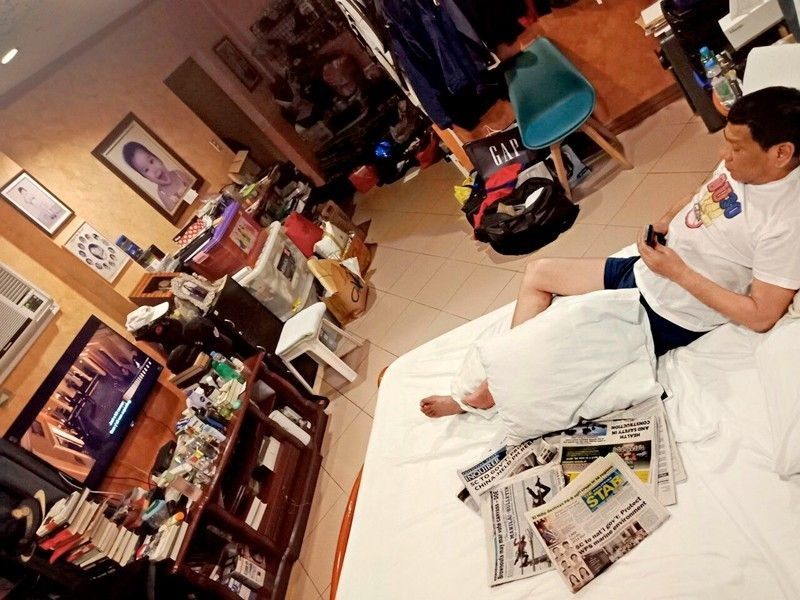 #NasaanAngPangulo and questions about Duterte's health
LATEST UPDATE: October 25, 2019 - 10:39am
LOCATION:
MALACANAN PALACE
MALACANANG
MANILA
+ Follow Story
October 25, 2019
Malacañang says there is no need to issue a medical bulletin on President Duterte's health days after telling the public that the chief executive will share the results of his medical consultation.
"It comes only when there is serious illness, that's the constitutional provision," presidential spokesperson Salvador Panelo says.
Duterte cut his Japan trip last Tuesday due to back pain brought about his motorcycle accident last October 16.
October 23, 2019
Presidential spokesperson Salvador Panelo assures the public that President Duterte will share results of his medical consultation after the chief executive cut his Japan trip due to back pain.
May 19, 2019
Former presidential aide Christopher Go has released photos to show President Duterte is not in the hospital.
LOOK: Former presidential aide Christopher Go has released photos
President Duterte to dispel rumors that the president is confined in a hospital.

The photos show Duterte holding a copy of today's issue of The Philippine STAR | @alexisbromero pic.twitter.com/R9AZwBg4Sc

— Philstar.com (@PhilstarNews) May 19, 2019
May 19, 2019
The Palace says rumors that President Rodrigo Duterte is in Cardinal Santos Medical Center in San Juan are not true.
Palace denies President Duterte was brought to Cardinal Santos hospital | @alexisbromero

— Philstar.com (@PhilstarNews) May 19, 2019
The 74-year-old president's time away from the public eye has repeatedly raised questions about his health. The Palace has also repeatedly said that the president is fine and that it will inform the public in case he is seriously ill.
In October 2018, three Palace officials made similar denials when it was rumored that Duterte was in Cardinal Santos. The president later disclosed that he did go to the hospital for tests.
Previous absences from public events have been explained as the president resting, doing paperwork, or watching movies online.
February 3, 2019
President Duterte mocks those who spread rumors that he is dead.
"For those who believe in the news that I passed away, then I request of you, please pray for the eternal repose of my soul," he says.
— Alexis Romero
October 9, 2018
President Duterte, fielding questions from reporters, on Tuesday evening, says he went to Hong Kong to buy pants and shirts.
"Whenever I go back to Davao for a short rest, wala na akong damit kasi tumaba na ako," he says.
He reiterates, as earlier reported by members of the cabinet, that he does not have cancer.
October 7, 2018
Liberal Party President Sen. Francis "Kiko" Pangilinan urges the public to focus on the country's economic health instead amid President Duterte's admission that he went to undergo tests at the Cardinal Santos hospital.
"The problem is we do not know if the President is serious or not. If this is true or simply another remark, he can claim it to be a joke. If he is serious, then full disclosure is required but if not, then it would be best that we stop such talk and focus our time and attention on looking for solutions to the serious problems of spiraling high prices of food, gasoline, and other basic commodities," Pangilinan said in a statement Sunday.
Last Friday, the Philippine Statistics Authority announced that the country's headline inflation further soared to a new nine-year high of 6.7 percent in September.

The Palace meanwhile assured the public on Sunday that the Duterte administration is "working double time" to ensure prices of basic goods become stable.
Roque: Regardless of the numbers, we assure everyone that the Administration is working double time to ensure prices of basic goods become stable as we cushion the impact of higher inflation @PhilippineStar@PhilstarNews

— Alexis B. Romero (@alexisbromero) October 7, 2018
October 7, 2018
Presidential spokesperson Harry Roque and Special Assistant to the President Bong Go once again issued contradicting statements regarding President Rodrigo Duterte's whereabouts.
Duterte is now in Hong Kong with his common-law wife Honeylet Avanceña and daughter Kitty to "take [a] rest" over the weekend.
Go, who is with the president in the sudden overseas trip, told Palace reporters that they arrived in Hong Kong early morning of Saturday. Roque, meanwhile, said Duterte was in Davao City around 5 p.m. of the same day.
Last week, the two officials both denied that Duterte paid a visit to the hospital amid reported "health rumors" on the president.
Duterte, however, confirmed that he was at the Cardinal Santos Medical Center on Wednesday for some tests.
The president and his companions are slated to arrive in Manila on Sunday.
October 7, 2018
A new Social Weather Stations poll finds that 45 percent of adult Filipinos believe that President Rodrigo Duterte has health problems and 61 percent say his state of health is a public matter.
The survey also shows that the belief that Duterte has health problems is stronger in Metro Manila, urban areas, upper classes and among those with higher educational attainment.
Meanwhile, 26 percent do not believe that Duterte has health problems. Twenty-nine percent are undecided about the matter.
The survey was conducted from September 15-23, 2018 using face-to-face interviews of 1,500 adults nationwide: 600 in Balance Luzon, and 300 each in Metro Manila, Visayas, and Mindanao.
On Thursday, Duterte admitted that he missed a Cabinet meeting last Wednesday as he went to Cardinal Santos hospital for tests. His admission came after Palace officials denied he went to the hospital amid questions on the president's health.
October 5, 2018
As it turns out, President Rodrigo Duterte did go to the hopsital on Wednesday, October 3. This, despite denials by his spokesperson and his top aide, both of whom stressed the president is in good health.
"Three weeks ago I had my endoscopy and colonoscopy. Then, I was about to have... the Cabinet meeting yesterday. But [the reading of my...], somebody advised my doctor to repeat and get some samples there," he told embers of the Philippine Military Academy Alumni Association, Inc. in Malacañang on Thursday night.
He said he stayed at the Cardinal Santos Medical Center in San Juan for about an hour for more tests. "Hindi ko pa masabi kung meron talaga akong tama o wala (I do not know if there is something wrong with me or not)," he said.
On Thursday, presidential spokesman Harry Roque released a video of the president attending a joint command conference in Malacañan to dispel rumors on the president's health.
In his social media post, Roque also reiterated that Duterte is not sick. "[He's] not sick! Sorry to his detractors!" Roque wrote.
Malacañang denies claims, such as that of Communist party founder Joma Sison on Sunday, that President Rodrigo Duterte has been in comatose.
Sison cited a "latest report" that is yet "to be verified or negated" in saying that Duterte has gone into coma late Sunday.
"The president is healthy. He's fine," says presidential spokesperson Harry Roque.